FR004 Water Hollow Rd s(u)

One of my favorite dirt roads in Central Utah is Skyline Drive over the crest line of the Wasatch Plateau. But it often takes till the middle of summer till this road is completely free of snow. This summit on the west side of the crest, does not go as high, but it also passable much earlier in the year. The center piece of the landscape on this ride is Mary's Nipple - an outstanding land mark of the southern Wasatch Plateau.



click on profile for more detail

1.(5160ft,m00) START-END SOUTH: Salina: jct US50 -US89
2.(5310ft,m02) route turns 90 degrees left onto I70
3.(5760ft,m09) profile exits I70 at Gooseberry Rd exit
4.(6190ft,m14) profile turns left onto FR004 Water Hollow Rd
5.(8330ft,m21) jct with Great Western (ATV) trail on west side
6.(8520ft,m22) TOP: also jct with Great Western trail on east side
7.(7780ft,m25) route turns left down FR001
8.(5720ft,m33) route passes Willow Cree Reservoir
9.(5130ft,m39) START-END NORTH: jct FR001 - US89, north of Salina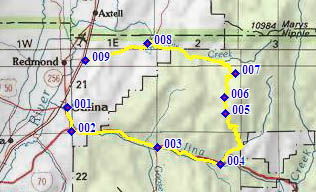 Approaches
From South. The profile starts in the center of Salina (or as they like to call it "Salina City"), and gets onto I70 heading east. Soon, what appears to be an unpaved service road to I70 appears on the south side. But there is no way to get to it, on the other side of a at least 10ft high fence. Periodically there are gaps in the fence and you can access the side road by lowering the bike down a 6 ft drop. But the spacious shoulder of I70 is a faster ride anyway, and the first exit is not far away.

From the Gooseberry Road exit the profile follows the service road, which has a few more ups and downs, no washboard (Jun/13) and passes under I70. The turnoff to FR004 is well signed. The road starts to climb right away, and the slope is more variable than the profile makes it appear. The road has a good riding surface. After a good climbing workout the route rolls along on a traverse with great views onto the Sevier Valley. The Great Western ATV trail joins the road from the west, and then leaves the road at its summit, direction east. The top is surrounded with trees with views directly from here.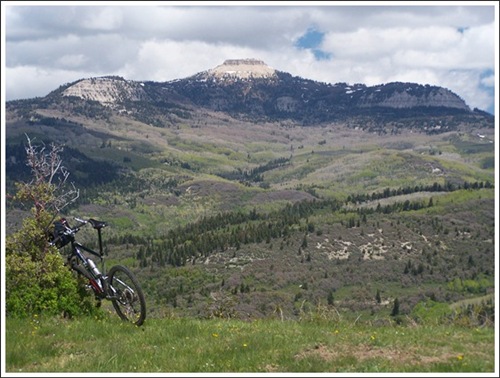 From North. (described downwards). But immediately afterwards the first of several great views of Mary's Nipple - the mountain, 10984ft - you'll recognize it when you see it, no description necessary. This peak makes an easily recognizable landmark ranging from I70 over the Meadow Gulch Divide to the Sevier Valley.

The profile turns left onto FR001, coming down from Skyline Drive at Willow Park. A fast descent on a wide, but hard dirt packed road follows Willow Creek down through the tilting layers of sedimentary rocks. The far views disappear, but by the time the road has passed Willow Creek Reservoir, Mary's distinctive Nipple is in the field of view again in the distance. Turn left onto US89 to get back to Salina.


Dayrides.

PARTIALLY PAVED / UNPAVED

(<Baxter Pass|Niotche - Lost Creek Divide>)
FR004 Water Hollow Rd s(u) : ~half a mile south of I70 Gooseberry Rd exit61 > I70 service rd west > up FR004 Water Hollow Rd > Water Hollow Rd s(u) > down FR001 > US89 south > a couple of miles detours in Salina > US70 east > back to starting point: 48.1miles with 4060ft of climbing in 4:42hrs (VDO MC1.0 m5:13.5.13).

FR004 Water Hollow Rd s(u)

Highest Point: 8520ft

Southern Approach:





drop

from Salina, jct US50 - I70 (5310ft)
3210ft
22miles


from start of Water Hollow Rd (6190ft)
2330ft
9miles


Northern Approach:






from jct FR001 - US89, north of Salina (5130ft)

3390ft
15+1/2miles
~200ft