Niotche Lost Creek Divide





The Sevier Plateau is ATV rider territory. I never saw another cyclist on my rides in this area. It's a shame. This is large area, enough room for everybody, and it has many scenically fascinating riding possibilities, including some very big climbs, like this one.




click on profile for more detail

1.(5160ft,mile00) START-END NORTH: Salina, jct: US50 - US89
2.(5310ft,mile02) profile turns east onto I70
3.(5750ft,mile09) profile exits I70 and turns up Gooseberry Road
4.(6500ft,mile13) Soldier Canyon Road joins from left
5.(7910ft,mile18) Gooseberry work center and campground
6.(9170ft,mile23) turnoff to Cold Spring
7.(10550ft,mile28) TOP: Niotche - Lost Creek Divide
8.(9940ft,mile31) turnoff to Daniel's Pass on left
9.(8850ft,mile38) profile turns left at Johnson Valley Reservoir
10.(8680ft,mile41) intermediate low point, crossing Fremont River
11.(9060ft,mile42) intermediate high point
12.(7720ft,mile48) intermedate low point at Mill Meadow Reservoir
13.(8080ft,mile51) profile turns left towards Fremont at this intermediate high point
14.(7230ft,mile56) Fremont
15.(7060ft,mile61) START-END SOUTH: Loa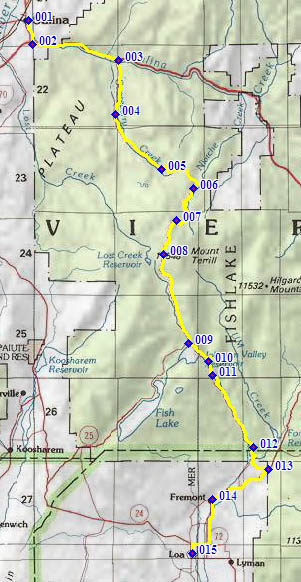 Approaches
From North. The profile starts in Salida and follows I70 to the Gooseberry Road exit. There is also a dirt road next to I70 on the south side. But getting to it involves dropping the bike down a 6 foot embankment through a slot in the fence.

Gooseberry Road is a monumentally wide road, with little to no traffic. It is paved until several hundred feet above point 5, the Gooseberry work center. Here parking lots, that could accommodate crowds of super walmart shoppers, wait for snowmobilers and ATV riders. Apparently it is not always as peaceful and quiet here, as when I was there at the end of May. The view is still of gentle green hills. Only Mount Terril (11531ft) shows a hint of rock outcrops at the horizon.

When the road turns to dirt, it does not get any narrower. The pictures below are from a past trip. During my last ride I discovered, that the idyllic little dirt road at the top has been replaced by a bomabastuous embankment that steeply forces its way to the top through thick gravel. The profile still shows the old road. It lies buried beneath a mountain of road construction.

From South (also described upwards). There are several ways to approach Johnson Valley Reservoir, point 6. For the profile I picked a road up from Loa, but making a loop ride either to the east or west from here involves other roads. From Johnson Valley Reservoir the road follows a gentle dip in the Sevier Plateau upwards. Mount Terril shows its most rocky side from this angle. On the west side Daniel's Pass, also offers another way back down.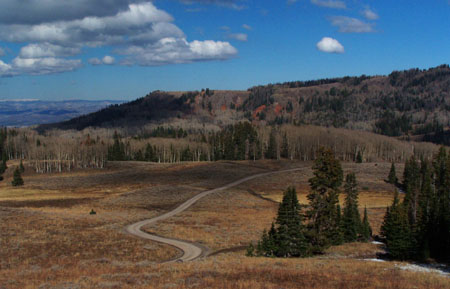 Dayrides.

PARTIALLY PAVED/ UNPAVED:


Niotche - Lost Creek Divide, Hogan Pass , Meadow Gulch Divide : short distance south of Fremont Junction > Ut72 south > Hogan Pass > FR36 Gooseberry Fremont Rd north > Johnson Valley Reservoir > Niotche - Lost Creek Divide > down Gooseberry Road > I70 east > Meadow Guch Divide > back to starting point: 98 miles with 8500ft of climbing in 8:1hrs.

( < FR004 Water Hollow Rd s(u) | FR150-290 Mary's Nipple(sh) > )
Niotche - Lost Creek Divide x2: short distance south of I70 Gooseberry Road exit 61 > up Gooseberry Rd > Niotche Lost Creek Divide << turnaround point 310ft below summit, off road (acc to altimeter measurement) > back over Niotche Lost Creek Divide > down Gooseberry Rd > down FR37 Soldier Canyon Rd > I70 service road east > back to starting point: 49.6 milesw with 5580ft of climbing in 5:23 hrs (VDO MC1.0 m5:13.5.31).
Notes: turnaround due to snow. Even if the summit had only patches of snow, there was more snow south of the summit.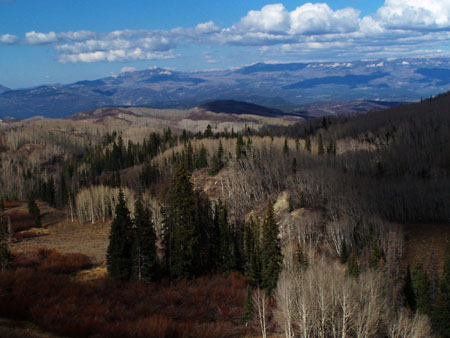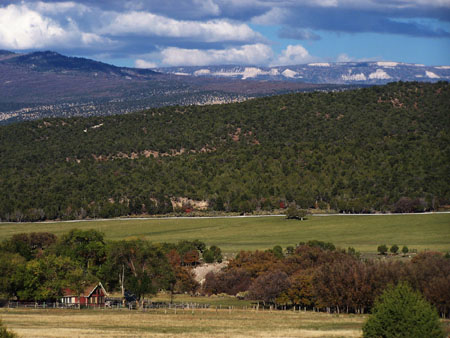 Niotche - Lost Creek Divide

Highest Point: 10550ft

Northern Approach:





drop

from Salina: jct US50 - US89 (5160ft)
5390ft
27miles


Southern Approach:






from Loa (7060ft)
3490ft
33+1/2miles
~1000ft