-
Bennett Pass
This is one of the higher paved passes in this area, but it's far from being the most interesting road summit.


01.(100ft,mile00.0)START-END NORTH: Hood River
02.(1550ft,mile13.3)jct with Or281 to Parkdale on left
03.(2900ft,mile22.5)Cooper Spur Rd joins from right
04.(4670ft,mile32.6)TOP: Bennett Pass
05.(4220ft,mile36.7)Barlow Pass is located immediately left of this turnoff
06.(3630ft,mile38.9)jct with US26 to Government Camp on right
07.(3440ft,mile41.1)intermediate low point
08.(4100ft,mile44.4)highest point in Blue Pass area
09.(3520ft,mile52.6)jct with Or216 on left
10.(2570ft,mile64.2)START-END EAST:US26 low point before US26 crosses Warm Springs River


Approaches
From North. There are a few far views of Mount Hood after leaving Parkdale. Then this is a pure workout ride with long, steady straight aways through the woods without any change in sight. At the top Mount Hood suddenly appears again when passing under the sno-park turnoff.

From South. (described downwards) The frequency of Mount Hood sightings picks up dramatically as the road rolls along and then makes a hardly noticeable climb to Barlow Pass. To me the most interesting sight along the way is crossing the wildly braided "Green Apple Creek" on a bridge between Barlow Pass and Bennett Pass. The road drops further to its junction with Or35. The road visible far above on this last section is Or173 climbing to government camp. At this point I was so scenically starved even road number signs started to look good (see picture on that page). The profile continues to a low point before the road ascends Wapinita Pass again.


Dayride

PARTIALLY PAVED / UNPAVED

( < Timberline Lodge: Mount Hood s(u) | Barlow Pass > )
Bennett Pass , Or35 Government Camp(sh) , FR16 Vista Ridge s(u) , FR1828 Lolo Pass s(u) : Mc Neil Campground (Muddy Creek Rd, off East Lolo Pass Rd ) > up FR1828 > FR1828 Lolo Pass s(u) > down Lolo Pass Rd > down FR18 > up FR16 > FR16 Vista Ridge s(u) > Parkdale > various roads to Or35 > Or35 south > Bennett Pass > Barlow Pass(shp) > Or35 west > Or35 Government Camp(sh) > Rhododendron > up East Lolo Pass Rd > back to starting point: 85.4miles with 8030ft of climbing in 7:10hrs (VDO MC1.0 m5:13.8.13).
Notes: This is a loop ride around Mount Hood. Just a very short , but also very rough (by Oregon standards) section of this route is unpaved, and that is a few miles of the norther descent down Lolo Pass. During the ride I met a person in a motor vehicle who had done the same loop on road bike just a few weeks earlier. His advice for the next ride was to take the "Lost Creek Rd" descent from Lolo Pass, which is not quite as rough.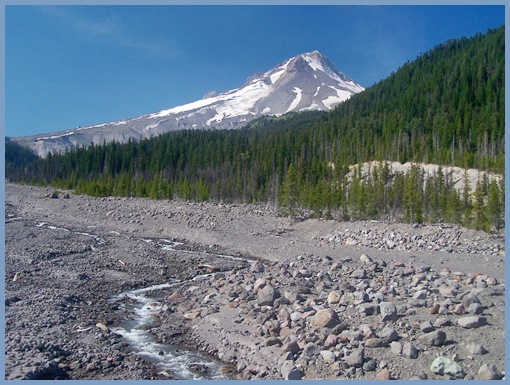 Green Apple Creek, flowing away from Mount Hood