-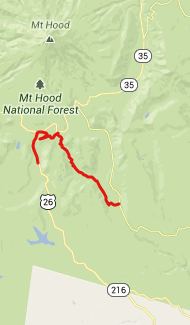 Barlow Pass
Coming down US35 from Bennett Pass to the north, Barlow Pass is just a shoulder point. But this pass can still be the highest point on a mountain bike ride, and this one is more interesting than busy US35, at least in the summer months, when traffic is heaviest.


1.(3440ft,mile00.0)START-END WEST: low point on US26
2.(3640ft,mile02.0)jct with US26 to Government Camp on left
3.(3700ft,mile02.5)profile turns right onto small paved sideroad
4.(4155ft,mile05.0)TOP: Barlow Pass
5.(3080ft,mile12.1)START-END EAST: jct Balow Pass Rd - FR48

Approaches
From West. This side is completely paved. Shortly after Or35 branches off US26, and takes a good deal of the traffic with it to Government Camp, a small paved road also branches to the right, signed "Pioneer Woman Grave". The grave stop appears after a few hundred yards. It is a recreated pile of stones and crosses tied with twigs, commemorating an Oregon Trail Emigrant and his wife, whom he buried here. This overgrown old highway through the weeds continues all the way to the top of the old Barlow Pass. It is just a few hundred feet away from the US26 spot with the same name, and virtually at the identical elevation. The "Oregon Scenic Trail" crosses here. It is closed to bicycles, but not so the continuation of the Barlow Road, here also the Oregon Trail, branching off down to the right. During my visit it was closed due to a failing bridge, but getting a bicycle over it was no problem.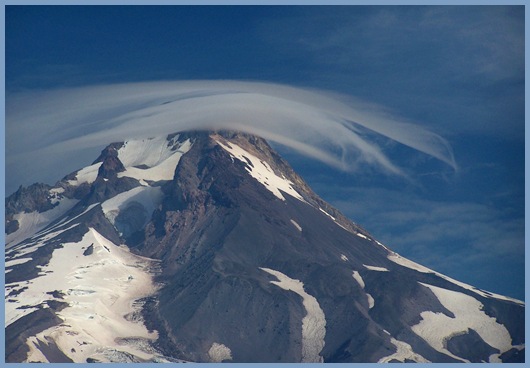 From East. (described downwards). A very rough dirt road, initially leads steeply downhill in order to cross the aforementioned creek. The road continues through dense forest, with large trees trunks exactly defining the slightly meandering path of the road. The road passes three campgrounds before crossing paved FR48. With each campground the road gets easier to negotiate. At the third campground, named Barlow Crossing (yes, there is another bridge here), road conditions have normalized to such a degree, that there is nothing to keep away the camping Mc Mansions. My own route continued on FR43, which is a wide paved road free of traffic. But the profile continues on the Barlow Road, also signed FR3530

Dayride:

PARTIALLY PAVED / UNPAVED

( < Bennett Pass | Seven Mile Hill Road s(u) > )
Barlow Pass , Blue Box Pass , additional out and back : near jct US26 - Or35 > Pioneer Woman Grave > Barlow Pass > down Barlow Road/ FR3530 > Barlow Crossing campground > FR43 south <> out and back on US26 south to low point at crossing of Clear Creek >> US26 north > closed loop: FR42 south > Abbot Pass(shp) > FR58 north > FR2650 east > FR4290 back to FR42 >> US26 north > Blue Box Pass > Wapinitia Pass > back to starting point: 43.2miles with 3050ft of climbing in 3:43hrs (VDO MC1.0 m5:13.8.15)

-