Laughlin Peak / Blosser Gap Rd s(u)

I think the eastern plains of New Mexico can be a scenically fascinating place. They are dotted with small canyons and miniature peaks and mesas of every conceivable shape. The area gives the impression of being all privately owned, with a forest of no trespassing signs. There are small plots of public land interspersed, but they are not signed, often without public access, and I got the impression that this was not an accident. In this way, this area seems like an extension of close-by West Texas.

From the profile it looks like this route is pushing the limit of still being called a summit - it is so flat. But the changing views made it definitely feel like one.


1.START-END SOUTH-1: low point at bridge across Canadian River, just outside of Maxwell
2.profile goes left, right goes direction Capulin
3. TOP: 6720ft, Laughlin Peak Rd - Blosser Gap s(u)
4.jct US64 - I25
5.profile turns left onto NM445
6.START-END SOUTH-2: Maxwell, very close to start-end south-1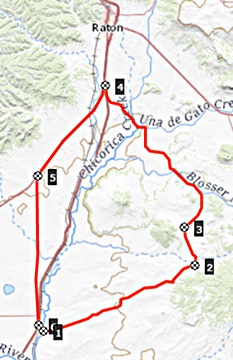 Approaches

From South. Just south of the intersection of the two main streets in Maxwell, a sign points to something with the mysterious name "Maxwell rolloff", leading to an underpass below the Interstate.

This turns out to be a good gravel road, that climbs ever so slightly. This rolling plain is doted with small volcanic features that stick out of the landscape like breadcrumbs on a wrinkled table cloth.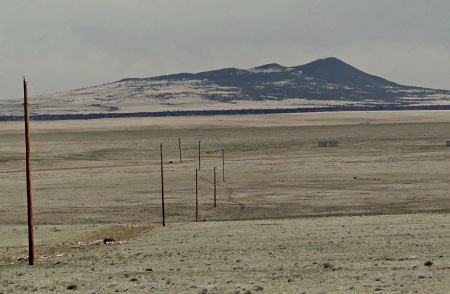 The next turnoff towards the left is the obvious choice for better views of the landscape. Soon the distant high part of the Sangre Cristo Range, located across the state boundary in Colorado make a far more impressive backdrop to the landscape than from many closer spots. But keep in mind, that the pictures on this page were taken with an extreme telephoto setting. My lens goes all the way to 600mm, even if I did not zoom in quite that much.

The road passes one private home. The owner came speeding after me in his golf (or hunting) cart to check what the stranger was doing on the public road near his property. According to him at the next junction, the logical bike route stays left. The right, going direction Capulin becomes extremely rough after some miles. That had been my original intention, but I followed his advice.

This new road is signed as Blosser Gap and makes a shallow but scenically fascinating summit behind - not Laughlin Peak (which I cannot find on the map), but something called Tinaja Mountain (7756ft).

From North. (described downwards). On the ever so shallow way down, the road crosses between countless private land boundary and ranch - no trespassing signs. It follows a shallow ravine, that seems perfect for keeping a herd of cows in place all the way to the I25-US64 exit for Taos - bound traffic.

The profile continues on the rumble stripped yet super spacious shoulder of this road for a a few miles and then takes a barely used straight-as-an arrow state road back to Maxwell.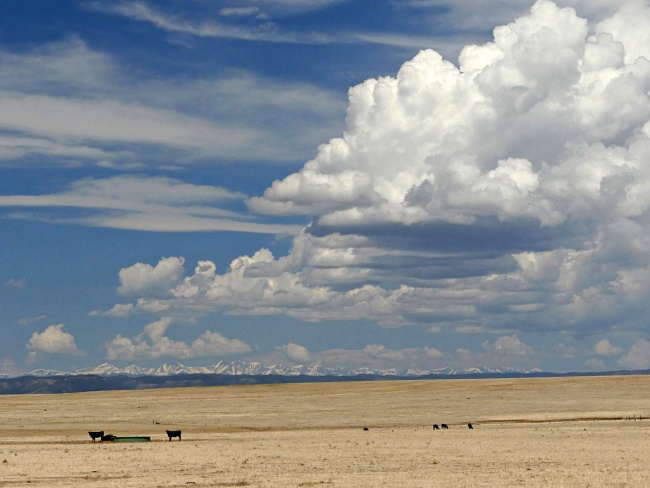 Sangre de Cristo Mountains in Colorado, from deep inside New Mexico



Dayride with this point as highest summit:



PARTIALLY PAVED / UNPAVED

( <

Old Raton Pass

|

Bobcat Pass

> )

Laughlin Peak - Blosser Gap Rd s(u) :

Maxwell National Bird Refuge > Laughlin Peak Rd east > Blosser Gap Rd north > Laughlin Peak - Blosser Gap Rd s(u) > TO Ranch Rd north > Eagle Tail Rd north > US64 south > NM445 south > short dirt road detour in Maxwell National Bird Refuge > back to starting point: 66.2miles with 2040ft of climbing in 5:59hrs (garmin etrex30 m5:21.5.16)