Chief Joseph Pass

Maps sometimes get a bit crowded in this part of the continental divide. Sometimes "Chief Joseph Pass" does not get a label, apparently due to lack of space, like for example on the Idaho and Montana Gazeteer maps. ... and that in spite of the fact, that it is higher than the nearby
Lost Trail Pass
, which always gets a label. Both are large paved roads. I am guessing this is due to the Lewis and Clarke fame of Trail Creek Pass. Compared to that, Chief Joseph Pass is a relatively recent construction: Mt43 between the top of Lost Trail Pass and the town of Wisdom, Montana. It is on the continental divide and the Montana - Idaho boundary.

1.START-END SOUTH: Gibbonsville
2.Lost Trail Pass
3.TOP: Chief Joseph Pass, 7251ft
4.jct with eastern approach to Gibbons Pass
5.START-END EAST: low point on Mt43, just west of Wisdom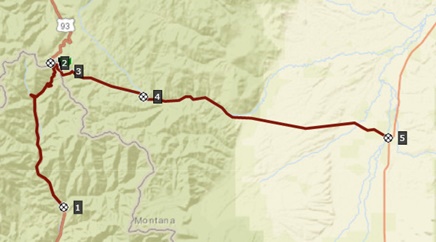 Approaches
From West. The profile includes the southern approach from Gibbonsville to Lost Trail Pass. The northern approach from Sula starts at about the same elevation, and has roughly the same length. From the top of Lost Trail Pass a short straight road leads a little higher to crest at Chief Joseph Pass. There is a pass sign, a parking lot and signage for cross country skiing in the surrounding forest. The Continental Divide Trail crosses near this shallow summit. It too is just a forested dirt road through a firewood cutting area at this point. Heading along the CD trail north, it is a road to Gibbons Pass. You can also reach Gibbons Pass by a similar route, using just a gravel road only. This leads over a slightly higher summit Lost Trail Rd s(u).

From East. (described downwards) A straight shallow decent leads down towards the town "Wisdom". There is little if any visual evidence, that you are even crossing a mountain range, other than that the bike seems to roll a bit easier, while still pedalling it. Signed dirt road turnoffs allow loops over Gibbons Pass and Big Hole Pass.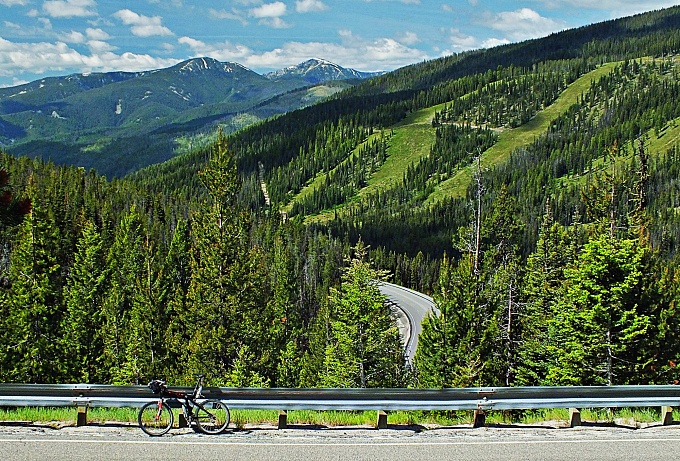 Dayrides with this point as highest summit:

PARTIALLY PAVED / UNPAVED

Chief Joseph Pass, Gibbons Pass: Connor > US93 south > Gibbons Pass > continuing on FR160 > west on Mt43 > Chief Joseph Pass > Lost Trail Pass(shp) > back to starting point: 63 miles with 3800ft of climbing in 5:2 hours (Vetta MC 1.0 m3:10.9.8).
Notes: a very slow descent from Chief Joseph Pass due to a broken drop-out on my Klein Mantra.
( < FR128 Salmon area s(u) | Lost Trail Rd s(u) > )

Chief Joseph Pass , Big Hole Pass , FR945 Foothills Rd s(u) : near summit of Chief Joseph Pass > Chief Joseph Pass > Mt43 east > FR 945 Foothills Rd south <> out and back with double turnaround due to rain and re-emerging sunshine on Foothills Rd totalling ~5miles >> Big Hole Pass Rd west > Big Hole Pass <> short out and back CD Trail (which is a road here) to a scenic point >> down west side of Big Hole Pass > Gibbonsville > US93 north > Lost Trail Pass(shp) > Mt43 east back to starting point: 61.5miles with 4910ft of climbing in 5:49hrs (garmin etrex30 m3:20.7.7)
Notes: pleasantly cool ride with a few sprinkles and several very dark clouds during the start of July. On the unpaved portion i only saw two other vehicles, a motor cycle, and somebody loading fire wood onto his truck on the outskirts of Gibbonsville. But I was excited to see bicycle tracks along the road. After all my Idaho pass rides this year, I have only met one other cyclist, and he turned out to be a motorcyclist. Come to think of it - the tracks i just saw, were my own - from a double turn around due to alternating weather conditions. Idaho (most of this loop was in Idaho, even if Chief Joseph Pass is in Montana) is a great place to cycle - and not at all crowded. I'm guessing that holds true even for years without pandemics.