FR128 Salmon area s(u)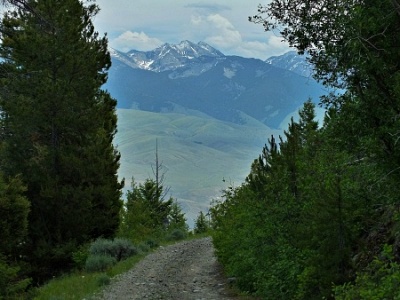 In the Salmon River Mountains, the scenically most interesting routes are often not the ones crossing major ridgelines. Often those roads are in a dense forest and surrounded by shallow hills, that obstruct any far view that might hint at the larger landscape. Rather, the routes that I have found to be more interesting, stay closer to the edge of this range / plateau. Particularly that part of the edge, that gives a good vantage point on the mountains on the other side of the valley. This is one of those roads. My old maps don't actually show this route, even though it is well signed and used. It runs along below, and parallel to something called the Ridge Road in the Salmon River Mtns, between Stormy Peak Rd and the Leesburg Stage route, going into Salmon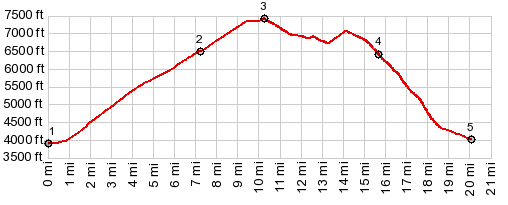 1.START-END NORTH:jct Fairground Rd - US93, north of Salmon
2.profile turns left onto FR128
3.TOP,7440ft: FR128 s(u)
4.profile turns left down Old Leesburg Rd
5.START-END SOUTH: Salmon: Main Street crossing Salmon River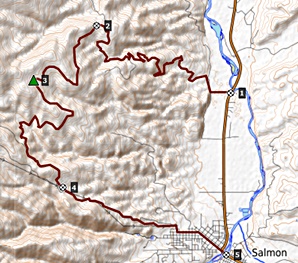 Approaches

From North. The turnoff to Stormy Peaks Rd from US93 is marked with the distinctive BLM signage. This first climb has a constant view of the Beaverhead Range, behind the sage hills The road climbs on. Too bad the best light by far, on this stretch is during evening and late afternoon. That's one more incentive to start close to the top.

FR23 reaches its first high point in dense forest. Here the signed FR128, together with multiple puzzling spur designated things branch off to the left, climbing further. This road turns out to have a few rough moments, surface-wise. If the light on the first climb was blinding frontal light, the illuminaton on the illustrious peaks in the Beaverhead Range improves with every new clearing the road reaches. The high point is on this traverse can only be recognized as such, with help of a map, after the ride.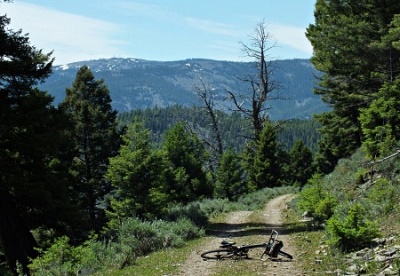 From South. (desribed downwards) The last part of the traverse ends on something labeled FR001. At first one is tempted to think of this as a faster road. Going right here and taking other turnoffs you can reach the highest point in this part of the Salmon River Mtns, occupied by a transmission facility. My map also labels this as "Leesburg Stage Route". The profile goes down it, and if this is a stage route, it must have been a four wheel drive stage. It has its easily ridable parts. However on the lower slopes, there are some stretches typical of todays torn up 4wd roads. It meets Salmon village streets at the south west end of town. There are no signs here other than a "drown your campfire" sign.

cLiCk on image , arrows , or thumbnails to advance slideshow
Dayride with this point as highest summit


PARTIALLY PAVED / UNPAVED
( <
Williams Creek Summit
|
Chief Joseph Pass
> )
FR128 Salmon area s(u) , addtional out and back :
a short distance up FR23 Stormy Peak Rd > up FR123 > FR128 south > FR128 Salmon area s(u) > down FR001 Leesburg Stage Rd > down FR002 > Salmon <> out and back on Lemhi Rd <> Kirtly Creek Rd << turnaround point maybe 3 miles before National Forest boundary >> US93 south > back up FR23 Stormy Peak Rd back to starting point: 40.8miles with 4880ft of climbing in 5:37hrs (garmin etrex30 m3:20.7.3, t20_12)
Notes: very hot, but bearable due to a few raindrops accompanying a sandstorm in the afternoon