Big Hole Pass

Montana has at least two Big Hole Passes, that are not far away from each other. This one is unpaved, and like the parallel paved Chief Joseph Pass, it has one shallow and gentle approach leading up from a high and dry mountain park, and another steep and high approach from a deep forested valley.


1.START-END EAST:jct Mt43 - Gibbonsville Rd
2.Foothills Rd joins from right
3.TOP, 7040ft, Big Hole Pass
4.START-END WEST:jct US93 - Gibbonsville Rd, Gibbonsville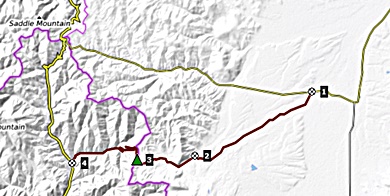 Approaches

From East. The profile starts in the town of Wisdom and heads across the high mountain park, heading for the southern end of the Beaverhead Mountains. My own route joined the profile at point 2, where the unpaved Foothills Rd joins the approach.

From there a short pleasant ride leads through a forest, ruled by cows to a wood covered summit. Marshall Spraque in the appendix to his all-compassing pass history "The Great Gates", says that there are fine views direction Oregon from here. I didn't see any, though admittedly further down the west side you can catch a glimpse through the trees, onto hills direction Oregon.

But having my mind set for a good view, which is generally the main motivational force behind my pass rides, I followed a dirt road from the summit south, which here is also the Continental Divide Trail, and within short distance, found a reasonably good view of the south end of the Beaverhead Range (picture below)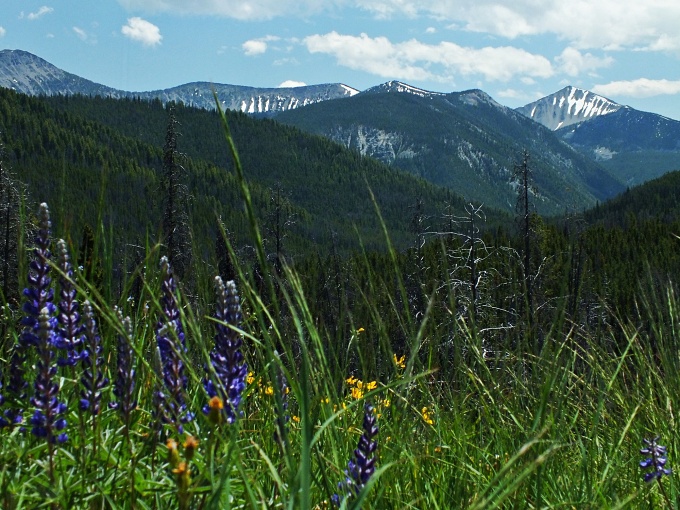 From West. If there is a "Big Hole" on this pass crossing it is definitely on this side. The road does appear to be sucked down into a green forested trough. There are not many views. But the road requires several traverses, switching back and forth down into the bottomless green bowl. Montana's other more famous Big Hole Pass is not far away. I am under the impression that the name for both passes, does not refer to any geographic feature, but the nearby Big Hole Battlefield.

Gibbonsville is at the bottom of the road, before joining US93. It is the historic old town in this region, but only a building, or maybe at the most two, hint at any glory from past days, and as far as I know, that maybe just reenactment from a much later era. There are no businesses here, not counting one (apparently) closed lodging establishment

A Dayride with this point as intermediate summit is on page:
Chief Joseph Pass
(t20_13)