FR500 Oakley - Rogerson Rd(sh)

Of what I know of the Twin Falls area sofar ... the nicest paved climb in this area is a ride up Rock Creek Rd to the laid back Magic Mountain ski area. On a road bike this is an out and back ride. But not restricting yourself to paved roads, with a mountain bike, you can construct virtually endless loops, utilizing this canyon road as part of the loop. This particular one reaches a summit on a good, unpaved backroad connecting the small towns Oakley and Rogerson.


1.(00.0m,4260ft)START-END NORTH-1: jct Rock Creek Rd - Cherry Creek Rd
2.(18.0m,6710ft)profile turns right onto FR500
3.(21.1m,7170ft)TOP: FR500 Oakley - Rogerson Rd(sh)
4.(27.4m,5400ft)profile turns right onto FR513
5.(31.0m,6440ft)TOP: FR544 Indian Springs Rd
6.(36.8m,5740ft)profile stays right on Indian Springs Rd
7.(43.2m,4260ft)START-END NORTH-2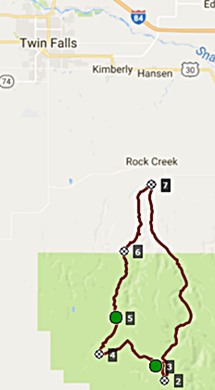 Approaches

From North-1. Rock creek carves through grassy slopes, between croissant like layers of lava. It gives the whole landscape a very linear structure. The most picturesque part is the lower part. The road is in good paved condition since it leads up to ski resort - very low key, with a few rustic cabins to relax in, instead of neon apres ski circus.

As the road traverses the ski area, unpaved FR500 diverts on the right, and doubles back to the north. There are several trailheads here. After several switchbacks the road reaches a summit with far reaching views to gentle distant ridges to the south. The view also includes a higher mountain with another ski area to the east (Pomerelle), and countless linear rock lips stretching in low canyons to the Snake River Plain to the north. The road is in great shape for fast progress without any washboard

From North-2. (described downwards). Progress is lightning fast, with just enough slope to let the bike roll at full speed through only a few turns. The scenery here is just fairly nondescript low hills. My own route turned off at FR513 to the Bear Gulch campground, and the profile continues over the route I happened to take, over a second summit point: FR544 Indian Springs Rd(sh).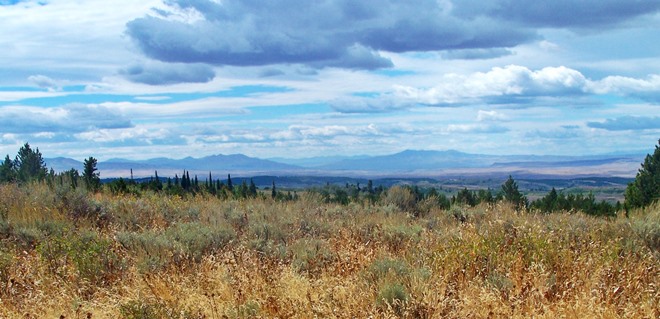 Dayride with this point as highest summit:

PARTIALLY PAVED / UNPAVED

( < Mores Creek Summit | Pike Mountain s(u) > )

FR500 Oakley - Rogerson Rd(sh) , FR544 Indian Springs Rd(sh) : entrance to canyon on Id-G3 Rock Creek Rd > up Id-G3 Rock Creek Rd > Magic Mtn ski area > FR500 Oakley - Rogerson Rd west > FR513 north > Bear Gulch campground > TR848 north > FR544 north > FR544 Indian Springs Rd(sh) > at unsigned fork the eastern option directly back down to Id-G3 Rock Creek Rd > Rock Creek Rd north back to starting point: 45.5miles with 4400ft of climbing in 4:52hrs (garmin etrex30 m5:17.9.20).