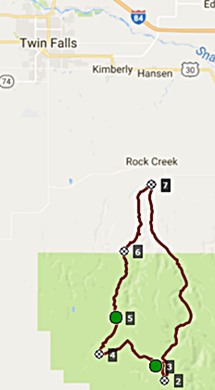 FR544 Indian Springs Rd(sh)


This is the perfect, unpaved loop companion road to the paved Rock Springs Rd in the Twin Falls area. The former runs through a scenic canyon and this one follows much of its rim.

Approaches

From South. If starting the loop with a climb up Rock Springs Rd, there are at least 2 ways to connect with FR544. I like this on: From FR500 Oakley Rogerson Rd (the extension of Rock Springs Rd), an easily cycled road goes to the remote, yet elaborate and free and Bear Gulch campsite. From here a short ATV trail leads up through a small gulch to FR544. It has a surface perfect for mountain biking - no ruts - and I did not encounter any traffic.

Once up on FR544, it becomes apparent that it also has a surface perfect for fast progress through these picturesque grassy dales. The summit itself is nothing special.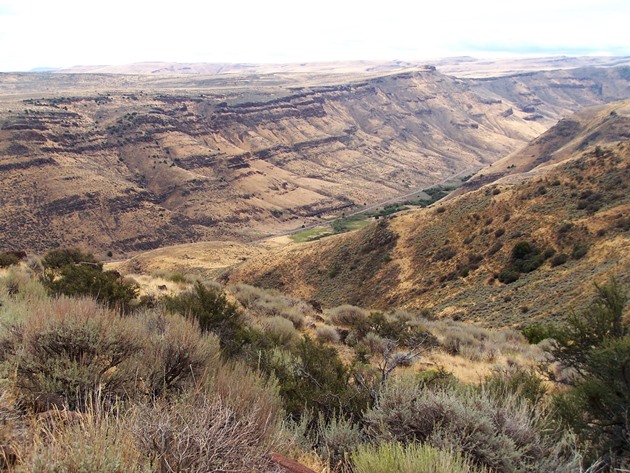 From North. (described downwards) But on this side several short spurs lead to the rim of Rock Creek Canyon. While many American canyons must be shared with countless other visitors, at least when using roads, this is one, that can be had to oneself, at least an most points in time. At this point in the ride, I was glad to see the first sign of humans, in the form of an empty parked car.


After exiting National Forest land, the profile takes the right fork at an unsigned junction. This option goes directly back down to the start of the profile at the entrance to Rock Creek Canyon



A Dayride with this point as intermediate summit is on page: FR500 Oakley Rogerson Rd(sh)
Notes: this area is reminiscent of the Mud Creek area in Wyoming, as far as scenery is concerned. But here the roads are much better and faster.