Elba Pass

Most people see the Albion Mountains probably from I84, the interstate racetrack across the Snake River Plain. From that vantage point they look like nothing more than oversized bread loaves. Elba Pass is a low gap in the this ridge. It conveniently fits into a loop through the picturesquely self descriptive "City of Rocks" Preserve and over
Emery Pass
.

1.(4520ft,mile00.0)START-END EAST: jct Id81 - Elba-Almo Rd
2.(5210ft,mile12.0)profile turns left onto 2000 south Oakley-Elba Rd
3.(7100ft,mile21.7)TOP: Elba Pass
4.(4570ft,mile32.8)START-END WEST: Oakley jct with Center Street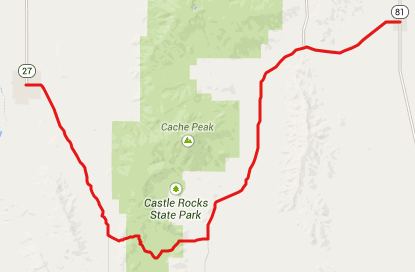 Approaches
From West. Id77 starts climbing gently as soon as it gets away from I64 and Malta. Approaching Elba, a turnoff on the left leads to Grandview Cemetary (or similar name) and right to Elba Park, Independence Lakes and "national forest access". That's the route the profile takes. To get to the national forest the road stays right at two t junctions, and stays left at one junction (the other option dead ends at a house)

Recently deposited, intermittent gravel makes this road a little difficult on a bicycle. As you cross into the national forest, a sign informs that you are now on FR48. Later a sign reads FR548. I think the 5 on the first sign is a victim of a gun shot wound. Approaching the top of the summit, I marveled at the views of several hogbacks to the east, through which this road passes on the other side. The ridges appear like large frozen waves.

At the top the open brush forest disappears and gives way to a grassy ridge. According to the signs you can continue along the ridgeline and connect to Independence Lakes to the south and Twin Lakes campground to the north via yet another Skyline Trail.


From East. No mystery where the road goes on this side. Every inch is clearly visible from the top, nestled between green grassy ridges, the Snake River Plain and its crop circles dissolving into distant haze. It's a smooth fast descent on a nice, narrow road. Approaching the outskirts of Oakley the road becomes heavily graveled, but only for a short distance before it turns to a hard surface.

Dayride with this point as highest summit:

( < Brownlee Summit | FR47 Blacksmith Fork Canyon Left Hand > )
Elba Pass , Emery Pass , Elba - Almb Divide: FR548 above Ella Park > up FR548 Elba Pass << turnaround point Oakley with some detours > Birch Creek road south > City of Rocks Road east > Emery Pass > down Emery Canyon > Almo > Elba - Almo Road north > Elba - Almo Divide > FR548 west back to starting point: 60.0miles with 4910ft of climbing in 5:4hhrs (t13_25, VDO MC1.0, m5:13.9.21)