Col de l'Epine

Epine means "thorn", and there are two "thorn" passes with in fairly close proximity. Both are about the same altitude, but this one is a little lower. But the name gives the wrong impression. This road is not a thorn, but a pure pleasure to ride. Very little traffic, and if approaching from the north, at the end of a long day over a choice from the many other passes in the area, this one is not a severe last blow.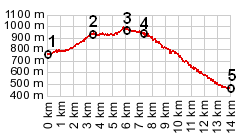 1.(00.0km,742m) START-END NORTH: Serraval
2.(03.5km,930m) le Bouchet
3.(6.2km,965m) TOP: point of highest altitude
4.(07.3km,947m) Col de l'Epine
5.(13.8km,466m) START-END SOUTH: D162 terminates onto bikepath on D1508, west of Marlens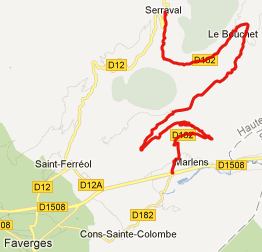 Approaches
From West. Right across the church in Sarraval a sign points up this route. The road gently heads up into the lower parts of the Chaine des Aravis, contouring on the north side of a wooded ravine, in order to reach the village la Bouchet. Once this is accomplished, the road crosses this valley, and gently contours up to the top of the pass. The nicest views, in my opinion, are just before the top, looking east on to the mountain la Tournette (2351m).

From East. The sign making another pass crossing official, comes just a little after the point of highest altitude. A straight gently road traverses over the summit and then descends in long ramps to la Marlene. A little further down the descend the view reaches down valley to Ugine. From Marlene an immaculately surfaced piste ciclabile, leads parallel to N508, but separated from it by many meters of grass and bushes, down into Ugine.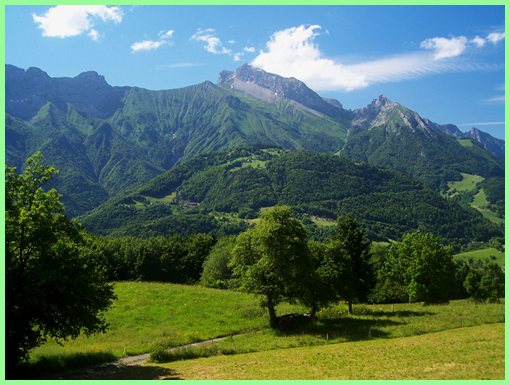 the view to La Tournette from Col de l'Epine

A Dayride with this pass as intermediate summit is on page: Col des Saises

The last pass ride with different start and end points on this Extended Tour was: Cormet de Roselend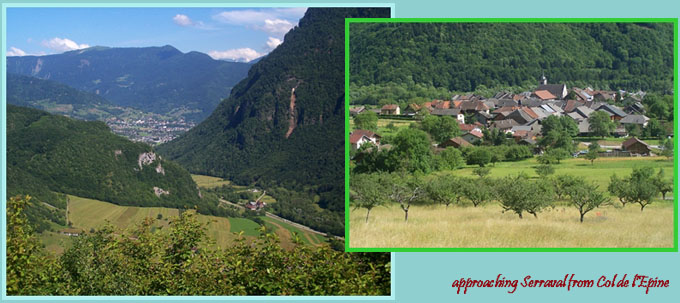 back to Cycling Passes in Europe