Col de la Croix Fry

The best part of this pass, in my opinion, is the eastern approach. It is a veritable viewing platform onto the Chaine des Aravis and its villages, for mile upon mile. Otherwise, There is very little feeling of striking out into the wilds of nature on a ride across this pass. The top is a large town with a wide main street and all sorts of businesses.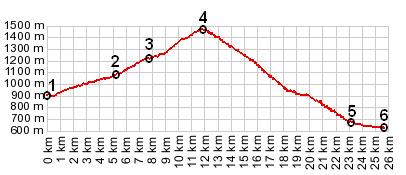 1.(00.0km,910m) START-END NORTH: jct D4 - D20, west of Grand Bonand
2.(05.3km,1064m) la Clusaz
3.(07.8km,1202m) profile turns left up D16
4.(11.8km,1477m) TOP: Col de la Croix de Fry
5.(23.2km,680m) profile turns left onto D12
6.(25.6km,624m) START-END SOUTH: Thones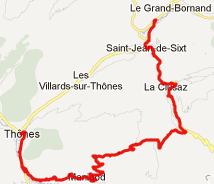 Approaches
From West. The profile starts in La Clusaz, where a smaller road parallels D909 to Col de Aravis. A popular loop ride over several passes goes over Col de Aravis, then descending a short distance to les Etages, before climbing to Col de Croix Fry again. Having made that turnoff, there is much less traffic than on the Col de Aravis. Now there is time to relax, climbing moderately through the forest. The Chaine de Aravis looms above to the left. The top of this pass is signed and also the start of a fairly large town by the same name, consisting of tourist and ski businesses.

From East. (described downwards). All the scenic excitement of this pass happens on this side. The reason for this is that the road descends on a ridge, that makes the perfect viewing balcony of the Aravis Chain and the various villages glued to its hillsides. Cows with loud bells make the musical background. Manigod is a flower bespeckled village of buildings, that could accomodate oversized people in its oversized houses, while the church bell plays an especially loud tune. The road reaches the deep valley of the Chamford in Montisbrand and continues downvalley towards the right to Thones.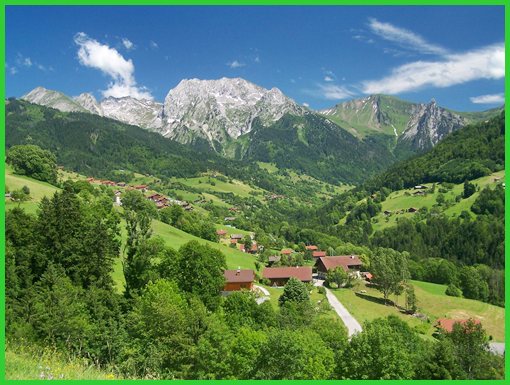 History-Cycling: This pass is a fairly recent addition to the Tour de France route. Between the post WW2 years and 2012 it was used in 1994, 1997 and 2004
A Dayride with this page as intermediate summit is on the page: Col des Saises
The last pass ride with different start and end points on this
Extended Tour
was:
Cormet de Roselend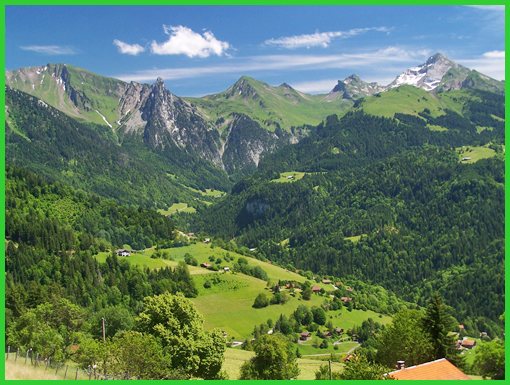 Both pictures show the Chaine de Aravis from a descent,
between the summit of Col de Croix Fry and Montisbrand