Col des Pres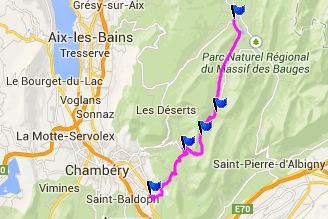 This pass is at the approximate center of four passes in the southern end of the Bauge massif. ( in addition to this one: Col du Frene, Col de Plainpalais and Col de Marocaz ) All of them make for great cycling on curvy secondary roads with little traffic. Three of these passes provide a relatively direct north - south route, this one amongst them.

The name Pres means fields, and gives a good clue what the top looks like. It is a straight, shallow, green saddle ,slightly above treeline between linear ridges. The pass has been part of a Tour de France stage. The stage finished on the nearby Semnoz summit. But for me the greatest attraction were the scenes created by the play of clearing clouds with the scenery.


1.(640m,00.0km)START-END EAST: Lescheraines
2.(900m,11.0km)Aillon-le-Jeune
3.(1134m,14.6km)TOP: Col Des Prés
4.(690m,20.8km)jct with D206, direct approach from Chambery
5.(320m,30.5km)START-END WEST: jct D1006-D21, south of La Ravoire and Chambery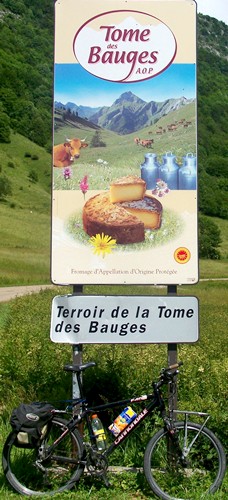 Approaches

From West. There are several approach possibilities for the lower part, one directly from Chanberry. I profiled a different option, that I took. It turns out of the valley south of Challe-les-Eaux and climbs north between intermittent views on garden furniture, set into the exquisite garden context of a few luxury homes. Across the valley appears an occasional view of a cliff in the Chartreuse area.

Rather than staying right to Col de Marocaz, the profile goes left and climbs into lofty meadows, sprinkled with loosely spaced housing, comprising spread out villages. Thoiry is the most picturesque one of them. The pass climbs above this village, and then traverses over to the next high valley to the west. The road summits with a long straight away, and two new peaks of the Bauge Massif appear in view for the first time.

Generally I don't photograph advertising, like the billboard for local cheese at the right. However, now that I am back home, where making affordable cheese amounts to making industrial sludge, and advertising hits you over the head like a brick, I remember this advertisement at the top of Col des Pres with fondness.

From East. (described downwards) The meadow gently heads for the forest, and after a switchback a small village appears at the base of the two peaks. This is Ailion Le Jeune. The profile continues downhill to the junction with the road to Col Plainpalais.

A Dayride with this point as intermediate summit is on page Col Du Lindar