Col De Plainpalais
This pass connects the Bauges Massif with Lac du Bourget. Several other passes fit that description also. In Leschergaines le Pont four roads meet and three of them lead to passes. This is actually the highest one of the four. In spiet of this it is not very alpine in nature, but instead crosses a high forested plateau in the Bauges Massif west of Chambery. From the top you can climb higher on a loop with short additional out and back to Mont Revard, the highest road point on the east side of Lac du Bourget.


1.(540m,00.0km) START-END NORTH ALT: Cusy, west of Lac Du Bourget
2.(600m,10.7km)START-END NORTH: Pont de Lescheraines, and jct with route from Col du Frene
3.(1174m,23.2km)TOP: Col De Plainpalais
4.(590m,33.0km)jct with D206 to Col Des Pres on right
5.(300m,37.8km)START-END SOUTH: Chambery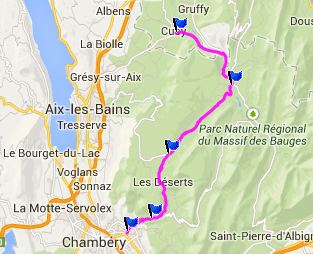 Approaches

From North. The road starts to climb immediately after crossing the river Le Cheran, and a little later winds through picturesque Leschergaines Chef Lieux. Then it makes its way up a gentle partly forested valley, with a single horizontal limestone layer above pointing towards the pass. Looking back on a clear day you can make out various rocky ridges resembling large bricks behind Lac d'Annecy. The top is forested and level, and contains the village Plaimpalais. I don't know why the m is an n, or how it got to be one.

From South. (described downwards). Immediately after the top a turnoff to the right leads to the higher Mont Revard. Going down towards Chambery, there is a nice far vista of the Belledone Range. After that a high speed descend may make it difficult to stop the bike on a dime, just to take a picture. Only a few tight turns at the bottom slow down the fast descend. The main road reaches the valley south of Chambery. There are serveral worthwhile detours that stay up in the limestone cliffs a little longer and detour to the south to Thoiry and Curienne.

Dayride with this point as highest summit:

Col de Plainpalais , Col du Frene , addtional out and back : la Ravoire > bike path with detours south to Montmelian > Cruet <> out and back quite a ways up small road to Combefolle > St Piered'Abigny > Col de Frene > Epernay > Chatelard > Leschergaines > Col de Plaipalais > back to starting point in La Ravoire: 58.4miles with 6027ft of climbing in 5:41hrs (Garmin etrex30 m4:14.7.6)
Notes: The out and back was an attempt to connect with Col du Frene further up, but there is no paved connection. This was a hot day for the alps.

The last day with different start and end points over a pass on this tour is on page: D207 Aiguebelle - St Pierre de Belleville(s)