Col Du Lindar


This is not an area where you really have to get away from traffic, because there is not much in the first place. But if that is still too much, this pass with a short unpaved section over the top will do the trick. All I saw and heard over the top was cows and one motorcycle, with the engine turned off while coasting downhill



1.(640m,00.0km) START-END EAST: Lescheraines
2.(900m,11.0km)Aillon-le-Jeune
3.(1350m,19.1km)TOP: Col Du Lindar
4.(968m,21.9km)Col du Marocaz
5.(270m,33.3km)Montmelian, near jct with D1006 and river L'Isere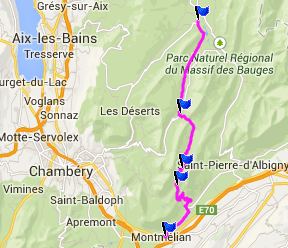 Approaches

From North. From Allion-Le-Jeune a regular width road goes up a narrow forested valley to Allion-Le-Station, which is a series of small ski lifts with interspersed restaurants and a few stores. In the summer it gives the impression of a ghost ski station, ie. not the kind with quad lifts and plans to pour concrete on top of the mountain to make it bigger and attract more skiers. This place fits in much better with what nature had in mind.

The turnoff to Col du Lindar is not signed. But you get there by taking the very first right in Le Station. The road becomes narrower, the cow bells seem to become louder. Actually they do get louder, because now they are immediately next to the narrow, somewhat soiled road. Looking back in this alpine meadow, this is the last good view of bare peaks in the Bauge Massif. The road disappears into the forest and continues to climb gently and with a few sparingly used turns. At the top is a small Col du Lindar sign, as well as a directional sign pointing to a Chateau. The sign maker apparently had a different idea of the spelling of this pass.

From South. (described downwards). The road continues by making a right turn. But the way back down is a narrower path, which is accessed by staying left. The closest thing to a far view does not last long. It shows a box shaped cliff of the Chartreuse across an expanse of needle trees. The path becomes wider and winds down through the trees. This forestry road can be very muddy if it rained recently. It is much too rocky for a road bike, but short enough so that it easily walked. Road conditions improve after a few hundred meters and a gravel road deposits the rider on the top of Col Du Marocaz. The profile continues down the steep side of the pass to St Lauren and Montmellian. On the lower part the forest draws back numerous times to reveal fine views of the Massif de la Vanoise.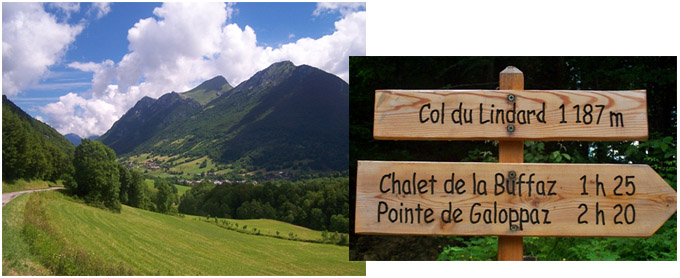 History: In 1940 a forest road was built to connect the top of Col du Marocaz with Aillons. The idea was that the village La Thuile could have better access to wood from (or closer to) the valley. But the pass was only rarely used for that.

Dayride with this point as highest summit:


PARTIALLY PAVED / UNPAVED:
Col Du Lindar , Col Des Pres :
La Ravoire (east of Chanbery) > up D21 > Boiserette > Le Bois > up D206 > Col des Pres > Allion Le Jeune > up D32A <> out and back towards Praz Geraz, Chateau de la Fullie >> Col du Lindar > Col Du Marocaz(shp) > Montmelian > Francin > Le Marche > back to starting point in La Ravoire: 43.0miles with 5260ft of climbing in 4:58hrs (Garmin etrex 30 m4:14.6.30)
The last day with different start and end points over a pass on this tour is on page: D207 Aiguebelle - St Pierre de Belleville(s)