Col du Castillon


This small pass connects Menton on the coast with the mountain tourist town Sospel. It is easily bypassed by a newer main road, which stays in the valley and goes through a tunnel. The pass has therefore very little traffic until the two roads converge above Menton.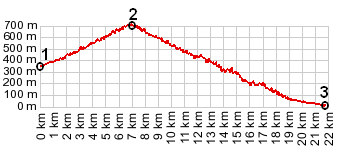 1.(00.0km,345m) START-END NORTH: Sospel
2.(06.9km,628m) TOP: Cal du Castillon, route turns left and goes under short Tunnel
3.(21.8km,002m) START-END South: Menton water front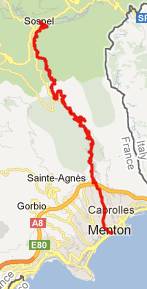 Approaches
From North. A rondel on the south side of Menton has exits for Col de Braus, Col du Castillon and other roads leading over the (also low) Vescavo Pass directly to Ventimiglia. In spite of the fact that the turnoff is clearly signed, I missed it the first time, because the Castillon route appears to head in an easterly direction, while I knew I had to head south. Remnants of the fortresses of the Little Maginot Line can be seen on the next ridge to the west further up on the climb. The road has very little traffic and crests unexpectedly with a 90 degree left turn through a small tunnel. There is a junction here, with another small road leading a little higher and connecting to the Col de Braus approach from Sospel

From South. (described downwards) There is a small village on top of the pass. From this vantage point Menton is just a few houses on the hill with the Mediterranean sea in the background. An interesting historic viaduct appears at half height. It belongs to an old railroad line that has been abandoned. Automobile traffic becomes much heavier as soon as the valley route merges with the pass road, also at about half height.

History
The name Castillon derives from a village, that was located just to the west of the pass. It was destroyed by an earthquake in 1877. Before WW2 this ridge so close to the French - Italian border was fortified as part of the Little Maginot Line. Built between 1931 and 1934, it once was manned by 344 men. The Italians attacked it once in 1940, but were unable to advance before the armistice of June 25th. Later during the war, Germany controlled Castillon. The fortifications were heavily damaged by an American attack against the Germans in 1944.
In the 1950s the ouvrage (as these forts are called), along with others in the Little Maginot Line, was restored to be operational again, as possible defense to Russia and the Warsaw Pact, in case troops would advance through Italy. You might expect that this line of reasoning would not produce lasting results. The fortifications were decomissioned in 1964, long before many others in the Little Maginot Line.
Cycling: The pass was crossed by the Tour de France a total of 27 times between 1911 and 1952, and after that never again.

A day on an Extended Tour:

(<Col de Turini|Col de Tende>)
Col de Torini , Col de Castillon: Lantosque > Col de Turini > Sospel > Col de Castillon > Menton > Bordighera: 62.9miles with 5420ft of climbing in 6:23hurs (VOD MC1.0 m4:12.5.26).
Notes: includes the riding part of a long room search on the coast
A Dayride from the ending point of that day, Bordighera is on page: Colla Langan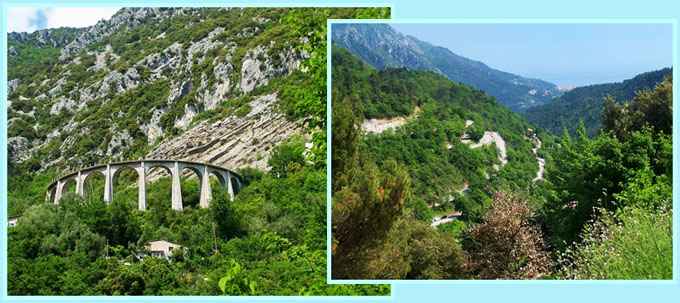 back to Cycling Passes in Europe