Col d'Arnosteguy

Looking at a 1:200 000 scale map of the passes and summits south of St-Jean-de-Pied-de-Port can be misleading. It's easy to miss a squiggle or two, or maybe the mapmakers missed them. This squiggle or two in reality can take half a day to climb up. This pass one of those combination of squiggles.

The main purpose of this road, and many others in this area appears to be, for Basque herders to be able to access vast, open, high grazing areas. These roads often are narrow as a bike path, but paved. They avoid any expensive road building measures such as road cuts. They often start impossibly steep and then above treeline meander around the mountain, only to reach an unsigned pass, that may or may not be the highest point on the profile. Often there are other passes nearby, that are within very short distance of the road pass in question. Names can also be confusing because of spelling variations in different languages.


1.(00.0km,0180m)START-END NORTH-1:St Jean Pied de Port, south gate
2.(13.5km,1140m)jct with D128, and other approaches from west
3.(15.3km,1230m)Croix D'Urdanasburu marks fork in the path with Camino Santiago
4.(18.0km,1236m)TOP: Col de Arnosteguy
5.(32.6km,0318m)jct with D301 to Arthaburo s(u)
6.(43.8km,0180m)START-END NORTH-2:St Jean Pied de Port, same as point1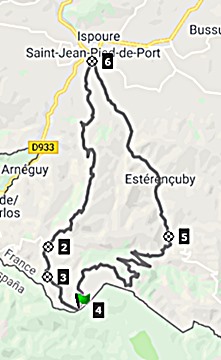 Approaches

From North-1. There are those passes where cars outnumber bicycles by a huge factor, a few where bicycles outnumber cars by a significant factor, and then there is this one - where pedestrians outnumber cars and bicycles by, let's just say a lot, depending on the conditions..

But the surface is impeccably smooth pavement, even if there is not that much of it, because the road is pretty narrow. D429 is signed as the Camino de Compostella de Santiago, starting right at the southern towngate of St-Jean-de-Pied-de-Port. My bicycle hardly moves faster than the pilgrims are walking, and much of the way, I am actually walking too. It is a busy pilgrimage this morning. It has been rainy over the last two days and today is impeccable clear sunshine, which is appreciated by hikers and cyclist equally. There is a backlog of Santiago de Compostella bound trail traffic.

Starting at the bottom, there is also an option to detour the pilgrim route by connection to points east over D128 and then go over Arnosteguy. For repeated training rides this is probably an attractive option to walk less, and bike more.

As the little curvy road climbs steeply, always following the land, never the slightest roadcut, the lush green surroundings of St Jean move in perspective. It is not lush in a tropical sense. Trees are loners up here. There canopies and their shape are not lost in the crowd of the forest. But their shape helps determine the character of the landscape. But the pallouse is lush - a green carpet emulating the yellow of the sun in intensity. This lawn of the landscape is perpetually kept at bay by thousands of sheep dotting the landscape. As the road climbs the dots become smaller, also more numerous, more spectacular in their entirety, the way they control the landscape, just by being in all the right places and eating it.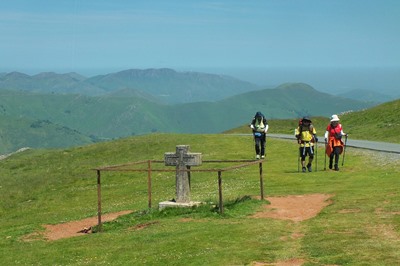 The same way the Mormons parted way with the California miners on the Oregon Trail, there is also a parting of the ways between the hikers and the handful of bikers. It happens at a simple fenced off cross, and very close to the Spanish border. But the border pass will be a different one for each category of traveler.


The pass is very close. Now far above treeline, the mountains are green faces with small limestone outcrops, providing a kind of background texture. The hard work is over. The road traverses along a bowl, containing another group of landscape controlling sheep.


The pass opens up a view into Spain and far snow covered mountains to the west. In addition to the road, there is also a trail that can be seen, descending and then climbing again on the Spanish side. It looks mountain bikable. But the profile stays on French pavement. It does not actually cross the pass, but descends another way on the north east side.





From North-2. (described downwards) After a look at the sheep bowl from the opposite side - it looks just as scenic but with different background - the road descends to a herding area - still above treeline. A conversation with a spanish driver leads me to the conclusion that I have to descend much further to follow my route. There are no roadsigns for these roads close to the spanish border, but a map suggests that much of this is mountain bikable terrain with descends into Spain possible.


The paved Iraty bound road descends steeply in long forest ramps. But first there is an impressive panorama of a wild green peak. I think it is Errozate, and from this side you would be hard pressed to believe, that a road comes close to the top from the other side. After a brake screeching descend, Past a restauraunt, another equally narrow lonesome road climbs to the next summit Arthaburo s(u). But the profile descends all the way back down to St Jean.


cLiCk on image , arrows , or thumbnails to advance slideshow


Dayride with this point as highest summit:

COMPLETELY PAVED

( < Cirque de Troumouse(ow) | Col de Ibarburua > )

Col de Arnosteguy , Arthaburo s(u) , Col de Burdincurutcheta , Col de Zurtzai , additional out and back: St Jean Pied de Port > D428 south > Col de Arnosteguy > Arthaburo s(u) <> out and back to turnaround point, just past highest point on Errotzate s(u) >> D301 east > Col de Zurzai > Chalet de Irati > Col de Burdincurutcheta > Mendive > back to starting point in St Jean Pied de Port: 52.6miles with 8761ft of climbing in 6:35hrs (garmin etrex30: r5:19.6.16)
Notes: Col de Zurtzai would have greater than 500ft climbs on two sides, if approaches from Spain and the dead end below Chalet de Irati