Arthaburo s(u)

This is the second summit on a loop of famousely steep and scenic summits from St-Jean-Pied-de-la-Port. The scenery in this part of the Atlantic Pyrenees is made up of large, sweeping grassy mountain faces, and I don't know of any other part of the world that looks like this. I wonder if there is a similar scenery anywhere.


1.(00.0km,0180m)START-END EAST:St Jean Pied de la Port, south gate
2.(11.0km,0320m)jct with D428, coming down from Col de Arnosteguy
3.(19.8km,1160m)TOP: Arthaburo s(u), immediately before turnoff to Errozate s(u)
4.(24.2km,1020m)turnoff south to Spanish border and Errozate s(u)
5.(27.3km,1135m)Col de Zurzai
6.(29.9km,1000m)Chalet de Irati
7.(32.8km,1135m)Col de Burdinkurutcheta
8.(55.0km,0170m)START-END WEST:St Jean Pied de la Port, north side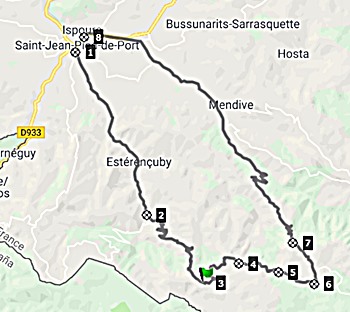 Approaches

From East. The lower part of the approach is the western part of the way to Col d'Arnosteguy. Or you can ride the two in a one-two punch. The climb combined with the endless tight turns is steep enough to send breakpads screeching just from anticipation.

The initial supersteep switchbacks have numerous unsigned turnoffs to farms. But directions are easy, just follow the Iraty arrows painted on the road. These markings are left over from the Iraty endurane race. The narrow path quickly gains a ridge with equally great views in both directions. Getting close to the top, the road passes through two rocks approximating a gate. "20 percent" is painted on the road for the Iraty endurance racers. Is that meant to be encouraging or discouraging ? It is impressivie though. For me, even more reason to stop at this gate of rocks and take a picture of the impressive landscape, framed by these rocks.

According to the map the road passes a Col de Arthe at 937 meters before reaching this summit. There are no signs anywhere indicating either the pass or the summit described here. The fact that it was the highest point becomes apparent after a scenic traverse.

From West. (described downwards) The next junction is well hidden until you have practically missed it. As usual an the word Iraty with an arrow painted on the road urges everybody to follow the road that stays in France. The right climbs higher, in order to summit below the mountain Errotzate (different from the col de Errotzate, which is lower). But that is hopefully a different bike ride.

Following the Iraty arrow, the road descends to another scenic herding area, with another road into Spain that for some reason does not appear in many popular maps. 1460 meter high Okabe keeps watch over this junction. Many travelers coming from the Iraty side stop here, not knowing that it actually even gets quite a bit better than this when they proceed. From here the road climbs again through the forest to Col de Zurzai, before descending to Chalet de Iraty. Col de Zurzai is not signed, and there are no comparative views from there.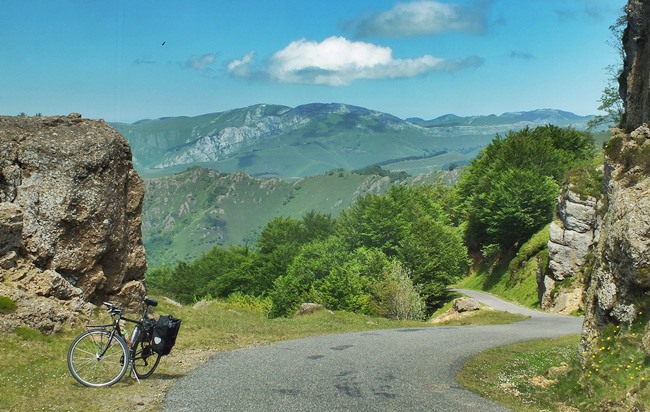 Dayrides with this point as intermediate summit are on pages:
Col de Arnosteguy
Col de Larrau

cLiCk on image , arrows , or thumbnails to advance slideshow