Tahoe Rim Trail: Section: Armstrong Pass - Daggett Pass

This is part of the TRT section Kingsbury South - Big Meadow. It contains the highest point on this section and I think ialso the most scenic sections. But the the remaining part of the section (TRT: Big Meadow th - Armstrong Pass) is even more popular with mountain bikers because of its great trail conditions.


01.(6360ft,mile00.0) START-END SOUTH ALTERNATE: jct US50 - Ca89, just south of South Lake Tahoe
02.(6960ft,mile04.0)profile turns left onto sidroad to trailhead, also jct with Upper Truckee Rd
03.(7330ft,mile05.0) START-END SOUTH: start of Tahoe Rim Trail at Big Meadow Trailhead
04.(8170ft,06.7mile)jct with alternate approach trail from further up Luther Pass Rd
05.(9500ft.mile10.9) TOP: Tahoe Rim Trail: section Big Meadows Th - Armstrong Pass s(u)
06.(97006.(8710ft,mile13.0) low point, immediately before Armstrong Pass
07.(9740ft,mile16.0) TOP: TRT section Armstrong Pass - Daggett Pass s(u)
08.(9140ft,mile17.7) intermediate low point at Star Lake
09.(8610ft.mile21.5) trail crosses from California into Nevada
10.(8640ft,mile22.0) trail crosses first ski run
11.(7779ft,mile25.5) START-END NORTH ALTERNATE: TRT trailhead on Stagecoach Express road in ski area. profile follows road from here
12.(7334ft,mile27.2) profile turns left on top of Daggett Pass
13.(6330ft,mile30.3) START-END NORTH: jct Nv207 - US50, north of South Lake Tahoe

Approaches
From South. The direct approach to this part of the trail leads up from South Lake Tahoe up to Armstrong Pass over a popular trail. But one can also ride this summit as part of a fairly long day loop, following the TRT from the Big Meadows Trailhead to Daggett Pass. That's the elevation profile shown above.
The description starts at Armstrong Pass. Compared with the TRT south of here, the trail becomes increasingly sandy, but never to the point that would make riding impossible. The trail traverses around the west side of the mountain, mostly gaining elevation steadily and not very steeply. Every once in a while a long straight roll across the wooded hillside makes it feel like you are really making progress in the distance department. Meanwhile the views of Lake Tahoe acquire not only a rugged mountain backdrop, but an additional checkered granite cliff face, that acts as a foreground in pictures.
This time, what looks like a top, really is the top. A well defined divide on a flank of Freel Peak (10881ft) is the highest point along the route. On top I met a group of three Truckee bikers with the goal of climbing this highest mountain on the shores of Lake Tahoe, on foot. But the beginning of a late June heat wave made them reconsider.
From North. (described downwards) During my ride I underestimated the effort that it would take to get to pavement from here. Yes - contrary to what it looks like from the summit, there is not much climbing left to do, but it's still about 10 miles of sometimes pretty rocky single track to get back to pavement.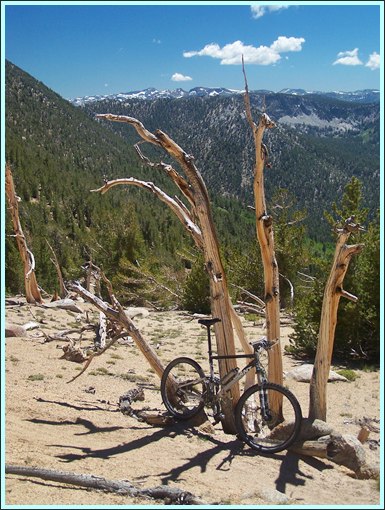 From the top it doesn't seem possible to get over to the next mountain to the north without another big climb. But the trail elegantly contours around the west side of a ridge, that is not visible from the top, and heads for the next saddle barely climbing at all. But first comes a descent to Star Lake, rocky in places, smooth in others.
A separate Star Lake Trail from the valley to this sublime spot makes it possible to divide this section of the TRT in yet smaller sections with separate summit points. Surprisingly the TRT keeps dropping further past the lake. Then the sandiest section of the trail so far leads to the aforementioned saddle. The last impressive views of Freel Peak all of sudden give way to the first panorama of Carson Valley. Somehow I expected it to look like a bigger drop, than how it looks from here. Next comes a walking section downhill, as the trail appears to descent into Carson Valley - "oh no, anything but that. Did I take a wrong turn somewhere ??" But tire tracks on the path indicate, that if I took a wrong turn, many others did too. Two switchbacks lower and the trail continues its traverse again, now firmly on the east side of the ridge line. In most stretches the trail becomes easily ridable again, often the result of extensive trail building work with supporting stone walls on the hill side. A few times I got off the bike anyway, just because the possible ramifications of falling off the bike on the non-hillside seemed too daunting.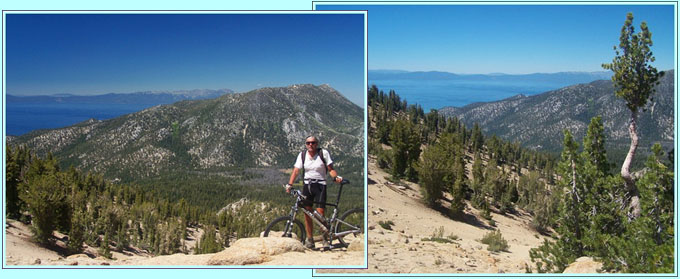 first picture on right: highest point near Freel Peak looking north
both pictures above: view towards Lake Tahoe from this summit
Eventually Free Peak reappears in the panorama, showing off its large vertical drop to Carson Valley. Finally the trail crosses under a ski lift and I thought I had it made. But not so quick - next came the first truly puzzling intersection on the entire trail, where it seems to just end on a ski run at a 30 percent slope, without a sign. Choosing the downhill option, it quickly becomes apparent that uphill would have been the right choice. Oh well - nothing that 10 minutes of hard pushing can't fix. After a while the TRT diverges from the ski run on the right without a sign - I think. Now the the trail contours to the west, but views between the trees indicate that I am still looking down into Carson Valley. But the trail levels out and becomes increasingly faster. Finally a few real estate monstrosities of Carson Ridge (part of the Heavenly Ski area) become visible, separated from the trail only by a slight drop, that appears much higher than it really is, because of increasing tiredness. A final great view for road pass aficionados is the upper northern approach of the Daggett Pass Road, as seen from a rustic bench through a clearing in the trees.

At the trailhead above Carson Ridge (we are now in Nevada) there appears to be an option to stay on the TRT designated trail a bit longer, But I opted for a short stretch of dirt road, delivering me into the uppermost ski housing of the ski area. The profile includes the paved way back down over Daggett Pass.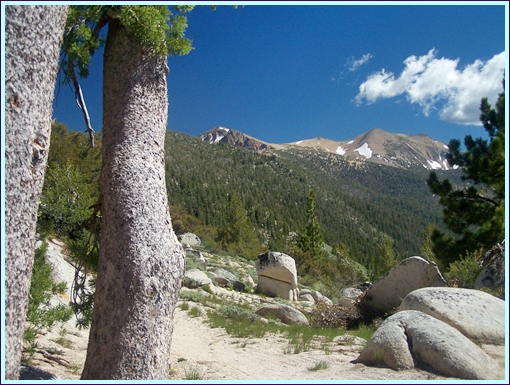 traversing north of the summit

Dayride

PARTIALLY SINGLE TRACK / PAVED ROAD

( < Luther Pass | Carson Pass > )
TRT Armstrong Pass - Daggett Pass s(u) , TRT Big Meadows trailhead - Armstrong Pass s(u) : Big Meadow Trailhead > TRT Big Meadows traihead - Armstrong Pass s(u) > Armstrong Pass > TRT Armstrong Pass - Daggett Pass s(u) > Daggett Pass(shp) > South Lake Tahoe > Pioneer Trail (this is a road) > US89 back to starting point: 45.7miles with 5250ft of climbing in 7:03hrs. (VDO MC1.0 m5:13.6.27)
Notes: seems a little cumbersome to specify this route in the usual way. Basically it's the TRT section Big Meadow - Kingsbury South and then returning on the shortest paved route. According to the TRT brochure the single track section is 23.2 miles. But my odometer came up with a mile or two more. Is that due to swerving around all the rocks ? Who knows.