Tahoe Rim Trail: Section Big Meadow Trailhead - Armstrong Pass
This section of the TRT is very popular with mountain bikers. During my traversal of this route on a weekday, I saw maybe a dozen, and no other trail users. I think the reason for this popularity is mostly the trail conditions. This section is even more ridable than the next section to the north. Both parts together are labeled as the Kingsbury South - Big Meadows section in the trail pamphlet, published by the Tahoe Rim Trail Association. The highest point on the entire section is part of the
TRT: section Armstrong Pass - Daggett Pass
.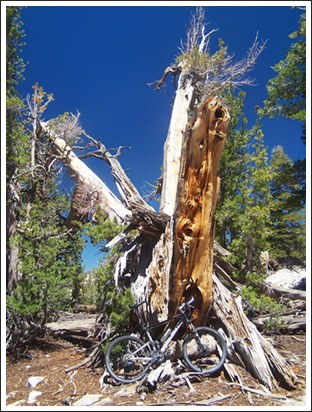 Approaches
From South. The Big Meadow Trailhead is located inside a half loop of Ca89. Riding through this short, narrow, paved stretch of road and cutting off a small portion of the highway, just may be the most interesting part of a road ride up Luther Pass.

But the major reason for this little road are the two trailheads for the Tahoe Rim Trail here. Only one of the sections can be used for a cycling loop, the secton heading north to Armstrong Pass and onward to Daggett Pass, the next paved access point of the TRT.

The trail leaves in the opposite direction than is intuitive, and climbs between wide stems and huge glacially deposited boulders in the shade. Periodically there are big rocks embedded on the trail. Otherwise it is easily ridable. After a fairly long initial workout with just one opening in the forest presenting a view to the north, the trail reaches a ridge and presents the first view of Lake Tahoe. From this point the lake is quite a distance to the north. For a short distance the trail follows the ridgeline and crosses a high meadow with a riot of wildflowers, in the background: the main ridge of the Sierra Mountains. This turns out to be the highest point on this segment.

From North. (described downwards) Even though the trail now stays east of the ridgeline, the views are still in a southerly direction, and Carson Valley is still far away out of view. A (in the majority of places) fast descent on a smooth trail leads to the junction with a trail crossing Armstrong Pass. Going left here goes back down to the South Lake Tahoe area on a very popular trail. Armstrong Pass contains various signs with numbers and destinations, but is not marked with a name. The trail between Armstrong Pass and South Lake Tahoe seems to be a favorite part of the ride for many.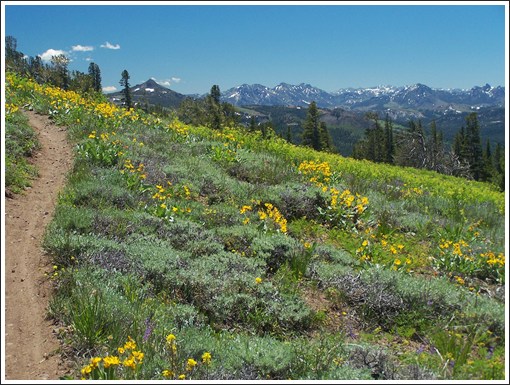 A Dayride with this point as intermediate summit is on the page: Tahoe Rim Trail: Section Big Meadows Trailhead - Daggett Pass.