Grey Butte s(u)


One of the great, paved cycling climbs of northern California is a ride up Everitt Memorial Hwy to a shoulder on Mount Shasta. With a mountain bike and a little bit of walking this can be made into a two way summit

The subject of the slide show on this page is of the Everitt Memorial Hwy paved approach up to the Panther Meadows trailhead, and also a few pictures of the section between points 6 and 7 on Skipark Rd. The subject of the slide show on the external page (link on the left side) is the out and back ride of the summit section of the Everitt Hwy (above the trailhead) and the short summit section on the trail and dirt road.


1.(2340ft,mile00.0)START-END SOUTH-1 ALT: I5 exit south of Dunsmuir
2.(3460ft,11.7mile)profile turns right from Old Stage Rd, onto W Lake St into Mt Shasta City
3.(3580ft,11.5mile)START-END SOUTH-1: Lake Street crosses Mt Shasta Blvd in Mt Shasta City
4.(7480ft,mile24.7)profile turns right onto trail through Panther Meadows
5.(7910ft,mile26.5)TOP: highest point, immediatel before the turnoff to the top of Grey Butte
6.(5450ft,mile31.7)route reaches parking lot for Skipark parking area
7.(3840ft,39.0miles)START-END SOUTH-2 profile turns right at this saddle
8.(3840ft,39.0miles)profile turns right at this saddle
9.(2530ft,mile43.2)START-END SOUTH-2 ALT: just south of Siskyou Ave - Deer Haven Dr, Dunsmuir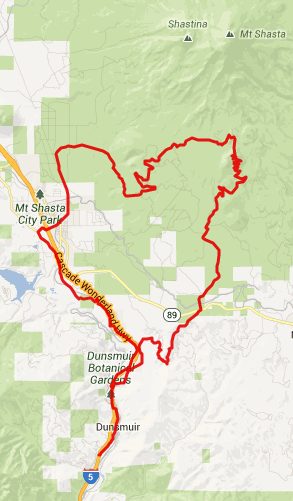 Approaches
From West. Roads west of downtown Mount Shasta City funnel into a paved road that seems as wide as a football field, when it passes the local high school. It starts to climb right away, road signs pointing to Mount Shasta. There are individual mileage markers with the current elevation along the road. But some of them seem to be missing, unless exhaustion got the better of me.

The first views are impressive, a massive bulk of a mountain behind brush forest. Then the road enters stretches of forest. The hills below dissolve in haze, that it's hard to tell where sky ends and hills start. The mountain comes into sight again at the first major trailhead at Bunny Flats. A little higher the walk-in campground at Panther Meadows is marked by a hand painted sign, that reminds me of the artistic style of San Francisco posters from the 60s. It was painted by the local naturalist, residing at the meadow, told me the campground host.

From here a short hiking trail leads to the top of Grey Butte. There are no signs forbidding bicycles, but riding across the first part of this trail across a mountain meadow would be heavily frowned upon, understandably so. But you should not carry an urn of a loved one in your handle bar bag and dispose of the ashes. "Disposing or scattering ashes on Panther Meadows is strictly forbidden, and the ashes will be removed" a sign reads. It sounds to me like removing scattered ashes would be a difficult task. How do you remove something that has been carried away by the wind already ?

I carried my bike for the first couple hundred yards, and took care to only step on the stepping stones on the trail.. Another trail off the main road also connects to the meadows trail, a little higher.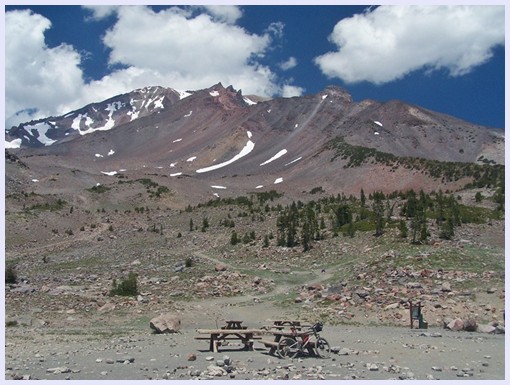 resting up on the highest spot of the Everitt Memorial Highway
After that the trail climbs a low ridge that connects Grey Butte with the mass of Mount Shasta, and conditions are too rocky to ride. Then the trail crosses the ridge, showing off the first great views of the eminence above, turns right and traverses along the ridge to quickly reach the microwave towers on Grey Butte. Riding that second section is possible, if you want to take your life into your hands. On top stood not only microwave towers, but also a pickup truck full of people fixing the former. I didn't expect to have a conversation about cell phones on this ride on top of this mountain. But I did.

From East. (described downwards) This side of the mountain makes a fascinating contrast to the "memorial highway". Patches have been clear cut, others have been "ski aread", and who knows what else. The steep switchbacks alternate between being very rocky or sandy, but all of it is ridable in a downward direction. But just rolling back down the asphalt would definitely have been more enjoyable. But actually pavement is not that far away. The first part of the descent ends under chair lifts, passing between snow guns. Next comes the victory lap around the ocean of asphalt that makes up the ski parking lot. "thank you" the sign directed at leaving skiers, reads as you exit. Now a well paved road descends into forest. There is a locked gate on this road, something to remember during the new found rush of speed on pavement (especially if it's getting dark).

There are several ways to complete this descent. Returning to Mount Shasta City would best be accomplished, turning right on FR31 Old Mc Cloud HIghway(sh). Or you could let gravity carry you down Ski Park Road to Snowmay Hill s(u), where one can descend further on busy Ca89 back to Mount Shasta City, or in the other direction Mc Cloud. This is what the profile does. By the way, going straight down another dirt road direction Dunsmuire or Castella is probably the scenically most attractive option. That options is described as part of the Snowman's Hill s(u) page.

Sidetrip to the end of Everitt Memorial Highway

This is really almost to short to call it a side trip. It is only about 200ft more of climbing. And it wouldn't make sense to skip this scenic collection of picnic tables at the bottom of a mountain throne like this. It is possible to camp up here, including on the parking lot of what was once a ski area. - The fact that this was once a ski area parking lot explains the large amounts of now crumbling asphalt in those last switchbacks.

Dayride

PARTIALLY PAVED / UNPAVED / HIKING TRAIL

( < FR19 Deer Mountain Road s(u) | SFR2000 Scholfield Ridge s(u) > )
Grey Butte s(u) , FR31 Old Mc Cloud Road(sh) : .5miles south of Snowman Hill > up Ski Park Hwy > FR31 Old Mc Cloud Road(sh) > FR31 east > Mount Shasta City > up Everitt Memorial Highway > Panther Meadows <> out and back to top of everitt Memorial Highway >> up Grey Butte Trail > Grey Butte s(u) > down dirt road on south side > Mount Shasta Ski Park > down Ski Park Hwy > back to starting point: 43.6miles with 5380ft of climbing in 5:18hrs (VDO MC1.0 m5:13.7.24)