FR19 Deer Mountain Road

This is an industrial strength logging road. But before you say - get me out of here as fast as possible - let me explain. I really only saw two logging trucks during my traversal of the road, and fewer than five other vehicles. The road has excellent pavement and is wide enough for big trucks. So the traffic issue gets a check mark. There are few variations of the same incredible view onto the north facing slopes of Mount Shasta from this route. But it's a one view ride. Besides the views from this half mile long section, there is nothing but trees.

If you restrict yourself to pavement this is an out and back ride. But combining dirt roads with paved sections (the profile does this), this point can be the highest point on a complete loop around Mount Shasta. It's not the innermost loop, that would substitute Military Pass Road for this point.


01.(3490ft,mile00.0)START-END WEST: jct I5-Ca89, just south of Mt Shasta City
02.(4470ft,mile05.1)profile turns left up Ski Park Highway on top of Snowman's Hill
03.(5240ft,mile08.9)route stays right onto FR31
04.(5620ft,mile13.0)intermediate summit FR31 s(u)-1
05.(4960ft,mile17.9)profile goes left onto FR31
06.(5700ft,mile26.5)profile turns left at this T junction
07.(5890ft,mile28.9)Military Pass Road stays left; profile stays right on FR19.
08.(6560ft,mile32.5)intermediate summit: FR19 s(u)-2
09.(5830ft,mile35.7)intermediate low point and jct dirt road going lower
10.(6790ft,mile38.7)TOP: FR19 Deer Mtn Rd s(u)
11.(4780ft,mile46.0)profile turns left onto US97
12.(3480ft,mile59.5) Carrick
13.(3440ft,mile62.3) Weed: jct US97 - Weed Blvd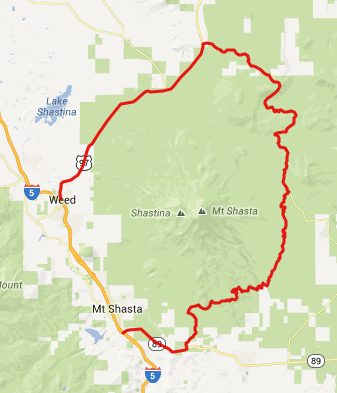 Approaches
From South. The description starts at point 9, after coming down from summit FR19 s(u)-2. Just after reaching the low point, the wide dirt road starts climbing again, and well maintained pavement appears out of seemingly nowhere. - What a surprise that was.

The road traverses up a ridge on Deer Mountain. There are some stunning views of the steeper north facing slopes of Mount Shasta, that quickly disappear as the road winds around the north side of Deer Mountain.

From North. (described downwards). The best thing about the fast curves through the forest on this side is the absence of traffic. The only driver I saw, blew his horn at me, as greeting because he had seen me, when he was going the other way.

The road emerges on Ca97 near its summit. The turnoff is well signed. The profile turns north (left) again. The remaining descent has a constantly open view of Mount Shasta to the left and the hills of the Klamath Basin to the right. Riding this section of road near the end of the day, seemed like a victory parade to me. Another interesting view is the straight-as-a-shot road up Military Pass Road. The profile ends at the jct with I5.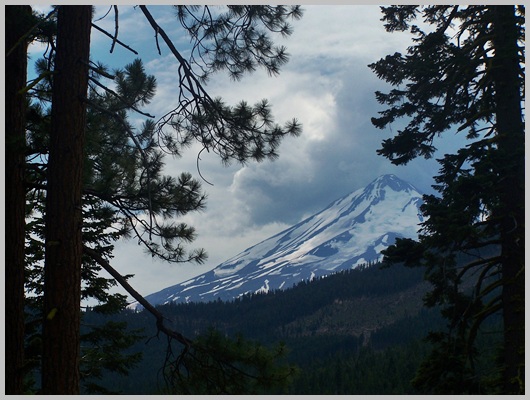 Dayride

PARTIALLY PAVED / UNPAVED

( < Snowmans Hill s(u) | Grey Butte s(u) > )
FR19 Deer Mtn Rd s(u) , FR19 s(u)-2 , FR31 s(u)-1 , Black Butte Summit , additional out and back: .5 mile south of Snowman Hill s(u) > Snowman Hill-1 (shp) > up Ski Park Hwy <> out and back to ski area >> FR31 east > FR31 s(u)-1 <> short partial out and back on original Military Pass Rd > FR19 north <> short partial out and back on Military Pass Rd detour >> FR19 north > FR19-2 s(u) > FR19 Deer Mtn Rd s(u) > Ca97 south > Weed > I15 south > Black Butte Summit > Mount Shasta City > back to starting point: 85.8miles with 6180ft of climbing in 7:16hrs (VDO MC1.0 m5:13.7.23)
Notes: this is a loop around Mount Shasta. Originally planned route went over Military Pass Rd. But a sandy road made me go this way: longer but faster. I think this might be scenically the more interesting route. - Finally nice temperatures due to clouds. - Black Butte Summit is the highest point on I5 between Weed and Mount Shasta City (not included in profile). There is also an alternate, longer, unpaved route around it.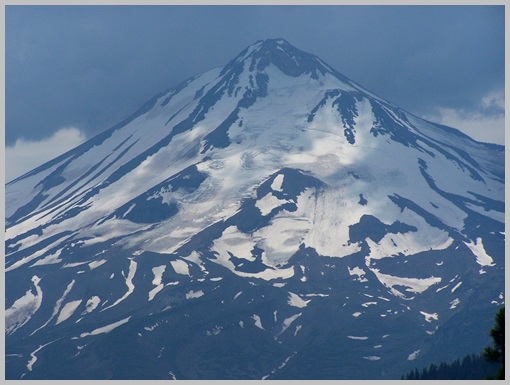 telephoto view of the icy north face of Mount Shasta in July