Red Mountain No3 Rd s(u)

The unique aspect about this particular summit is that there are no motor vehicles, anwheres near the extended summit area. One side is a dirt road through private land where hiking, cycling and skiing is allowed by the owners. The other side is short faint trail that is best walked downhill before rejoining a good dirt road.
The profile shows a route over two summits to illustrate the dayride below. This one is just a few feet higher than the other one: CR14 Ohio Peak area s(u)


1.START-END SOUTH-1:jct US550 - Co110, just west of Silverton
2.profile turns right onto CR14
3.12120ft - CR14 Ohio Peak area s(u)
4.profile turns right onto Red Mountain No3 Rd
5.12140ft - Red Mountain No3 Rd s(u)\
6.end ot trail section at mine
7.jct CR35 - Co110
8.START-END SOUTH-2: same as point 1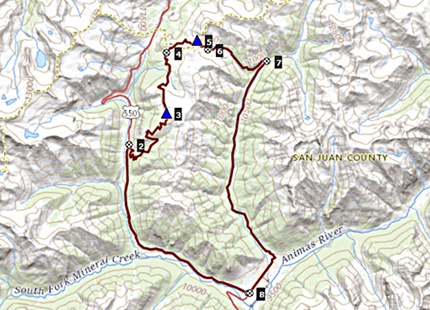 Approaches

From West. The most direct approach from pavement leaves from very close to the top of Red Mountain Pass on CR14. On the opposite side of that turnoff is CR16 to Black Bear Pass. However the profile shows the road coming down from CR14 Ohio Peak area s(u).

Weather going up or down on CR14, the junction with a locked gate and a sign saying Red Mountain Number 3 Rd is fairly impossible to miss. Locked gate ? There is also a sign saying "private property - hikers, skiers, cyclists welcome - no motor vehicles". I see this as proof that private property does not have to be inherently bad or evil. The road skirts a few mining remnants and private houses. At the first unsigned junction I stayed right. This leads to a second gate with the same inscription. The road is now solidly above treeline heading for the a tetrahedron of a mountain with road cuts all over it.

This road eventually leads to a high saddle with a hint of a trail descending down to a clearly visible mine. the second picture is taken from there, just as it started to rain. The road that continues from here up Red Mountain No3 is apparently and out and back summit - and covered with loose rocks.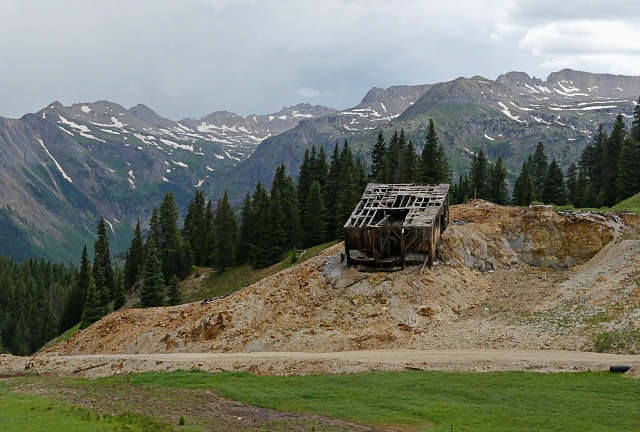 From East. (described downwards) The decent on the trail down to the mine however is fairly quick and painless, even walked. From the mine a fast dirt road connects with CR110 in the Howardsville area. The sign at the jct reads CR35 Dead End. The profile continues on this wide smooth dirt road into Silverton.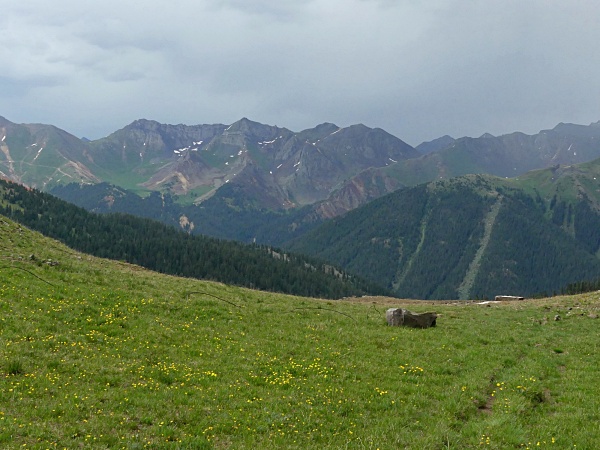 Dayride with this point as highest summit:
PARTIALLY PAVED / UNPAVED / HIKING TRAIL
( <
FR579 Cascade Divide Rd(ow)
|
Corkscrew Pass
> )
Red Mountain No3 Rd s(u) , CR14 Ohio Peak area s(u) :
short distance north of jct CR7 South Mineral Creek - US550 to Red Mtn Pass > US550 north > up CR14 > CR14 Ohio Peak area s(u) > down CR14 > up Red Mountain No3 Rd > Red Mountain No3 Rd s(u) > down unmarked trail towards mine on CR35 > down CR35 > Co110 south > Silverton > US550 north back to starting point : 22.1miles with 4270ft of climbing in 3:51hrs (garmin etrex30 m5:21.7.5)
Notes: the rain started at the highest point on the ride, this summit