Corkscrew Pass

In a previous version of this page, I wanted to call these slopes metamorphosed rainbows ... a colorful light vision on stone. These days a less flowery style is called for. Still ... streaks of red oxide run in straight lines down slopes, complementing jagged ridge outlines in the background. This part of the San Juan mountains have the color of the canyons, that start to dominate the landscape west of here. Even the Weemenuchi Wilderness cannot match this area in sheer rainbow technicolor quality. But then again, this area could never match that wilderness in pristine quality. The same color that makes this area so visually exciting, attracted more practically oriented citizens, miners looking for gold. As a result there are just as many streaks of red oxide running off old tailing waste piles as from natural slopes.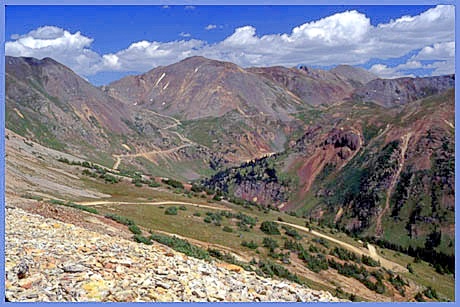 One of these mining areas, characterized by big mountains and big mine tailings, is centered around appropriately named
Red Mountain Pass
between Silverton and Ouray. Corkscrew Pass offers one of the better vantage points on this area. The proximity of three unpaved passes,
California Pass
,
Hurricane Pass
and Corkscrew Pass, make a trek across any number of them a prime objective for a dayride that stays above treeline for a substantial time. The
Hurricane Pass
page contains more pictures from such a ride.
Corkscrew Pass is high, short and steep in equal proportions, the very shortness effectively making it yet steeper. Unlike the historically significant unpaved passes in the San Juans like
Cinnamon Pass
,
Engineer Pass
and others, this is not an endurance event, but more of a strength contest, strength that is required to push the bike up a good portion of the very steep route.
Unlike the other two passes in this area, Corkscrew Pass is not marked by a sign on top. Neither is it marked on topo or National Forest maps. It is referred to by name on a sign on the eastern approach. "Passes of Colorado" also identifies the pass and sources it to "local usage".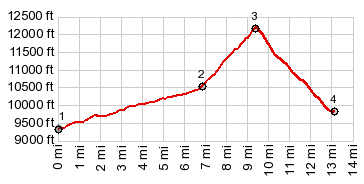 click on profile for more detail

1.START-END SOUTH: downtown Silverton
2.profile turns left at American Tunnel Mile
3.TOP: Corkscrew Pass, 12217ft
4.START-END NORTH: jct CR20-US550 in Ironton Park, north of Red Mountain Pass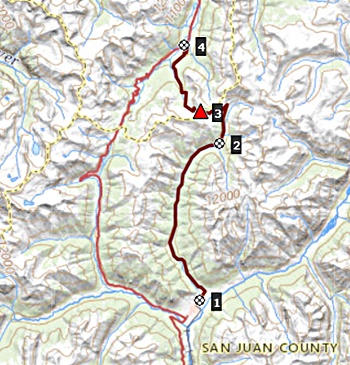 Approaches
From Nort. (via Corkscrew Gulch) The dirtroad trail to the pass leaves US550 (the Red Mountain Pass road) in the ghost town of Ironton Park. The route is signed as county road 20. The initial climb up Corkscrew Gulch is smooth and ridable. The second part of the climb starts at a bowl that contains a meltwater lake during the spring. At this point the climb becomes too steep to ride, or maybe it just seems like it to me after the initial effort. The top is in rocky tundra with incredible views in three directions, Red Mountain No.3 to the west, vertical peaks to the south and the trace of Hurricane Pass ahead towards the north.

The double track heading towards Red Mtn No3 ends after a while, but not before delivering some incredible views. Some of the pictures are from this short out and back detour. The map apparently shows a trail connection with Red Mtn No 3 (?).

From South: (also described upwards) The county road from the east end of Silverton is a wide and well surfaced, unpaved highway. At the American Tunnel Mine the track becomes etremely steep with scenery to match. An alternative second route stays lower in the valley and further west.

At this junction Cement Creek Rd with the route coming down from Corkscrew Pass, used to stand a sign naming Corkscrew Pass. On my last visit it had been removed. The view of vertical Tower and Dome Mountains from starting about here and points up, make this one of my favorite scenic spots in the San Juan Mountains. Apparently others like it too, because a well constructed out house has been erected in the vicinity, detracting somewhat from the natural qualities. However if out houses are needed, they need to be built, and built it was.
cLiCk on image , arrows , or thumbnails to advance slideshow
Dayride with this point as highest summit:

PARTIALLY PAVED / UNPAVED:
( < Red Mountain No3 Rd s(u) | )

Corkscrew Pass , Red Mountain Pass , additional out and back: a short distance north of jct US550 to Red Mtn Pass - South Mineral Creek Rd > US550 south > SIlverton with sightseeing detours <> out and back up CR33 to a turnaround point where it turns up the mountain >> CR110 north > Corkscrew Pass > CR20A north > UAS550 south > Red Mountain Pass > back to starting point on US550: 33.3miles with 4610ft of climbing in 5:16hrs (garmin etrex30 m5:21.7.6)
Notes: a broken rear brake rotor blocked wheel during decent from Corkscrew Pass. An entire jeep convoy behind me checked one by one to see if i was okay. Finished ride with one brake.

A Dayride with this point as intermediate summit is on page: California Pass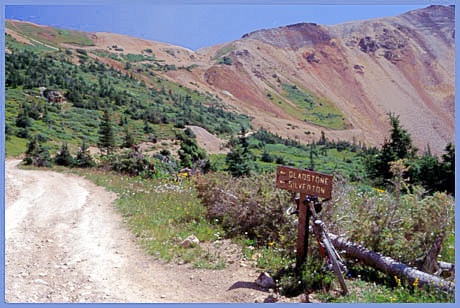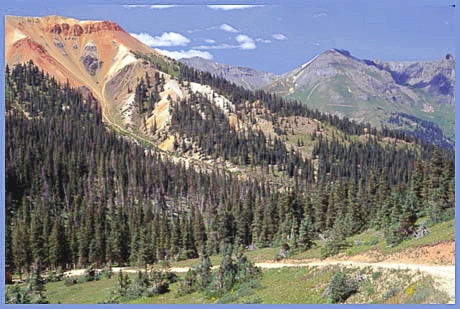 History

Cycling. An early mountain biking guide, first published in 1987 listed the Corkscrew Gulch and Cement Creek approaches and as being suitable for mountain biking in its appendix, without describing them any further (William L. Stoehr's: Bicycling the Backcountry).