Phantom Canyon - Shelf Rd(sh)

There are many big bike climbing possibilities on the slopes of Pike's Peak. There is a whole network of roads on the upper slopes connecting all these approaches. So there are many more approach possibilities than the mentioned direct approaches. This loop has received publicity in recent years and become popular with gravel bikers.

The highest point on this loop combines two approaches of very different character, one an old rail line through tunnels and over bridges - now a fairly wide, sometimes dusty road with a roadbed engineered to carry a train. In past years erosion has sometimes outpaced preservation efforts. But as of 2021 the road is in a very maintained state. The other approach is a steep jeep road - and the name Shelf Road says it all.

The two linked picture pages are divided in the two approaches.



click on profile for more detail

01.(5280ft,mile00) START-END WEST: jct US50 and what becomes Fields Ave, Canyon City.
02.(6600ft,mile14) jct with Trail Gulch ( lower end of Shelf Road).
03.(6990ft,mile19) site of Marigold
04.(8800ft,mile25) Aregua Gulch joins on right
05.(9400ft,mile27) profile turns right from Shelf Road onto Co67
06.(9700ft,mile33) Victor
07.(9700ft,mile33) profile turns right from Co67 onto Phantom Canyon Road
08.(9760ft,mile36) TOP: aproximately highest point
09.(6130ft,mile55) first tunnel from bottom
10.(5470ft,mile62) START-END EAST: start of Phantom Canyon Rd at jct US50 - Co67.
11.(5160ft,mile65) START-END EAST ALTERNATE: Arkansas River crossing on Co67, just north of Florence
Approaches
From South West via Shelf Road. Both Fields Ave on the east side of Canyon City, and Red Canyon Ave further west, cross US50, and directly reach the paved road leading to Shelf Road. The road winds through a wide arid valley, sometimes in diagonals, sometimes in a square pattern and sometimes in curves, as if to follow old land boundaries.

At the end of pavement two dirt roads lead to BLM campgrounds, as well as a few undeveloped sites on Bank Road. After a small drop, it becomes clear how the road got its name. It climbs to half height on the west side of a canyon. Cars may not stop on this section. This is the most scenic section of the road, but it is not very steep. That comes a little later, after the road passes under an arch that can't be missed from either side. Getting close to the top, large plateaus appear in sight. These giant steps of rock in the landscape are not the natural slopes of Pike's Peak, but a man-made modified version - huge tailing piles from industrial mine operations.

The profile joins paved Co67 just outside of Cripple Creek, but turns away from it, in favor of Victor. Looking for this turnoff when going down Shelf Road, it is easily missed. There is only a county road sign in front of an inconspicuous turnoff, that looks like many of the private mining roads in the area. But a 100ft or so down the turnoff several signs inform briefly about the history of the area, and also name the road.

Both mining towns along this route share a common history, but now they appear very differently in the present. Cripple Creek is popular with visitors, who come here to gamble away their money in a mixture of new buildings and old buildings permitted to survive. I was very annoyed by this in the past. But in post Corona 2021, the town seemed very civil and pleasantly subdued. On the other hand, Cripple Creek missed out on the gambing money. It is a mixture of a functioning mining town with a pleasant air of historic decay. Much renovation seems to have taken place in recent years. Cripple Creek may be popular with visitors, but Victor is the real attraction for me.

It is hard to really designate a summit point. The section between the west side of Victor and the indicated summit of Phantom Canyon really consists of small rolling hills, and that was the highest point on my profile. But the higher town streets in Victor are probably at a higher elevation.


From South East via Phantom Canyon. (also described upwards) Phantom Canyon is the extension of Co67, heading north from Florence. Its name is signed where it crosses US50. When completing a loop with the other approach CR123 offers a shorter, more pleasant paved connection with Canyon City,

After crossing Mc Kenzie Road, Phantom Canyon swerves east, to follow the creek that has sliced through the first hogback. This is not the beginning of the canyon quite yet. But it's getting closer. The road soon turns to dirt at the beginning of the BLM land boundary, The road follows a shallow, uniformly sloping canyon. Where the slope wasn't quite as uniform, railroad cuts and two short tunnels help in making it so. This canyon is not as deep and impressive as Shelf Road, but countless spires and hoodoos eroded into the sandstone give it an enchanted fairy-tale appearance, That must have been a incredible train trip. Signs point out old railroad landmarks.

After the route diverts through a wide side canyon, it climbs to half height of the main canyon and then traverses along its upper slope. The massive railroad cut now becomes the center of attention and this is the most scenic section of the road. After the route crosses a newly reconstructed bridge, it switches back to a southerly direction, and for the first time presents a view overlooking a part of the route traveled so far. Soon afterwards the Sangre de Cristo Range appears at the south western horizon. But there is still a nicer view of them to come right before the crest, and before the descent. You need a good altimeter or topographic to figure out where the summit really is: by a tiny margin, a small distance to the east side of Victor.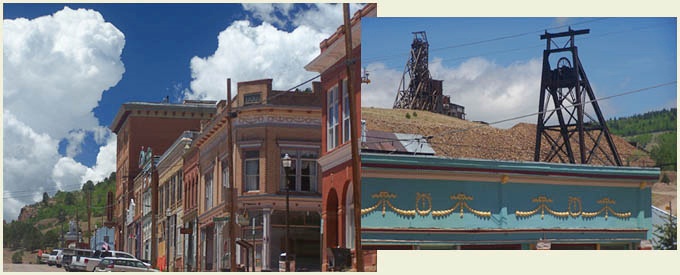 cLiCk on image , arrows , or thumbnails to advance slideshow

Dayrides with this summit as highest point


( < Hoosier Pass | > )


Phantom Canyon - Shelf Rd(sh): Campsite at "the Banks" area below Shelf Road > up Shelf Road > Co67 east > Phantom Canyon - Shelf Rd(sh) > Victor > down Phantom Canyon > west on Mc Kenzie Road > small detour through Canyon City > back to starting point: 70 miles with 5300ft of climbing in 5:5hours (VDO MC1.0 m3:10.6.11).
Notes: includes ~300ft and 2 miles to approach loop from campsite

( | Skyline Drive s(u) > )

same summit point , additional out and back: lower Phantom Canyon > up Phantom Canyon Rd > Phanton Canyon - Shelf Rd(sh) > several slow sight seeing loops around Victor > Co67 west > Cripple Creek <> out and back on CR1 Florrisant Rd to high point west of Cripple Creek << down Shelf Rd > detour in Cripple Creek > CR123 west > up Phantom Canyon Rd back to starting point: 71.8miles with 5890ft of climbing in 8:15hours (garmin etrex30 m5:21.5.5)
Notes: same loop as above in reverse order with more slow and rolling sightseeing detours in the mining towns. I think going up Phantom Canyon and down Shelf Rd requires more energy than reverse order. Much energy is dissipated in the brakepads on the upper slopes of Shelf Rd, while the decent down Phantom Canyon is very efficient energy wise. On the other hand, going up the upper slopes of Shelf Rd (first trip above) required quite a bit of walking for me.

A Dayride with this point as shoulder point is on page: Hoosier Pass (Pike's Peak)