Old La Veta Pass

Old La Veta Pass is a 5 mile stretch of deteriorating highway, south of the modern highway. Much of it is heavily forested, instead of sage covered like "
North La Veta Pass
". An abandoned settlement and a peaceful road through an area, rich with history, provide a completely different experience than a race over the top of
North La Veta Pass
. The profiled eastern approach substitutes an additional 13 miles of pleasant unpaved road biking, that are different from the
North La Veta Pass
route.


click on profile for more detail

1.(mile00,7936ft) START-END WEST: Fort Garland
2.(mile10,8273ft) dirt road turn off to railroad is on right, stay straight
3.(mile18,9071ft) turn onto Old La Veta Pass dirt road on right
4.(mile19,9390ft) TOP: Old La Veta Pass
5.(mile23,8783ft) continue on La Veta Road highway, slightly to right
6.(mile27,7971ft) continue straight onto dirt road, while La Veta Road highway turns slightly to left
7.(mile30,7579ft) turn left 90 degrees onto another dirt road to La Veta
8.(mile34,7208ft) continue straight
9.(mile34,7170ft) keep left
10.(mile35,6997ft) outskirts of La Veta, make your way to town either way
11.(mile36,7030ft) START-FINISH EAST: downtown La Veta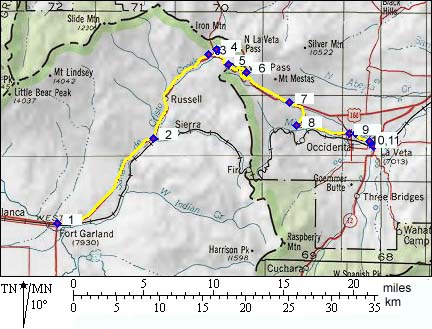 Approaches
From West. The first 18 miles of this approach are identical to the "North La Veta Pass" approach. This portion is a modern highway and is shown between point 1 and 3 on the profile. Starting at point 3 a deteriorating old highway follows an old railbed for an alternate route to the summit.
From East. The route described in the profile is identical to the "North La Veta Pass" profile between points 5 and 6, a distance of only 4 miles. The suggested route above point 4 follows the historical railbed, while the route below point 6 follows rural dirtroads into La Veta. This is not the old railbed, but a pleasant and shorter fat tire alternative to the racecar traffic on the highway. Fine views of the Spanish Peaks, quite different from ones obtainable on the North La Veta Pass route are seen form above the Muleshoe Curve area.


A Dayride with this point as intermediate summit is on page: North La Veta Pass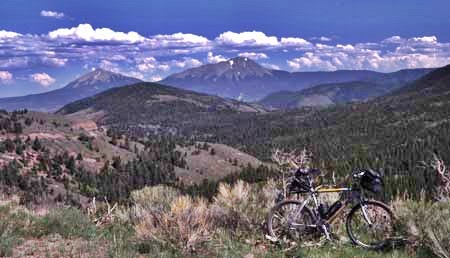 History

The story of this ridge crossing really starts with the history of North La Veta Pass and Pass Creek Pass. Geographically this is just another variation of the route over La Veta Pass. Historically the area is de Anza's gateway to the north, the venerable old Sangre de Cristo Pass. As if that wasn't enough historical signficance already, the Old La Veta Pass variation of the crossing represents another first for Colorado. It became the first Colorado pass to be surveyed for a possible railroad, and much later the first to be crossed by a completely different railroad.

Gunnison Railroad Survey (Mosca Pass>) Sangre de Cristo Pass was the first pass surveyed by an expedition of US topographical engineers in search of a transcontinental rail route. The year was 1853, a full 15 years before the first transcontinental railroad was actually built. The old Spanish path over the pass was too rough for wagons. Consequently Captain Gunnsion cut a six mile long path, a short distance to the west of the pass. This puts the route closer to Pass Creek Pass in places. The most consequential discoveries on Gunnison expedition were made later, after crossing Cochetopa Pass.

Railroads (<Monument Divide|Raton Pass>): The old Sangre de Cristo Pass was eventually crossed by rails, not by the first transicontinental rails, but it was the first Colorado mountain pass for such an undertaking. When Palmer's Denver Rio Grand railroad reached Pueblo, there were two possibilities to lay rails to the Rio Grande, the river so prominently featured in the company logo. Plan A : go south from Canyon City along the Front Range to Trinidad, cross Raton Pass and after that - who knows ? Alternatively you could cross into the San Luis Valley by going up the Arkansas valley and over Poncho Pass. In the grand scheme of the DRG railroad at the time - to get to El Paso, Texas on the Mexican border- this route detours too far west.
The confusion between the two routes was cleared up by the profit motif. The coal fields of El Moro, near Trinidad became more important than distant Mexico or even Texas. This meant continuing to lay track south along the Front Range. Past Pueblo, Palmer's Rio Grande had company, the Santa Fe Railroad. The Santa Fe railroad did not come from Santa Fe. It was trying to get there, and after that - across the continent - for more landgrants. Its tracks arrived across Kansas and eastern Colorado. Its owner was already rich from controlling the cattle traffic from Texas. They were heading for the same gap in the mountains, but there was only enough room for one railroad to use it. No, it was not La Veta Pass, but rather Raton Pass.

Even before the conflict at Raton erupted, Palmer (of the DRG) noted the heavy wagon traffic along Sangre de Cristo (La Veta) pass, headed for Del Norte, Stony Pass and Silverton. The Denver Rio Grande could profit from that traffic. Plan C became a possibility. Cross to the Rio Grande over La Veta Pass.

The railroad approach did not follow the previous trails across Sangre de Cristo Pass. A large muleshoe curve was laid around "dump mountain". The name was chosen not so much to express a lack of appreciation of form for the mountain. To them it just looked like a dump in front of a mine. They were paid to lay track, not to come up with pretty names. The grade on this first Rocky Mountain rail crossing reached 3 to 4 percent to the mile, compared with less than 2 percent on the transcontinental line. Palmer used plain dirt as ballast on the rails, instead of stone. He wasn't trying to build an engineering monument for the future. No, he was downright surprised himself that it worked in the first place. On the other side of the mountains Palmer founded yet another land grab city, Garland City. A year later in June 1878, the railroad reached its first objective towards Mexico, Alamosa on the upper Rio Grande. The second pass in Colorado, to be crossed by a railroad became Raton Pass
---
Old La Veta Pass and its sand ballasted rails did not remain in operation for long. In 1890 the DRG relocated its rails to a pass seven miles south. That pass, previously called Wagon Creek Pass, became Veta Pass. Old La Veta Pass was rebuilt as a stage road and much later as an automotive road. The modern road, North La Veta Pass was built in the 1960s. The only thing left to mention is that prior to the building of North La Veta Pass, Old La Veta Pass was known as La Veta Pass (not to be confused with Veta Pass), since there was no reason to distinguish between the new and old roads. Many US government maps still have the old label. Today however, the North is often dropped from the "North La Veta Pass" label, since it is the dominant crossing. This confusion can be avoided by always referring to the passes in question as either "North La Veta Pass" or "Old La Veta Pass", since La Veta pass referred to different crossings throughout history.