Hastings Mesa summit(u)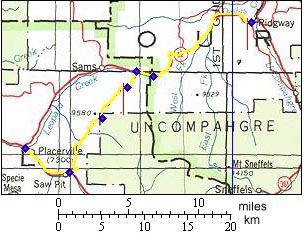 On a bicycle there are at least three options to connect Ridgway with Telluride: the long and paved
Dallas Divide
, the steep and slightly shorter, unpaved, more scenic
Last Dollar Pass
( that route also includes the
Dallas Divide
as well as this summit ), or the medium between the two, the route over 58.p road. And that's this route over Hastings Mesa summit(u).
This is a good all weather dirt road. When I rode it last, I encountered no evils, such as deep gravel and dusty, banked high speed turns. The Telluride side of the summit also goes to the popular
Last Dollar Pass
. During my traversal of this route I encountered a total of about 9 cyclists in 3 groups on this side.

1.(7300ft,mile00) START-END WEST: junction Co62 and Co145 near Placerville
2.(7550ft,mile05) Sawpit, route turns up dirt road turns steeply on left
3.(9110ft,mile11) junction with Last Dollar Pass (road), continue straight
4.(9160ft,mile14) TOP: point of highest altitude
5.(8820ft,mile16) junction with Dallas Divide road. Profile continues right
6.(8970ft,mile17) Dallas Divide
7.(7040ft,mile27) START-END EAST: downtown Ridgway
Approaches
From North. 58.p road leaves the Dallas Divide road about 1+1/2 miles west of its summit at an unsigned intersection. During the gradual climb the southern end of the Sneffels mountains can be glimpsed between the trees. Besides the usual "ranch" like style of housing, there is also something much more unusual ( and interesting), a couple of houses with minimalistic beauty. One is pictured below. Bigger is not always better ( really ? ). The mesa consists of rolling hills with a noticeable summit on each end. The point of highest altitude it is difficult to determine without measuring it. During the ride it felt like it was located immediately north of a horse corral and the turnoff to Last Dollar Pass. But after consulting a map it turns out be an inconspicuous point closer to the center of the plateau.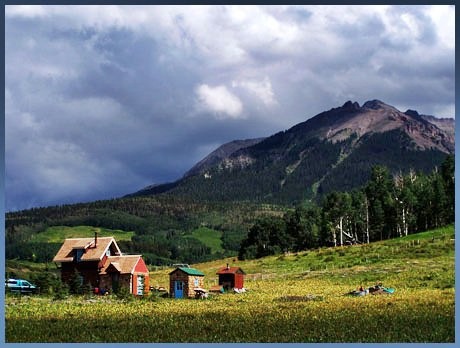 From South. The profile begins downvalley in Ridgway to show a large elevation gain, even though it is more often approached from upvalley Telluride. The turnoff in Sawpit is easily missed. It looks like a driveway. After the first initial gasps of breath on a very steep road a sign informs that the road is steep, narrow and dangerous. Thank you for that bit of information, even if the steepness was already noticable. A few good views open onto the red sedimentary rocks of the canyon carved by the San Miguel River. The point of highest altitude comes after miles of rolling mesa hills, that are much cooler than the valleys.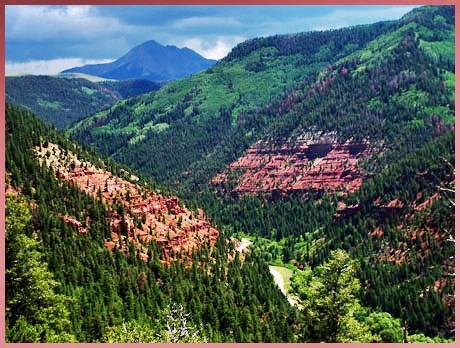 Dayrides with Hastings Mesa s(u) as highest summit:

PARTIALLY PAVED / UNPAVED:
Hastings Mesa s(u) , Dallas Divide : Billy Creek SWA > Ridgway > Dallas Divide > on pavement to Sawpit > Hastings Mesa summit(u): 76 miles with 5700 feet of climbing in 6.2 hours (Cateye 100AT m3:5.8.27)
Notes: The Billy Creek SWA is about 9 miles south of Ridgway.
A ride from Ridgway over Last Dollar Pass down Deep Creek, returning to the starting point via Sawpit and this summit measured 60 miles with 6730ft of climbing in 5.3 hours using a Cateye 100AT cyclometer. This route also goes to the summit of the Dallas Divide twice, but skips its western approach (m3:6.8.2).