Last Dollar Pass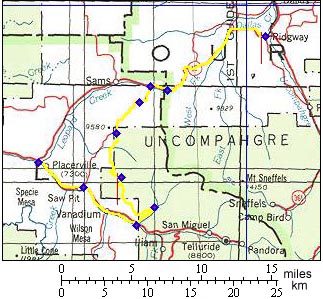 Last Dollar Pass came into being as an intended shortcut to the Dallas Divide between Telluride and Ridgway - allegedly. Distance wise it may be a little shorter. But regardiess of the mode of travel, timewise it is longer. It just appears shorter because there is so much to see. The route is identified as Last Dollar Pass on a map of Telluride attractions that is sometimes available for free locally. It is also included in Helmuth's "passes of Colorado". But the label "Last Dollar Road" is used on road signs and is a more common designation. The entire road is smooth dirt and extremely bikable when dry, except for a very short stretch of deep rocks halfways up the Telluride side, which helps to cut down on motorized traffic. When wet, clay on the Ridgway side makes part of the route extremely slick and practically impassable.


click on profile for more detail
01.(7040ft,mile00) START-END EAST: Ridgway
02.(8970ft,mile11) Dallas Divide
03.(8820ft,mile12) profile continues right up unmarked dirt road to Hastings Mesa
04.(9160ft,mile14) Hastings Mesa summit(u)
05.(9110ft,mile17) continue up to left on Last Dollar road
06.(10663ft,mile23) TOP: last Dollar Pass
07.(8740ft,mile28) approach to Telluride continues straight, profile turns right
08.(7960ft,mile30) junction with Co145, profile continues right
09.(7550ft,mile35) Sawpit
10.(7300ft,mile39) START-END WEST: junction Co62 and Co145 near Placerville
Approaches
From North. Last Dollar road leaves in a south easterly direction from the highest point on 58.p road, described in these pages under Hastings Mesa summit(u). After a short climb the road descends to cross a creek and then climbs relentlessly through patches of aspen forest to the summit. The is the closest bikable road to the Sneffels group (but there are trails further up). But you never see the peaks. One viewpoint that can compensate for this is a vista stretching from Lone Cone Peak to the needle like Lizard Head Peak and the 140017 ft Wilson Mountain. Then it's back into the treetunnel to the summit.
From South. The route is described in a downward direction. While the northern approach is a tree ride, the panoramas on the south side just won't quit until you are basically at the bottom. Lone Cone Peak is now out of the field of vision. But instead the amphitheater of mountains behind Telluride have been added to the repertoire. A long sweeping curve on a grassy hillside leads into a Telluride millionaire mansion district of sorts, buildings far enough removed from the road that nothing interesting or even vaguely attractive about the area can be discerned, unless monstrous address stone piles stir one's interest. A fork offers a choice for the final descent, Telluride or Deep Creek on Co145. The profile follows the Deep Creek option.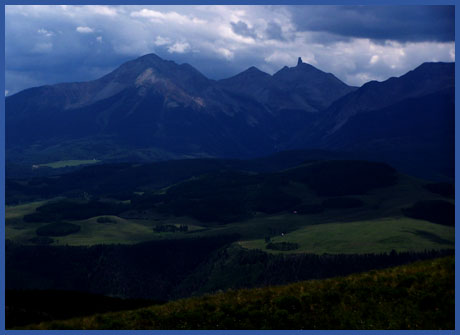 Dayrides with Last Dollar Pass as highest summit:

Last Dollar Pass , Hastings Mesa s(u) : Ridgway > Dallas Divide(shp) > Last Dollar Pass > down Deep Creek > Sawpit > Hastings Mesa s(u) > 60 miles with 6730ft of climbing in 5.3 (Cateye 100AT m3:6.8.2).