FR867 Alpine Plateau Road s(u)

A name like "Alpine Plateau Road" really sparks my interest. I see switchbacks and snowy peaks all over the horizon. The road delivers only on part of this expectation. It is a great workout. The road is a smooth, unpaved surface with little to no traffic. However the views are limited, but there are a few. The road is fairly close to
Owl Creek Pass,
at least as the crow flies. But the pinnacles surrounding that area remain hidden. Another major curiosity of this route is a Koch Brothers Ranch on the north side.

1.(8230ft,mile00) START-END SOUTH: jct Co149 - FR868, north of Lake City
2.(10610ft,mile06) crest of FR868, route turns right onto FR867
3.(11430ft,mile10) TOP
4.(8190ft,mile27) START-END NORTH: FR867 ends at US50. Profile turns right towards Blue Mesa Reservoir
5.(8160ft,mile28) intermediate low point
6.(8500ft.,mile29) intermediate high point
7.(7529ft,mile36) START-END NORTH ALT. : US50 crosses a bay of Blue Mesa Reservoir.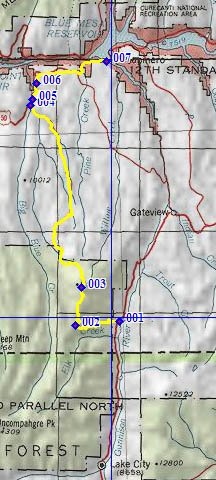 Approaches

From South. The south side delivers on the switchbacks. As soon as the road seems to climb out of the valley it slips into dense foreest and FR868 crests. There is ample signage at the intersection iwth FR867, that indicates that you have to turn right here and keep on climbing if you want to eventually get to US50. The road remains as smooth as before. It seems to crest at the edge of the plateau, but rolls along and reaches a high point a few miles later. There is a good view of the Uncompaghre / Wetterhorn area right before the highest point of elevation, and a better view from a spur road onto a summit meadow, right after the high point.


From North. (described downwards) This side has a different character. It is a forrest road, following gentle ravines all the way down. The surface here is sometimes sandy, so that it's easier to just roll down through it. The lower 8 miles are under the private control of industrialist Bill Koch, a major financial contributor to the republican party. Apparently he is building his own "wild west town" here for storing his collection of military vehicles. He is also accused of cutting of public access to grazing areas and wilderness areas that were there for decades before him. There is also another bizarre story of a fellow executive held hostage on this ranch. As an aside, The "Koch Problem" is also a major reason, why Americans can't seem to agree on the fact that global warming really does exist.


From this unpleasant spot, it is as fast a descent, as one is ever going to have on a mountain bike on an hard medalled road. You just have to watch for the traffic. There is more of it here below the Koch Ranch. There is a picnic bench hidden in the woods at the junction with US50 if one hasn't had time for lunch yet.


The profile continues on US50 over part of the eastern Blue Mesa Summit approach to seek out a low point where it crosses a bay of Blue Mesa Reservoir.





Dayrides with this point as highest summit:


PARTIALLY PAVED / UNPAVED

FR867 Alpine Plateau s(u), CR26 Lake City Cutoff s(u): Upper part of CR26 > CR26 Lake City Cutoff s(u) > Co149 south > up FR868 > FR867 Alpine Plateau s(u) > down FR867 > US50 east > Blue Mesa Reservoir > up CR26 Lake City Cutoff > back to starting point: 71.3miles with 6100ft of climbing in 6:20hours (VDO MC1.0 m3:11.9.10).



FR867 Alpine Plateau Road s(u)

Highest Point: 11430ft


Southern Approach:





drop

from jct Co149 - FR868, north of Lake City (8230ft)
3200ft
9+1/2miles
~100ft

Northern Approach:






from US50 Blue Mesa Reservoir Bridge (7530ft)
3900ft
26miles
~600ft