Owl Creek Pass

Owl Creek Pass is a well graded, long dirt road. Near the top, the road passes between a rock tower and other fanciful rock formations, that could be expected in a south western canyon. But this is alpine Colorado and lush forest reaches beyond 10000 feet, giving this pass a unique combination of natural features.



click on profile for more detail

1.(7020ft,mile00) START-END SOUTH: junction of 8rd and US550
2.(7290ft,mile04) take right at T
3.(10114,mile15) TOP: Owl Creek Pass
4.(9020ft,mile22) road crosses Cimarron River. Junctions with roads, going up and down stream are on both sides of the river. Continue downstream on main road.
5.(8300ft,mile35) p77rd leaves towards left. Profile continues downhill along Cimarron road. For connecting profile, see Cerro Summit
6.(7070ft,mile41) START-END NORTH ALTERNATE: junction with US50. Profile continues
west to Cimarron
7.(6880ft,mile43) START-END NORTH: Cimarron.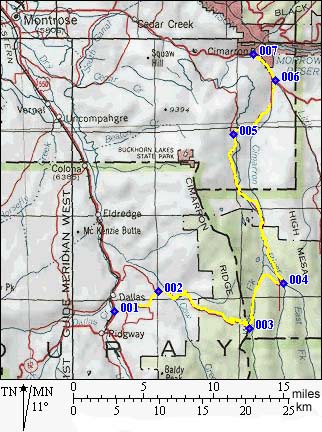 Approaches
From West. The Owl Creek Pass road can be picked up from US550, a short distance north of Ridgway via county road 8 or 10. CR10 is a little longer but gives better views of the Mount Sneffels range. The lower half of the approach leads through private land with virtually every inch fenced off. The surface on this lower part is very like a washboard. A signed viewpoint, well up the pass road, leads to a view of Chimney Rock and Court House Mtn. The view appears is in perfectly flat backlight in the morning and as a three dimensional front lit scene during late afternoon.

Even though the profile shows this as a completely uniform slope, the upper switchbacks, now heading towards Turret Ridge, become much steeper in the turns. They tunnel through dense forest to the top. The vertical rock formation of the hour, Courthouse Rock appears periodically when the forest opens up. The top is marked with a sign.
From North. The advantages of a counterclockwise loop ride, that is descending this approach, are as follows. The ride in its entirety is probably faster because less braking is needed down the northern side. For the (for me) long dayride, listed below, this is an advantage. Also, afternoon storms are more likely to cause precipitation on the southern approach than on the northern approach, which is surrounded by lower scrub dessert hills of the the Gunnison and Uncompahgre valleys. An advantage of a clockwise day loop ride ( climbing this side) is that during the afternoon, the direction of the light makes for much better views late afternoon on the western approach, assuming that the weather produces good sunlight.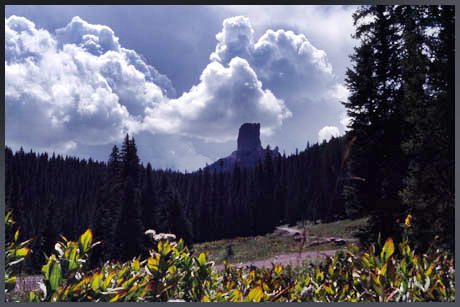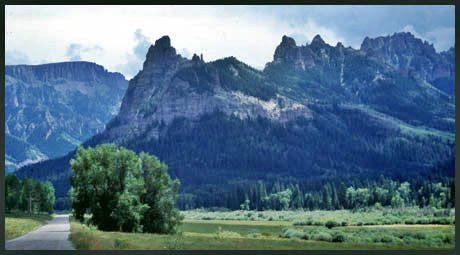 Here are a few more notes in a downward direction. As already mentioned, the road descends more gently than on the western side. It makes its way down a straight valley between two layer cake rock ridges, leaving behind the more imaginative rock formations. One more scenic highlight happens above Silver Jack Reservoir, where various forks of the Cimarron River emerge between abruptly cut off ridges. The road is more heavily graveled from the last part of the descent to Silver Jack Reservoir to Big Cimarron Campground, where the road also crosses the Cimarron River again.

Beyond this point progress is much quicker because of a hard medalled road in most places. For this last part, the road is surrounded by private land and rolls along in a gentle traverse with a several good far views in both directions. The turnoff onto P77rd ( below also CR P77 ) to Cerro Summit, (part of the dayride below ), skips the last steep downhill to the junction with US50.

If turning onto the start of the profile from west bound US50, a sign on US50 labels the route as "Cimarron Road", and a second sign mentioning Owl Creek Pass is encountered a little further up the road. the CR P77 option goes to the highest point of Cerro Summit instead.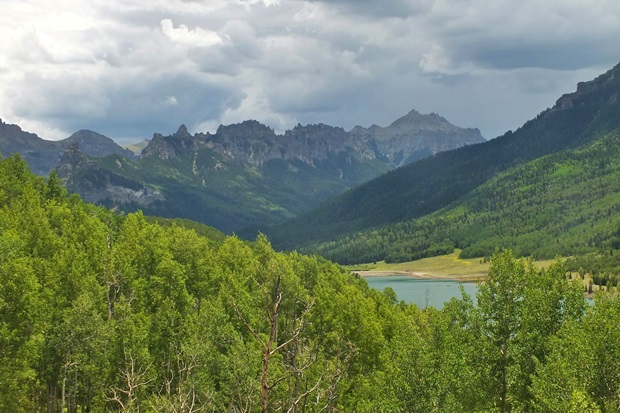 Dayrides with this point as highest summit:

PARTIALLY PAVED / UNPAVED

Owl Creek Pass , CR P77 - Cerro Summit s(u) : Billy Creek SWA > US550 south > CR10 > CR8 > Owl Creek Pass > P77rd north > CR P77 - Cerro Summit s(u) > Cerro Summit (shp) > Kinikin Rd > Paghre Road > US550 south > back to Billy Creek SWA: 86 miles with 6970ft of climbing in 8.4 hours (VDO MC1.0 m3:5.8.27)
Notes: About 5 miles and 280 feet of that is involved in accessing the loop ride from the Billy Creek SWA. Kinkin Rd is used as shortcut and to bypass Montrose

COMPLETELY UNPAVED:

( < same page | )

Owl Creek Pass x2: upper trailhead to Stealey Mtn Trail along CR8 <> up CR8 <> Owl Creek Pass <> Silver Jack <> turnaround point on P77rd at intersection with Big Cimarron Rd at 8330ft, just before steep descent to Cerro Summit, point 5 on profile : 47.7miles with 4010ft of climbing in 5:04hrs (garmin etrex30 m5:18.7.22.
( < Dallas Trail: section West Dallas Creek - Last Dollar Pass | same page > )

Owl Creek Pass x2: upper trailhead to Stealey Mtn Trail along CR8 > up CR8 > Owl Creek Pass <> out and back on West Fork Rd to its end at the Wetterhorn Basin Trailhead[1] >> <> out and back dwon north side of Owl Creek Pass to a turnaround point about 330ft below summit[2] >> back down CR8 to starting point at Stealey Mtn trailhead: 16.2miles with 1870ft of climbing in 2:12hrs (garmin etrex30, m5:18.7.21)
Notes: the main objective of the day was a 4+1/4hour hike from [1] to the top of West Fork Pass and up a flank of the mountain east of the West Fork Pass. Turnaround at [2] due to slight rain and messy road.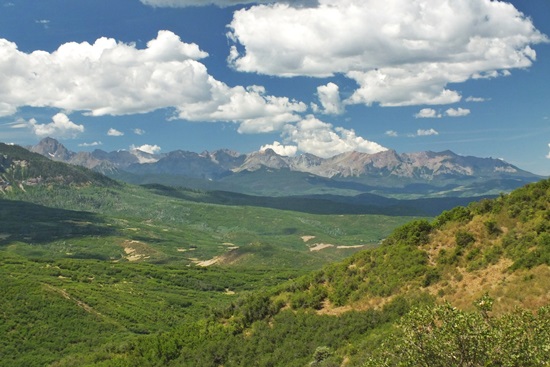 History.

Otto Mears Passes (<Cerro Summit|Red Mountain Pass>}Prior to acquiring its current name, the pass was called Cimarron Cutoff Trail. It was one of Otto Mear's many toll roads in the area and provided access to the Silver Jack area from Ridgway.