-

FR330 Greyback Mtn/ Summitville s(u)



We have to thank the early miners of Colorado for a profusion of exceedingly rough dirt tracks and jeep roads in this state. But for this road we have to thank the people who clean up after the miners, and for that you need a much bigger and more elaborately engineered road. This road is used to clean up the Summitville superfund site. The highest point on this road is below Greyback Mtn, reaching almost 12000ft.

This summit is located on the Great Divide bicycle route. My first edition of the book, describing the Great Divide Route attaches the name "Indiana Pass" to this point. But I can't find this name used anywhere else and it is not listed in Helmuth's book "Passes of Colorado".


1.(mile00,7910ft) START-END EAST: Del Norte: jct US160 - Pinos Creek Rd
2.(mile17.6,109010ft)profile stays left on FR20
3.(mile22,6,11920ft)TOP: Greyback Mtn s(u), just before turnoff to one way track to top of that mountain
4.(mile29.7,11250ft)START-END WEST ALT: jct with FR360 to Prospect Mtn s(u). Profile stays right, continuing downhill
5.(mile44.7,8530ft( START-END WEST: jct US160 - Demijohn Rd, west of South Fork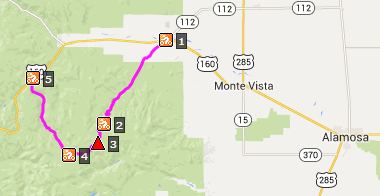 Approaches
The lower part of this approach is a long steady gravel road climbing in forest. But there is also a long section through open rangeland south of Del Norte, before you climb into the forest. During my last ride in this area the upper section of the road was very smooth, you could call it hard medalled, making for fast aerobic cycling. At about 10500ft the road splits into a long rolling approach to Blowout Pass and a steady climb to Greyback Mtn. There are really no far views until you reach the top. There it becomes clear, that you are on a high disected plateau. From here to Summitville the road has the best above treeline views.
From West. (also described upwards) Roads approach Summitville from below in almost a star like fashion. For the profile I picked the most direct options, that do not involve any other close by summit points, like Elwood Pass, Blowout Pass, or FR360 Prospect Mtn s(u).

FR360 leaves from South Fork and just keeps on climbing through the forest forever. There have been times when this road was deeply graveled and a torture to ride. Other times it's more like a road bike ride, but on a mountain bike.

About 500ft or so before FR360 reaches its own summit, FR330 to Summitville stays left. The road soon reaches a sliced off triangular mountain, with a few adjoining old buildings crumbling into dust, which give just a slight touch of historic decay to the area. A substantial drop after the mine leads to another climb. The road tops out just below the turnoff for the jeep trail to the top of Greyback Mtn, where a radio tower stands. There is a small sign at this location marking the elevation at 11910ft. Immediately before the highest point is also the trailhead for the TR700 Dry Creek Trail. This trail is much more interesting and scenic than the name would lead to suspect.


Dayride with this point as highest summit:

COMPLETELY UNPAVED

( < Kerp Road s(u) | Stunner Pass > )
FR330 Greyback Mtn s(u) , Blowout Pass , FR360 Prospect Mtn s(u) : Terrace Reservoir on Alamosa River > FR250 west > Jasper > jeep trail north > Blowout Pass > FR329 west > FR330 south > FR330 Greyback Mtn s(u) > Summit ville > FR360 east > FR360 Prospect Mtn s(u) > FR250 east > Jasper > back to starting point: 67.3miles with 5950ft of climbing in 7:18hrs (VDO MC1.0 m5:14.9.27, t14_36).
Notes: using Garmin etrex30, this ride measured68.5miles with 6319ft of climbing in 7:42hrs

FR330 Greyback Mountain s(u)
Highest Point: 11920ft

Eastern Approach:

climb
over distance

Del Norte: jct US160 - Pinos Creek Rd (7910ft)

4010ft
22+1/2miles

Western Approach:





jct US160 - Demijohn Rd, west of South Fork (8530ft)

3390ft
22miles
-