-
FR360 Prospect Mtn s(u)


The eastern San Juan Mountains have a much different character, than their namesake to the west. In the east they are an alpine plateau with large lumps on top, much like a fist with protruding knuckles. Two roads and one named pass reach summits in close proximity in the central area:
FR330 Greyback Mtn s(u)
(which also goes through Summitville),
Elwood Pass
, and this one. Even if this road is the lowest of the three by a small margin, it runs right along, what looks like the knuckles of the plateau, and arguably shows them off the best.

1.(mile00,8520ft) START-END WEST: jct US160 - Demijohn Rd, west of South Fork
2.(mile18.2,11610ft) lower turnoff to Elwood Pass on right
3.(mile18.2,11630ft) TOP: FR360 Prospect Mtn s(u)
4.(mile22.9,10850ft) jct with Treasure Creek Rd on Lake de Nolda
5.(mile27.1,9790ft) jct with Globe Creek Rd on right
6.(mile33.8,9190ft) Blowout Pass Rd takes off on left
7.(mile38.7,8810ft) Silver Lakes Rd takes off on right
8.(mile43.7,8590ft) START-END EAST: west end of Terrace Reservoir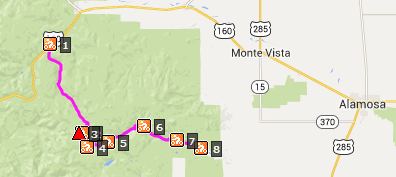 Approaches

From West. The most interesting routes combine this summit with one of the others mentioned above. But in the profiles I always try to show the most direct approach, involving as little descending on the ascent as possible, and this calls for the following approach:

FR667 up the east fork of Silver Creek. This road leaves US60 between Wolf Creek Pass and Pagosa Springs. Like all the other approaches from the north this involves a lot of climbing on gravel roads in the woods on possible washboard roads.

Approaching the top, FR360 stays right, where all the heavy machinery heads left to Summitville. (But I did not encounter any of this traffic). There is no steep well defined summit on FR360, but instead a mile or two of curvy road with a couple of rounded 13ers rolling in the landscape to the south, and flat topped mesas to the north. Scenically placed old wood cabins show the appreciation for this location, that others have had in the past.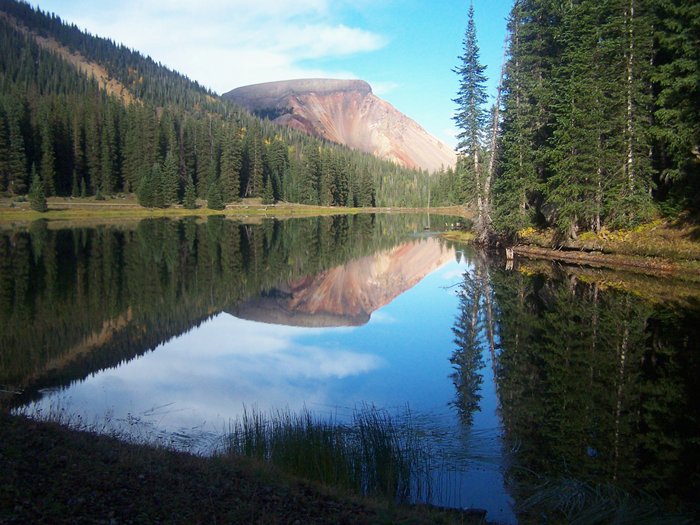 From East. (described downwards) The views quickly disappear. There is a rough, sandy section along the top that is much easier negotiated in a downward direction.

One more scenic spot, that stays in memory is the curiously named "Lake de Nolda". Every time I have reached this spot, the water has been so calm that it gave an absolutely perfect reflection of the wedge shaped Lookout Mountain (12448ft, picture above). The last time the sun even appeared. Otherwise the lake distinguishes itself through a large number of "private - no trespassing - no fishing" signs.

This may seem like the end of the descend, but distance wise there still is a long ways to go. The profile joins lower approaches of Blowout Pass and Stunner Pass and ends at the edge of the San Luis Valley, west of La Jara.


A Dayride with this point as intermediate summit is on page: FR330 Greyback Mtn s(u)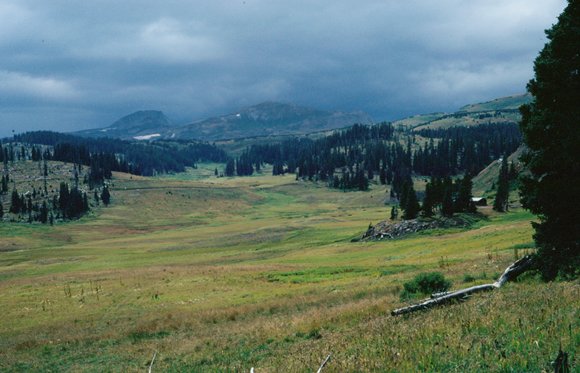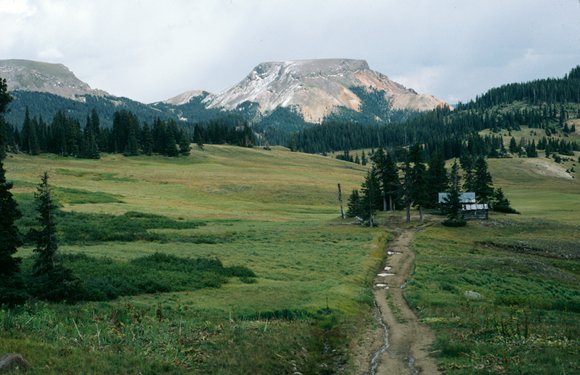 FR360 Prospect Mountain s(u)
Highest Point: 11630ft

Western Approach:

climb
over distance

jct US160 - Demijohn Rd, west of South Fork (8520ft)

3110ft
18+1/2

Eastern Approach:





west end of Terrace Reservoir (8590ft)

3040ft
25+1/2

-