Kerp Road s(u)

This is definitely the most unusual bike ride, at least for this year. This summit has some things in common with a popular Denver area cycling summit:
Montane Drive s(u)
in the hills around Genesee. Like Montane Drive, this road winds around in scenic loops to connect expensive real estate investments. Rather than to go from point A to point B, the objective here is to show off the landscape to perspective investors, and demonstrate that traffic volume will always be reasonably low, with all these extra curves and hills to negotiate on each commute. This also makes for good bicycling conditions.
Other aspects for this summit on Kerp Road are very different. For one thing - none of the houses have been built yet, and the roads are dusty dirt roads. The panoramic vistas on this ride are not of Mount Evans and the Front Range, but of Mount Blanca, Ellingwood and Little Bear, the southern terminus of the truly alpine part of the Sangre de Cristo Range. This road winds through land of the Costilla Ranch and the Forbes Ranch - the legendary land grab, which again proves that not all dollars have been created equally.


1.(mile00.0,7950ft) START-END WEST-1: beginning of Ice House Rd, south of the tracks, on the east side of Fort Garland
2.(mile06.4,8050ft)Britain Rd turns right onto Beekmap Rd
3.(mile11.9,8360ft)route turns left from Indian Creek Rd up Bear Creek
4.(mile15.1,9240ft)TOP: Kerp Rd s(u)
5.(mile16.7,8330ft)profile leaves Forbes Park and turns left onto US160
6.(28.7mile,7990ft)START-END WEST-1: US160 starts to parallel Ice House Rd, just east of Fort Garland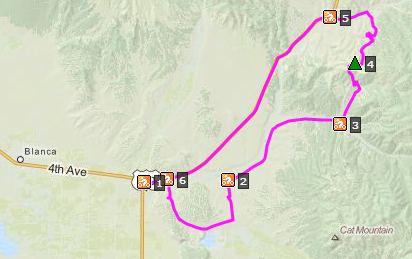 Approaches

From West. The most direct way to approach this vista point is to take US160 from Fort Garland direction La Veta Pass. At a point approximately where the railroad deviates from the road, there is also a dirt road junction, also heading east, but with a a more southerly component. Signs suggest a strong private character to the road, stating "entering Costilla Ranches". I can't repeat it often enough: this is a public county road.

Heading for the lowest part of the Sangre de Cristo Range, the profile takes a right onto Indian Creek Road. This road to Indian Creek Pass is gated several miles ahead. But taking a left prior to to this, onto Malott Rd, probably leads to a more impressive vista point anyway. After this turn many road junctions with names that sound like last names of nonfamous people follow ( are these influential friends of the developer ? ). My idea in this suburban web or roads without houses was to just get to the highest point of the web. My route was Mallott Rd, Spring Rd, Kerp Rd. But two other roads also meet Kerp Rd near the highest point. The view of the Sangre de Cristos is left for the pictures.


From East. This side is just as steep as the other, maybe steeper. Perspective investors probably hope it doesn't snow much here. If I have to push my bike up some stretches, it will be hard to get that status symbol automobile up here. The road quickly heads back down to Beekman Rd, the same road that branches off US160 on the western approach. From this side you can access US285 at a more easterly point via CR25. The profile goes back down US285 to meet up with the western approach.


Dayride with this point as highest summit:


PARTIALLY PAVED / UNPAVED

( < Cucharas Pass | FR330 Greyback Mtn s(u) > )
Kerp Road s(u) , additional out and back: Smith Creek Reservoir > various sideroads to Fort Garland > Icehouse Rd south east > Trinchera Ranch Rd south > Brittain Rd > Beeckman Rd <> out and back to gate on Indian Creek Rd > up Mallott Rd > Spring rd > Kerp Rd s(u( > Lewis Smith Rd <> out and back to end of Beekman Rd at Forbes Ranch gate >> across rr tracks <> separate out and back up Merlo Dr > Kline Lane > turaround point near jct with Botman Dr >> down Beekman Rd > US160 west > Fort Garland > Blanca > Airport Rd south > back to starting point: 62.5miles with 3700ft of climbing in 5:45hrs (VDO MC1.0: m5:14.9.25).
Notes: This is a more round about approach on the western side than in the description


Kerp Road s(u)
Highest Point: 9240ft

West-1 Approach:

climb
distance

drop
beginning of Ice House Rd, east side of Fort Garland (7950ft)

1290ft
15miles

jct Britain Rd - Beekmap Rd (8050ft)

1190ft

3miles
West-2 Approach:





US160 starts to parallel Ice House Rd, east of Fort Garland (7990ft)

1250ft
13+1/2

~200ft