Wauconda Pass

This is one in a series of gentle, forested, long, straight pass roads on Wa20, as it makes its way over one gentle mountain range after another between the Pend Oreille River and the Cascade Mountains. Some maps also label this as Wauconda Summit.


1.(00.0m,2290ft)START-END EAST: low point on Wa21, just south of Republic
2.(01.0m,2440ft)jct Wa20 - Wa21, just south of Republic
3.(10.2m,3520ft)jct with Granite Creek Rd
4.(14.8m,4320ft)TOP: Wauconda Pass
5.(41.7m,0970ft)START-END WEST: jct Wa21 - US97, Tonasket


Approaches

From East. It's tempting to start the profile right in Republic, along its short street of busy old storefronts. But the profile uses a point that is still a little lower along Wa21, away from the popular touring route.

This side is a long, gentle climb on an undulating road in the forest. The top is a generic piece of forest. There is a single pass sign.

From West. But the scenery changes just after the top. Fields take the place of some of the forest. Abandoned old farm structures add to the scenery. Interspersed in the mix are also generously watered lawns and new retirement housing built during this or the previous real estate boom. As Tonasket draws closer a third type of residence becomes a common road side view: trailers and wood structures organized around old junk cars and piles of refuse.

Miles before Tonasket, the road alternates between almost flat stretches and 5 to 6 percent slopes along a creek. When Tonasket finally shows up below, the transition to an arid landscape is complete: This could be a busy agricultural town: Someplace, Arizona. The traffic becomes much more heavy and aggressive close to town.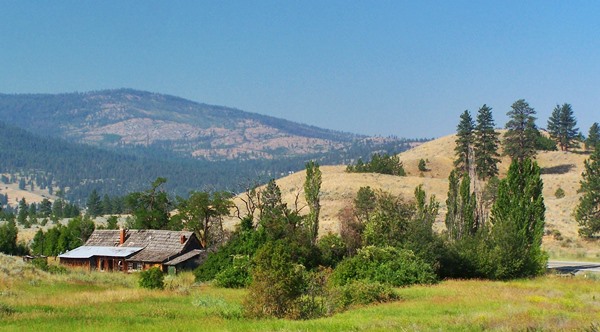 Dayride with this point as highest summit:

PARTIALLY PAVED / UNPAVED

( < Sherman Pass | Loup Loup Pass > )
Wauconda Pass x2: ~2 miles from Wa20 on FR32 > FR32 north <> Wa20 west << turnaround point Tonasket with detours through town <> from jctWa20 - FR32 separate out and back on Wa20 east << turnaround point: jct Wa20 - West Fk Granite Creek Rd >> back to stasting point on FR32: 74.5miles with 5190ft of climbing in 5:52hrs (garmin etrex30 r4:17.7)
Notes: only unpaved section is a short approach from a campsite. This is not the kind of road that has very many cyclists, in spite of the fact that it is on the Adventure Cycling Itinerary. But when two cross they often stop. This way I met 1_Ralf from Bingen, Germany, on a ride from Connecticut to Seattle - to see what it looks like here