Washington Pass

Washington Pass is the center piece of the state's North Cascades Highway. If there were such a thing as "Colorado Pass" it would have to be Trail Ridge Road. If there were a "Wyoming" or "Montana Pass", it would have to be what is really named Logan Pass (or "Going to the Sun Road"). I have never before been tempted to call scenery "voluptuous", but I can't think of anything else fitting for all the vertical greenery of Washington Pass.
Washington Pass gets lots of cycling traffic, also because it is part of Adventure Cycling's Nortern Tier route. All that being said, it won't come as a surprise, that this is a typical bombastic US highway. It has good shoulders, is rumble stripped only in the middle, and you can see even the slightest change in direction or grade at least 10 minutes before you get there (measuring the time in an upward direction). This road has been designed so that people can tow their boats to Lake Ross with the gas pedal stuck to the floor. During busy times in the summer, traffic can be heavy, loud, fast and obnoxious - much more so than on the other US20 passes further east, in my experience.

... and one more point about the North Cascade Mountains. They are an impressive large area of mountains, stretching from here up to Canada and also some distance to the south. Unfortunately, if you confine yourself to paved roads, the terrain that can be explored on a bike is very limited. Using unpaved roads does not add that much terrain, See Hart's Pass for example..


1.(00.0m,2240ft)START-END EAST:jct US20 - access road to Manzama
2.(12.5m,4100ft)jct with Cutthroat Creek Rd
3.(17.0m,5476ft)TOP: Washington Pass
4.(22.1m,4860ft)Rainy Pass
5.(41.4m,1980ft)START-END WEST: bridge across Panther Creek, just before US20 parallels above Ross Lake on its eastern end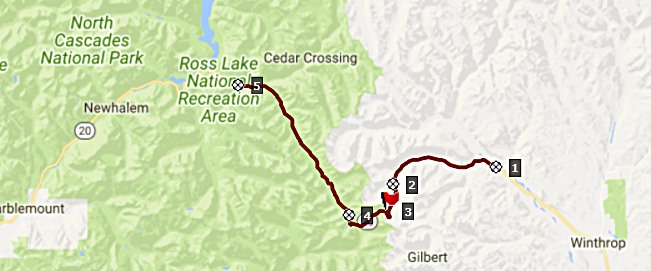 Approaches

From East. A wide busy highway with a good shoulder stays at the bottom of a deeply wooded valley following Early Winter Creek. Mountains remain a vertical backdrop framed by the road cut.

From the scenery, you could almost mistake this entire pass for just a single valley, if it were not for a single incline before the summit, and the slight change from up to down following it. On state maps it looks like the road makes a tight switchback a mile or two before the summit. In reality at least a stadium of some sort would fit inside the radius of that curve. A single, short but massive roadcut leads to a forested summit.

The numbers of tourists arriving here is large enough, that the forest service has obliged their desire to exit their cars, by constructing and out and back road to a viewpoint and a short scenic walk. Both go a little higher than the summit. The parking area here is large enough to accommodate the large and international summer crowds. The forest service has abstained from charging the high parking fees, that are usual for all trailhead parking along this road.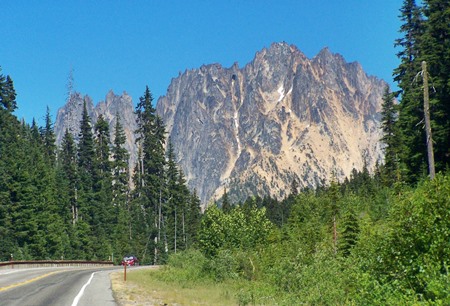 From the summit the short paved foot trail trails threads through some mossy trees and gives a fine view of the final road cut to the summit and the impressive peaks behind it. You are still many thousands of feet below being able to look across these ridges.

For such a sparsely populated area, a road project as massive as Washington Pass was a big effort. An informational tablet includes a short history of the road, which make this pass sound like the 9th wonder of the world. To hammer home the point, the tablet gives a figure in dollars, that was required to construct the road, a number that is totally meaningless in today's money, but is meant to impress.

There are no services of any kind between Mazama and at least Ross Lake, The store in Mazama sells mostly iron cookware which is of limited use on a bicycle tour. Actually I seem to remember some home made jams and 5 or 6 dollar gallons of milk too. The last grocery store on this side was in Winthrop.

From West. (described downwards). - A long valley ride, which includes an uphill in the downhill direction.

The single through going road funnels heavy tourist traffic to a few nature access points and trailheads. This makes for very busy trailheads. A conceivable response might be to build more roads into the mountains, and provide better access, so that the traffic spreads out over a larger area. Instead the response here seems to be discourage use by charging high parking fees.

Rainy Pass on the same road is marked on most maps a few miles west of Washington Pass. As far as the road is concerned it is only a shoulder point, with less than 500ft climbing on one side.. The Pacific Coast Trail crosses here and there is also a picnic area.

Dayride with this point as highest summit:

COMPLETELY PAVED:

( < Hart's Pass| Burpee Hill Rd(sh) > )
Washington Pass x2. : Goat Creek Rd area, east of Mazama <> Mazama <> Wa20 west <><> separate out and back to Cutthroat Lake Trailhead only once in westward direction >> Wasington Pass <> Wa20 west << turnarond point at parking lot labeled "Crater Peak in the distance", still some miles short of Ross Lake: 75.8miles with 7010ft of climbing in 6:35hrs (garmin etrex30 17.7.29)
Notes on the way back I met a group from a Washington Randonneur Club. There ride was about 5 times as long as mine. Thanks for offering me water and food. I took the water.