Burpee Hill Rd(sh)

In the Cascade Mtns of Washington it is difficult to find a nice paved loop ride over an interesting mountain pass. The mountains are there - but roads to form loops just aren't. Dayrides over high paved passes tend to be out and back. This little hill makes a pleasant loop without traffic, but it is confined to low foothills.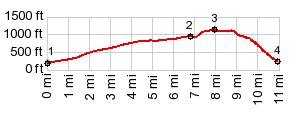 1.(00.0m,0190ft)START-END WEST:jct US20 - Baker Lake Rd
2.(06.8m,940ft)profile turns right onto Burpee Hill Rd
3.(08.0m,1140ft)TOP
4.(11.0m,0230ft)START-END EAST:jct US20 - Burpee Hill Rd in Concrete

Approaches

From West. After a shallow climb on Baker Lake Rd a right turns past a collection of vacation trailer homes, grouped around a real estate office. The name is Lake Tie. There is a very short steep section then a rolling road over the top. Just before the top a small lake invites to rest.

From East. A curvy quick descent leads into Concrete. The descend is densely forested. Thick mossy tree branches protrude over the road. Once in a while the road crosses a section cleared of forest, but there is not much to see in the distance..

Concrete is a quaint collection of houses, whose claim to fame is that it once used to be next to the highway, at least according to the sign in town. Actually the town is better off at a safe distance from the new highway. A large concrete grain silo has been left standing to decay in picturesque fashion - as historical monument maybe ?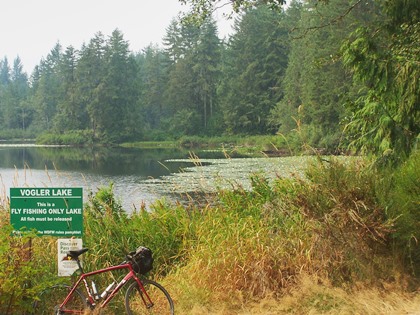 A Dayride with this summit as highest point:

COMPLETELY PAVED:

( < Washington Pass | Mt Baker Hiway > )
Burpee Hill Rd(sh) , additional out and back : several miles north of jct Baker Lake Rd - Burpee Hill Rd on Baker Lake Rd > Baker Lake Rd south > Burpee Hill Rd east > Burpee Hill Rd(sh) > Concrete > across bridge to south side of Skagit River > South Skagit Hwy west > jct with Wa9 south of Sedro-Wooley <> out and back on Wa9 south with turnaround point a small distance south of Clear Lake >> Sedro-Wooley > Cokedale > Minkler Rd east > Lyman-Hamilton Hwy east with scenic detours > Hamilton > Cape Horn Rd east > Rasar State Park > Birdsview > Baker Lake Rd north back to starting point: 75.4miles with 2260ft of climbing in 5:42hrs (garmin etrex30 r4:17.8.5)
Notes: this is a ride around a section of Skagit River, with this summit thrown in as diversionary climb. There are no bridges across the Skagit between Concrete and Sedro-Wooley, so that part of the loop cannot be made any smaller. The entire section north of the river I rode with members of the Cascade Bicycle (touring) club, who were one of of their week long Rides across Washington. Some members are much more friendly than others.