Hart's Pass

The road to Slate Peak above Hart's Pass is the highest road in Washington, and the views are according. Located on the edge of the Paysaten Wilderness and the North Cascades every one of the 360 degrees is a good one. The road surface is easily bikable and there are no ATVs (hurrah), but definitely automobile traffic.

Hart's Pass itself is an out and back ride also, with a rougher, smaller and less scenic west side. I don't know if the trails at road's end can be biked.


1.(00.0m,2110ft)START-END EAST:jct Goat Creek Rd crosses Goat Creek, east of Mazama
2.(01.4m,2110ft)Mazama and start of Lost River Rd
3.(07.9m,2410ft)western entrance to Mazama airstrip, and near end of pavement
4.(20.2m,6180ft)TOP: Hart's Pass
5.(23.1m,4800ft)START-END WEST: low point on FS700 with jct to FS374


Approaches

From East. Manzama is a name on the map. In reality there are a few houses hidden in the forest and a single store sells mostly iron cookware and milk for over 5 dollars a gallon.

Once in a while a road cyclist goes out for a short morning workout and heads up Lost River Road, which has a nice absence of traffic. But around here road cyclists have to pay for "absence of traffic" by turning around when the pavement stops. With a mountain bike you can keep on going and eventually end up at a very nice high viewpoint, where it is cool even in July.

After branching away from the valley road, Hart's Pass road climbs in switchbacks up the steep tree covered slope. During the climb the road passes through a large fanking the valley, made of black, volcanic rock. It is best viewed from above, during the return, when the light towards the east is much better.

After a good workout the road emerges on a shelf with sheer drop offs and two cone like peaks across the valley. But soon after this the road makes a right turn and runs up a shallow, hanging side valley. The top always seems near, that shallow forested gap just ahead, and it never is. The road just keeps on climbing, and soon, looking around, across the valley a ridge topped with teeth like a saw comes into sight, and - yes it is named the Sawtooth Range. The regular sticks parade of burned forest completes the picture.

More and more peaks surround this ridge the road is traversing. The top of the pass is a busy place: a campground, a small ranger station, a trailhead parking lot and a small campground all crowd around a well defined, narrow pass.

Two roads branch off the pass road very close to the summit, a road to a trailhead on the Pacific Coast Trail, and the main attraction: the road to Slate Peak.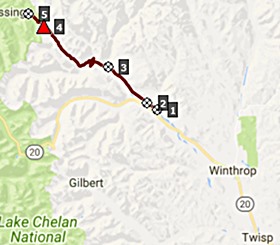 From West. (described downwards). This side is much rougher but no problem for a mountain bike. The road descends steeply right away and there are no more far views. The road eventually ends either after 4 or 9 miles. Sofar I have not gotten to the end of the road, as there was too much to do on Slate Peak, which seemed much more interesting.

Out and back Sidetrip to Slate Peak: The far views move up a whole degree of beauty on these last 1500ft of climbing. The top is not immediately visible, just a few switchbacks facing south. As Mt Baker and other far peaks come into sigh, the road traverses around the west side of the ridge. This Lookout, even though architecturally they are all very similar, is one of the more picturesque ones, just because of the well defined pedestal it sits on. And the views from here ... I won't comment and leave it to the side show.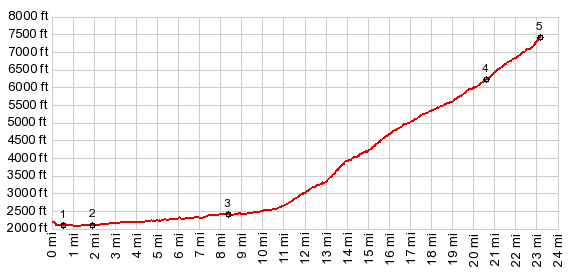 1.(00.0m,2110ft)START EAST:jct Goat Creek Rd crosses Goat Creek, east of Mazama
2.(01.4m,2110ft)Mazama and start of Lost River Rd
3.(07.9m,2410ft)western entrance to Mazama airstrip, and near end of pavement
4.(20.2m,6180ft)Hart's Pass
5.(23.1m,7440ft)TOP: Slate Peak

cLiCk on image , arrows , or thumbnails to advance slideshow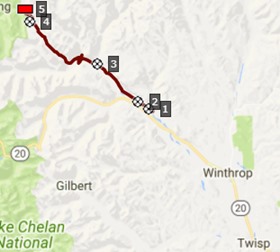 Dayride with this point as highest summit:

PARTIALLY PAVED / UNPAVED

( < FR43 Blackpine Lake s(u) | Washington Pass > )
Hart's Pass x2 : <> ~3.5miles of out and back with turn around point: "oh I forgot something" << <> a short distance up Goat Creek Rd <> down Goat Creek Rd > Manzama <> Lost River Rd west > up Hart's Pass Rd <> Hart's Pass <> Slate Peak << <> separate out and back from Harts Pass <> down west side of Hart's Pass with turnaround point at 5500ft << : 54.4miles with 66540ft of climbing in 6:40hrs (garmin etrex30 m5:17.7.27).
Notes: nice temperature starting at 5500ft and above. On top of Slate Peak a great conversation with a wonderful Manzama photgrapher and her friend, who moved here from Wuerzburg at about the same age as me. You meet the nicest people on Lookouts and mountain passes.