-
Paradise s(u)
There are two high viewpoint roads on Mount Rainier, leading to Sunrise and Paradise. This one is the lower of the two, but also the only two way summit. It can be made into a completely paved loop ride with the help of Skate Creek Rd.


01.(1810ft,mile00.0)START-END NORTH: ALTERNATE Ashford
02.(2760ft,mile11.6)START-END NORTH: Longmire
03.(4170ft,mile17.6)lower turnoff to short section of old highway
04.(4820ft,mile21.2)profile turns left to Paradise Lodge
05.(5420ft,mile23.6)TOP: Paradise Lodge
06.(4870ft,mile25.5)route rejoins Stevens Canyon Road
07.(2820ft,mile36.0)intermediate low point
08.(3480ft,mile39.3)intermediate high point
09.(2250ft,mile44.4)profile turns left down Wa123
10.(1500ft,mile50.1)START-END SOUTH: profile turns left down US12
11.(1050ft,mile57.2)START-END SOUTH ALTERNATE: Packwood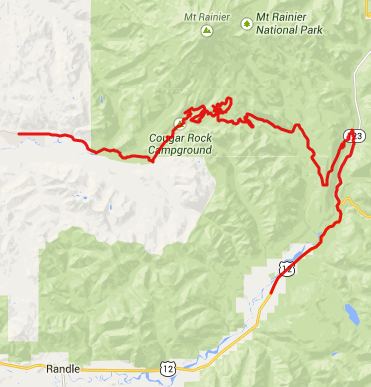 Approaches
From West. The profile starts in Ashford. I joined it a few miles up from there at the junction with Skate Creek Road.

This was the beginning of a long curvy ride through an interesting forest. The grade picks up noticeably after Longmire. The first moment when it felt really good to be on a bicycle, instead in one of those thousands of cars passing me, was when the road crossed the Nisqually River. I think generally the traffic is not that heavy. But I wanted to take advantage of the unlimited sunshine, lasting only two more days on this Labor Day weekend

But back to the Nisqually River. It gives the appearance of pouring down from its source, the glacier, in a gigantic circular staircase. The bridge is the perfect vantage point onto it. The road continues to climb to ever better vantage points, and from above the proportions of the bridge against the gravel canyon is even more impressive. Next a sign presents the choice "Paradise" or "Paradise via viewpoint" - Of course "via view point". This option leads over the remnants of an older road, complete with all the artistic stone railings, still keeping people from falling off, and looking very attractive doing it (the old stonework, not the people).

Meanwhile the had levels out and the majority of the workout is over - I thought. But the a road cut above appeared in view. A few more switchbacks lead up the optional loop to Paradise, complete with a hotel, a visitor center, a gigantic parking lot with even more people looking for a place to park, and also a sublime view point onto the mountain.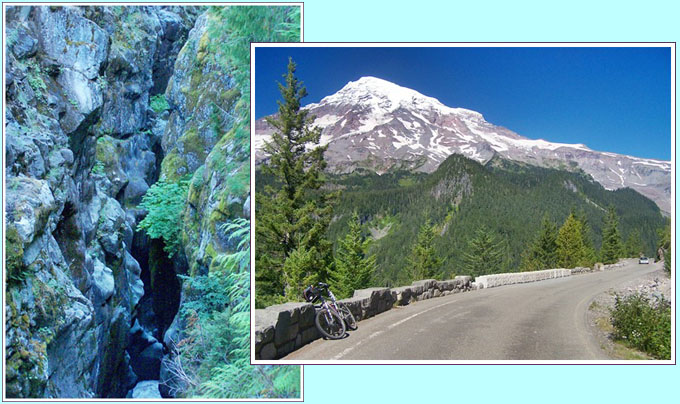 From East. (described downwards). As I rolled down Valley Road, the one way loop out of Paradise, it occurred to me that Mount Rainier looks even more impressive from a lower vantage point. As the bike rolled on, my own vantage point was getting lower by the minute, and the green pedestal set off by black cliffs beneath, makes for a striking contrast to all that ice, snow and glacial cracks.

The out and back loop soon joins back to Wa206. On the map it crosses Pinnacle Saddle. The spot is not signed on the road, neither is there a clear summit point, but the pinnacles to the south are definitely there. This is a fairly amazing mountain range in its own right.

New additions to the Rainier panorama appear, a series of lakes as foreground, only the first one has a multitude of cars parked next to it. The lakes below retain their peace even on Memorial Day weekend. A long descent leads to another stopping point: an old stone bridge over a slot canyon, and Mount Rainier above keeps only getting bigger. After that there is one final view point from a large parking lot, and it's time to say goodbye to this awe inspiring spectacle. The green Cascade hills below are still yet to be rolled down. And till the long downhill merges onto US12 and finally ends in traffic noise on a spacious shoulder in Packwood, many, many rolling miles are still ahead to be enjoyed.

Dayride

COMPLETELY PAVED:

( <
Chinook Pass
|
Cayuse Pass
> )
Paradise s(u) , Skate Creek road s(u) :
jct FR47 - US12 > US12 west > Packwood > Skate Creek Road north > Skate Creek Road s(u) >Longmire > Paradise s(u) > Ohanapecosh > back to stating point : 84.5miles with 6070ft of climbing in 6:32hrs (m5: VDO MC1.0 13.8.31)
Notes: this route is completely paved, even though I was told otherwise at the Mt Rainier entrance station the day before
-