FR8410 Slide Ridge s(u)
This road seems to be well known to many enduro type motorcycle riders. I think it makes a great bike ride too. For me the landscape here came as a big surprise. I expected something resembling the Cascade Mountains further west, something with lots of needle trees and moss hanging from it. But I wasn't even close. This far east, this is more of a dessert range with open forest or remnants of burn areas, another great facet in the kaleidoscope of north western landscapes.


1.(1160ft,mile00.0)START-END NORTH: jct S Lakeshore Rd - Shady Pass Rd, just west of Twenty Five Mile Creek State Park on Lake Chelan
2.(2000ft,mile02.6)profile goes left onto Slide Ridge Rd
3.(5880ft,mile18.4)jct with FR5503 to Stormy Mtn on right
4.(6120ft,mile19.4)TOP: route crosses pass, opening viewshed to west
5.(4220ft,mile28.0)profile stays left at this junction
6.(1720ft,mile34.6)dirt road terminates onto Wa971; profile goes left
7.(1210ft,mile36.5)START-END SOUTH: low point on S Lakeshore Road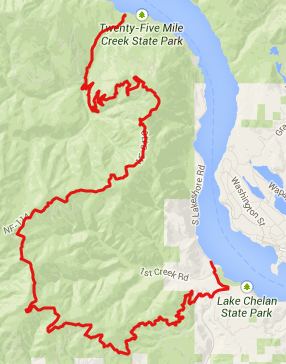 Approaches
From North.South Lake Shore road lazily meanders along the shore of this wildly beautiful lake, until it comes to an end. Not the lake - it is carved much further north into the Chelan Mountains - but the road. Turning into FR5900 to Shady Pass, it steeply climbs away from the lake. This is where the profile starts. Pavement continues to the the signed junction with FR8410 Slide Ridge Road. It dips into the forest to cross Twentyfive Mile Creek and then starts on its relentless climb up to Slide Ridge. The road has been recently graveled (Sept/13). So this is not the easiest climb. But it could be worse.

The intial series of switchbacks are across from the Shady Pass road, which also climbs to lofty heights on the sparsely forested ridge across. Slide Ridge Road eventually gains the ridge and Lake Chelan is imaginable from the the pieces of images between the trees. But they never open up to give a view. Now the road, together with the ridge doubles back on itself, and what where switchbacks yet to be climbed just minutes ago, are now a low foreground for pictures of Chelan Ridge.

Next the road negotiates the gentle rolling ridge-line in the forest. Views still open up periodically to the north. When Slide Mountain comes into view, the world takes on an apocalyptic feel. Whatever trees are left standing are stripped bare (apparently) by fire. The trees that are left hanging between others form trapezoids of utter destruction. Now Lake Chelan comes into sight again, and this time the view remains to the top. My de Lorme map shows the road ending at the top. This could not be further from the truth. It keeps going, less graveled to boot, so for cycling it actually gets better. A trailhead marks the top.

From South. (described downwards). This picture of devastated forest continues for many miles on this side, this time backgrounded, by the high bare mesas, surrounding Wenatchee. Looking down into the matchstick forest a maze of roads seem to crisscross the plateau landscape. Many of these are abandoned logging roads, so the picture is confusing.

At the first intersection with a non abandoned road, the profile stays left, following a sign promising that the road is closed 5 miles ahead. A right, according to the map would stay on FR8410 and lead into the Entiat River Valley, which is really too long for a comfortable day loop.

The descent aiming east is a fast ride. At junctions I stayed left, unless they clearly went steeply uphill. This did lead me eventually to a closed gate, then more downhill, then another gate, closed from the other side. The route emerges on Wa971, immediately before the turnoff to Bear Mountain Road. A sign reads that the route is closed because of a "rope course", whatever that means, and that the forest service has not acquired public access along the route. I spoke to some fire workers, on the road further up, and they informed me that it is possible to detour around the closed access route, but it is not signed.

Wa971 still has one superb view of Lake Chelan in store, accompanied by the smell of grapes and fruit, before the last downhill leads back to the shore. There are no easily recognizable businesses along the shore, where one could get water, even though it is really one endless parade of vacation housing.

Dayride

PARTIALLY PAVED / UNPAVED

( < Rainy Pass , No 2 Canyon Road s(u) | Junior Point/Shady Pass > )
FR8410 Slide Ridge s(u) : lower part of FR5900 (Shady Pass Road) > up FR5900 > up FR8410 > FR8410 Slide Ridge s(u) > down route as profiled > Wa971 north > Lake Chelan State Park > Twenty Five Mile Creek State Park > up FR5900 back to starting point: 49.0miles with 5850ft of climbing in 5:51hrs (VDO MC1.0 m5:13.9.12)
Notes: This was the middle of September in Washington, but it felt like the middle of July in California. - The only other group of travelers I saw on the unpaved section were two groups of motor bike riders. I met the second group of two, from Alberta, right below the summit, and we had a great conversation about fruit flies and big climbs.