Rainy Pass
This particular Rainy Pass is a dirt road in the Stevens Pass / Wenatchee area. Neither sings in the area nor the de Lorme Gazeteer use this name. I got the name from a map on the web at bikeleavenworth.com . There is also a better known, paved Rainy Pass in the North Cascades.


1.(1900ft,mile00.0)START-END NORTH: west end of Lake Wenatchee on Wa207
2.(1960ft,00.8m)profile goes left on Little Wenatchee River Rd
3.(4600ft,mile15.7)TOP: Rainy Pass
4.(3230ft,mile19.5)profile turns left onto US2
5.(1990ft,mile35.4)START-END SOUTH: jct US2 - Wa207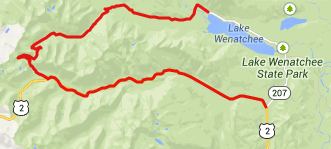 Approaches
From North. West of Lake Wenatchee FR8700 leaves FR65, crosses the little Wenatchee River, and begins a steady climb. This is a fairly wide gravel road. Most of the bottom stretches are too gravelly to ride standing up, while near the top it's not a problem. The road stays in the forest most of the time so that views are very limited. But as the road switches back to the east, you do get a pretty good idea of the main ridge of the Cascades to the west.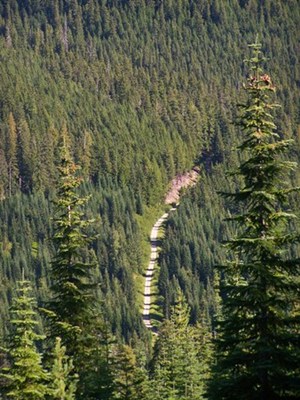 From South. (described downwards). The closest thing to a far view is looking south from the top. Then a fast descend leads down Smithbrook Road to a junction with US2 to Stevens Pass.

Dayride

PARTIALLY PAVED / UNPAVED

( < FR9712 Table Mountain s(u) | No2 Canyon s(u), FR8410 Slide Ridge Rd s(u) > )
Rainy Pass , addtional out and back : Wa207 west of Lake Wenatchee > Wa207 west > FR65 > FR8700 > Rainy Pass <> out and back to the top of Stevens Pass >> US2 east > Wa207 back to starting point: 56.6miles with 4207ft of climbing in 4:40hrs (VDO MC1.0 m5:13.9.10).
Notes: Wa207 between Wenatchee Lake and jct FR8700 (paved) was closed to all motor traffic, due to downed timber from a 2012 storm. This was the nicest part of the ride. Stevens Pass is just a straight, wide 4 lane road near the top, with lots of ski area related paraphernalia. Part of this route goes along Lake Wenatchee but you see very little of it.

-