FR5080 King's Lake Rd - Halfmoon Lake Rd s(u)

This ride goes mostly through forest logging devastation, with a few token groves left standing, just to show that not all is lost yet. The scenically interesting part is the very last section of the out and back trip to the forest lookout.


1.(00.0m,2040ft)START-END WEST-1: Skookum Creek Rd leaves the Pend Oreille River
2.(06.4m,3090ft)jct with King's lake Rd on left
3.(08.4m,3570ft)North Skookum Lake campground
4.(14.5m,4920ft)TOP
5.(20.0m,3780ft)road passes above Brown's Lake
6.(25.3m,2040ft)START-END WEST-2: same as point 2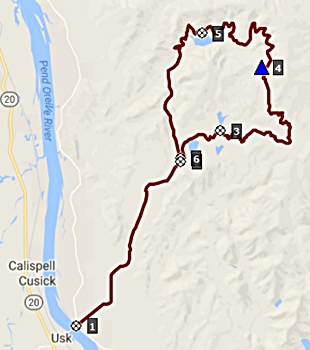 Approaches

From South -1. After crossing the bridge across the Pend Oreille River, which looks more like a lake here, the main road becomes King's Lake Rd. The first part is a 500ft paved climb through lush forest.

By the time the road reaches the jct with Halfmoon Lake Rd, it has become gravel with a touch of washboard. From here a long curvy dusty climb leads past King's Lake, featuring a private campground on a public lake. The climb continues to an unnamed saddle. Here there is the first hint of a view down the valley - nothing but haze and semblance of hills made into paper cutouts with soft outlines. The road stays left here and continues to go uphill.

Always taking the uphill option will lead to the Lookout. Coming back down the first right is the way towards the two way summit on the profile. This dirt road has less gravel and more logging devastation and debris on the road than seen sofar. There are plenty of views here and they are all of partly clear cut hills, with little or no care taken to restore the landscape. The road reaches its highest point amongst this debris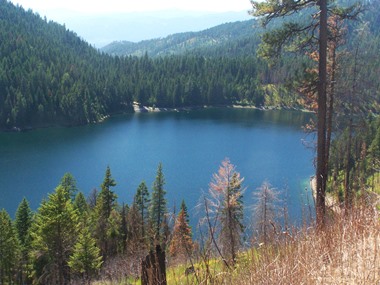 From South-2. (described downhill) At the place where the road passes two lakes along this descend, most of the forest has been allowed to remain. The upper elevations have been much more heavily clearcut. This approach joins back to the South-1 approach. But there is a way to descend all the way to the Pend-Oreille without joining the other approach by taking a right, at the first jct after passing the access road to the upper lake


Sidetrip to Lookout: It is easy to find - just go uphill at every junction. Right after the out and back starts, there is more forest devastation, but this time by natural means, through forest fire. The stick forest lasts all the way to the top, including the last miles on a rough jeep road. The top is really the only scenically beautiful spot along this entire route - a large meadow with a plethora of wildflowers around the lookout tower structure, that is typical for western forrests. This Lookout can even be climbed, with nice views in all directions.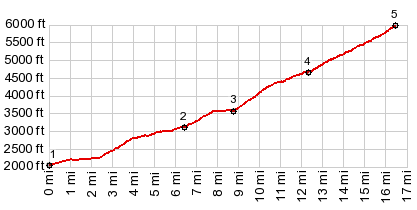 1.(00.0m,2040ft)START SOUTH: Skookum Creek Rd leaves the Pend Oreille River
2.(06.4m,3090ft)jct with King's lake Rd on left
3.(08.4m,3570ft)North Skookum Lake campground
4.(12.3m,4610ft)route diverts to right from the two way summit route
5.(16.5m,5970ft)TOP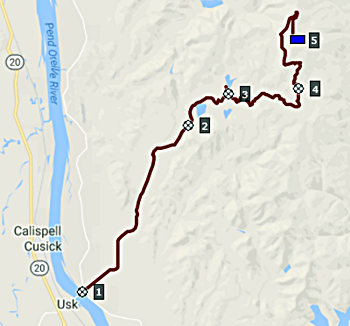 Dayride with this point as highest summit:

( < Banner Ridge Rd s(u) | Sherman Pass > )
FR5080 King's Lake Rd - Halfmoon Lake Rd s(u) : jct King's Lake Rd - Halfmoon Lake Rd > up King's Lake Rd <> out and back to lookout > FR5080 King's Lake Rd - Halfmoon Lake Rd s(u) > down Halfmoon Lake Rd > back to starting point <> separate out and back down King's Lake Rd with turnaround a short distance before river because of a failed brake cable: 39.0miles with 4190ft of climbing in 4:58hrs (garmin etrex30 m5:17.6.14)
Notes: hot as hell

cLiCk on image , arrows , or thumbnails to advance slideshow