White River Rim s(u)


This canyon Rim is located in the forest of Uinta Basin oil wells. It is only about 700ft above the river, but views over this disected dessert plateau stretch from Blue Mountain in the Dinosaur area to the Uintas,


1.START-END EAST: Ut45 crosses White River
2.profile turns left on Chipeta Wells Rd
3.profile turns left onto unsigned track
4.TOP, 5800ft
5.profile rejoins wide gravel road
6.START-END WEST: intermediate low point on Chipeta Wells Rd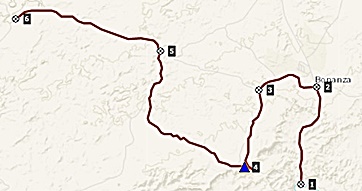 Approaches

From East. Ut45 crosses the White River after it has passed through the mining outpost of Bonanza. The profile starts here on wide pavement. Before reaching the collection of industrial equipment and buildings named Bonanza the road turns left onto a good unpaved road, wide enough for 8 lanes of traffic but without a car on it. It is signed as going to Ouray. The profile follows unsigned turnoffs to a point along the west rim of the White River, that appears to be a high point, judging by the view, but only by a few feet.

From South. On rougher tracks you can make your way down into the canyon from here. But instead the profile follows a few easily bikable tracks and then rejoins the main road for prime speed grave biking direction Ouray.

cLiCk on image , arrows , or thumbnails to advance slideshow
Dayride with this point as highest summit:
PARTIALLY PAVED / UNPAVED
( <
CR4180 Dragon Rd(sh)
|
CR4190 King's Wells Rd s(u)
> )
White River Rim -1 s(u) , Bonanza - Ouray Rd(sh) :
Cheltenham Cny Rd, ~.5miles from jct with Ut45 Bonanza Hwy > White River Crossing > Bonanza - Ouray Rd west > unsigned sidetracks > White River Rim -1 s(u) > Bonanza - Ouray Rd west > Chipita Wells Rd west > down BLM sideroad << back on Bonanza - Ouray Rd east > Bonanza Ouray Rd(sh) > White River crossing > back to starting point <> separate out and back on Cheltenham Canyon Rd to summit : 56.4miles with 3720ft of climbing in 5:31hrs (garmin etrex30 m3:20.5.16)