Ut261 Cedar Mesa via Snowflats Rd(sh)

Start with the Good: amazing soutwestern canyon and mesa scenery, adventurous roads, no people. The Bad: sand, sand, sand. So much sand I couldn't decide weather to write up this page. But then the sand is limited to the middle part of Snowflats Rd. Going down it may be easier than going up it, as the description does. Also - this may be a great argument for a fat tire bike. My tires were less than medium obese.

Glancing at the profile below, it looks like a different point before point 3 would be the summit. But according to the contour lines point 3 really is the true summit by a minute amount.


1.(00.0mile,4350ft) START-END EAST:low point on US163, just east of jct with CR235 Comb Wash Rd
2.(02.8mile,4420ft)stay left on CR237 Snowflats Rd
3.(25.3mile,6470ft)profile turns left onto Ut261
4.(29.6mile,6640ft)TOP: highest point for this route
5.(38.4mile,6380ft)Moki Dugway Overlook
6.(48.0mile,4560ft)profile turns left on US163
7.(50.0mile,4350ft)low point on US163, direction Bluff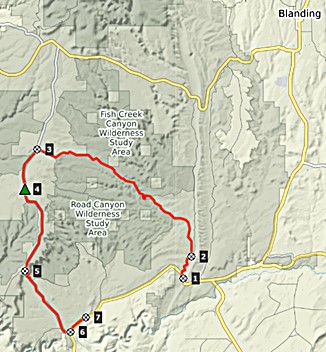 Approaches

From East. Starting to roll up Snowflats Rd it feels like the beginning of a magnificent day. Comb Ridge runs to the horizon in a series of red humps. The road is smooth and the south western sun is shining in full color, as it always seems to do. The first part of the ride does indeed turn out to be magnificent. The road climbs a series of broad steps with canyons, cliff shelfs and mesas in all directions.


As the road approaches a forested plain on top, sand becomes more and more common. There comes a point when it becomes clear, that if the sand continues at this pace, there is no way of reaching the paved road by darkness. You just can't walk that fast. The worst of the sandy areas starts at a popular parking lot for a wilderness study area with archeological value.


But then eventually the sand does end, and progress to the Ut261 becomes very fast. Time to clean out those shoes and make them a pound lighter each.


Without a trace on a map it is impossible to determine the real summit. As it turns out the straight, fast road over the forested top has a point that is 20ft higher than the highest point on Snowflats Rd









From South. (described downwards) There is another major attraction on this loop, and it comes as a complete surprise to the uninitiated first time visitor. In the middle of the forest signs warn to slow down to 15mph, without a turn in sight. What could this possibly be ? The road arrives at the edge of Cedar Mesa, turns to gravel and descends along a sheer vertical drop for over 4 miles. The rest of the description are the pictures.





Slideshow of Snowflats Rd approach


cLiCk on image , arrows , or thumbnails to advance slideshow


Dayride with this point as highest summit:

PARTIALLY PAVED / UNPAVED

( < North Creek Rd - Hart's Draw Rd s(u) | Ut9 Zion NP s(u) > )

Ut261 Cedar Mesa via Snowflats Rd(sh) , US163 Mexican Hat - Bluff s(u) : jct CR237 Snowflats Rd - CR235 Comb Ridge Rd > up CR237 Snowflats Rd > Ut261 south > Ut261 Cedar Mesa via Snowflats Rd(sh) > Ut261 south > US163 east > US163 Mexican Hat - Bluff s(u) > back up CR237 Snowflats Rd to starting point: 62.0miles with 4090ft of climbing in 6:40hrs (garmin etrex30 m3:19.10.3).
Notes: On the southern descent I met Santa Fe artist Krista Elrick. While her husband was up on the viewpoint taking in the dramatic scenery, we had a great talk about various happenings, centered around Texas license plates, the era of orange hair males, and life in general. Pictures were taken. Thanks for the peach and the brownie. They helped me get back much faster. Also nice late light views from the surprising summit on US163 going back towards Bluff

Slideshow of Ut261 Cedar Mesa approach








cLiCk on image , arrows , or thumbnails to advance slideshow