North Creek Rd / Hart's Draw Rd s(u)

From looking on maps, it is not obvious that this is actually a completely paved loop. But maybe I shouldn't make conclusions about other people, based on me looking at my maps. After all - my maps are not from this year, and other peoples' looks at maps may be more perceptive. In any case, there is virtually no traffic (maybe because other people like me don't know it is paved all the way through ?), fantastic views, immaculate extremely wide pavement, and a great climbing workout - except for the part of the profile on Ut191. North Creek Road by itself is definitely the road of choice to enter the Needles district of Canyonlands National Park.


1.(00.0mile,6040ft) START-END EAST-1: south of Monticello: jct US191-Ut211 to Canyonlands Needles area
2.(09.7mile,6580ft)profile turns left onto Hart's Draw Rd
3.(18.1mile,8230ft)jct with Shay Mtn Rd on right
4.(21.5mile,8850ft)TOP
5.(22.9mile,8480ft)road from North Creek Pass joins on right
6.(28.1mile,7260ft)Monticello
7.(42.2mile,6210ft) START-END EAST-2: same as point 1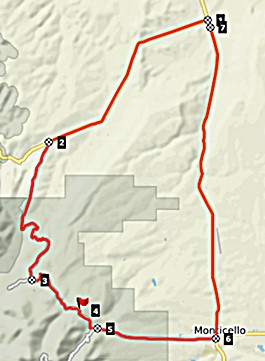 Approaches

From East-1. The profile starts south of Monticello, at the turnoff to the Needles area of Canyonlands NP, since this is the lowest point. I started my ride at the next turnoff in the profile, point 2. Across from the dirt road to Hart's Point, this equally interesting road heads for the only truly green part of the landscape, up towards Shay Ridge and the Abajo Mountains. From this point it is actually the shortest way to Monticello. But tourists returning from the needles district of Canyonlands NP take the main highway anyway.

This is great, and so there is nearly no traffic on this wide, scenic, gently climbing highway. With each wide meander up to Shay Mountain, the far vistas on the buttes, lining Colorado tributaries and also the La Sal Mountains increases.

Before the road enters the forest, a last viewpoint with parking lot invites for one of the last vista. A strategically placed nice bench invites for a rest. It is inscribed "Obesity Disaster Bench". I doubt that the bench came that way, even though the inscription looks fairly professional and not at all like graffiti. In any case, there are countless countries with hundred times as many scenically placed benches and none of them seem to have obesity problem as severe as in the US. If anything, I would speculate that benches encourage to appreciate and explore the surroundings. If you do it without motorized support it has the opposite effect, than the inscription wants to make you believe.

But my favorite view of the La Sal Mountains actually comes a little later, exactly before the road enters an open forest and then reaches the summit.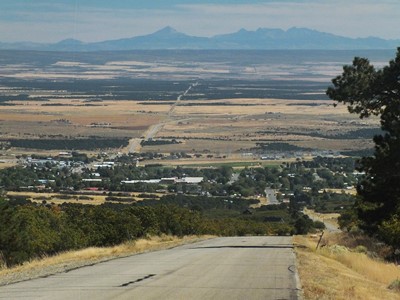 From East-2. (described downwards). The area in the trees up here is a regular trailer camping city. After the dirt road from North Creek Pass merges with this road, it homes in on Monticello like a airplane homes in on a runway. Turns only make small corrections so that the allignment with 200 South Street is perfect. In the distance another equally straight line road heads for Colorado and the western end of the San Juan Mountains. The last part of the profile on US191 back to the turnoff to Canyonlands can be very unpleasant, thanks to the Utah Department of Transportation. It placed rumble strips on all shoulders, that could be used for a safe bicycle ride. Some people with a steady, concentrated grip on the handle bar may still be able to ride to the right of the rumble strip, at least for a while. But an enjoyable bike ride is something different.





cLiCk on image , arrows , or thumbnails to advance slideshow


Ride with this point as highest summit:

COMPLETELY PAVED:

( < CRK8 Dolores Rim(sh) | Ut261 via Snow Flats Rd(sh) > )

North Creek Rd / Hart's Draw Rd s(u) , additional out and back : short distance up Hart's Draw Rd > up Hart's Draw Rd <> out and back to end of pavement west on North Creek Rd direction Shay Mtn >> North Creek Rd / Harts Draw Rd s(u) > Monticello with detour of several loops around town > US191 north > Co211 west > backup Hart's Draw Rd back to starting point with additional out and back : 56.4miles with 4410ft of climbing in 5:13hrs (garmin etrex30 r4:19.10.1)