Smithsonian Butte Rd - Gooseberry Mesa Rd(sh)

This is a dirt road loop in some spectacular Zion adjacent scenery. Unfortunately, in order to make a loop, you have to ride on an unpleasant and dangerous paved road. If there is a way to skip this and use a trail instead, please let me know.


1.(00.0m,3700ft) START-END EAST: Grafton Rd crosses Virgin River in Rockville
2.(03,4m,438ft)jct with Wire Mesa out and back road
3.(05.1m,4700ft)jct with Grafton Mesa out and back road
4.(06.3m,4920ft)TOP: jct with road to Gooseberry mesa
5.(09.1m,4840ft)profile turns left onto Ut59
6.(20.0m,3940ft)profile turns right onto Sheep Bridge Rd
7.(24.3m,3470ft) START-END WEST: low point on Sheep Bridge Rd, immediately before meeting Ut9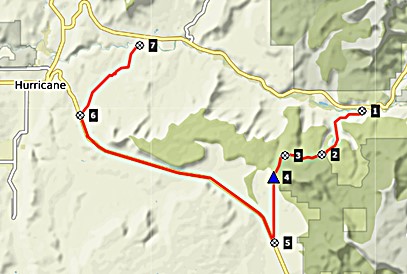 Approaches

From North. From Rockville, what looks like a civilized paved road heads south. The sign on Ut9 reads Grafton, but it is so small that even on a bicycle you have to slow down to read it. Before reaching Grafton a rough, steep, but wide dirt road, on a firm rock matrix climbs towards one of the buttes to the south. After flattening out, and the surface improving again, various spurs reach out to the edge of the mesa complex, amongst them Grafton Mesa and String Mesa. Continuing on the good dirt road, now in a dwarf forest, it reaches its point of highest elevation at the spur to the Gooseberry Mesa trailhead





From South. (described downwards) An extreme washboard surface road, heads straight as an arrow towards Ut59. This is another paved highway, where the Utah Department of Transportation has spared no expense to make cycling on it as life threatening as possible. Rumble strips completely destroy the very narrow shoulder for cycling, and bicycles have to ride in a narrow lane of traffic with heavy traffic and sleepy truck drivers.


After several miles of this the profile goes right onto unpaved Sheep Bridge Rd and looses more elevation. Near this turnoff several popular single track trails cross the road. It would be oh so helpful if one of these trails would reach the top of Gooseberry Mesa and the trailhead there. Then you could do this loop without the dangerous Utah paved roads, and without the majority of washboard surface. But to the best of my knowledge the trails leaving from here do not reach to the top of the mesa





cLiCk on image , arrows , or thumbnails to advance slideshow


Dayride with this point as highest summit

PARTIALLY PAVED / UNPAVED

( < Hurricane Mesa s(u) | Utah Hill Summit > )

Smthsonian Butte - Gooseberry Mesa Rd(sh) , additional out and back: apr 1 mile west of jct Mesa Rd - Ut9 > Ut9 east > Rockville > Grafton Rd south > Gooserry Mesa Rd south <> out and back to end of Grafton Mesa Rd > Smithsonian Butte - Gooseberry Mesa Rd(sh) <> out and back to Gooseberry Trailhead > Main St south > Ut59 west > Sheep Bridge Rd south > Ut9 west back to starting point: 49.3miles with 3580ft of climbing in 4:45hrs (garmin etrex30 m3:19.10.18).
Notes: I have never been passed by so many hundreds of mountain bikes fastened to roof racks on cars as in the Goosberry Mesa area, without a single one of those bikes being ridden on the road. This is a popular single track area. They say, americans need cars for everything. That is especially true for mountain biking in this area. But with paved roads obliterated by rumble strips, there is really no alternative. Otherwise .... the scenery is fantastic.