FR168 Mill Hollow s(u)

Many years after I was no longer living in Logan, I met somebody from there, who told me of his attempts to find a new ride up Logan Peak every so often. This made me feel as though I had missed something when I lived there. I loved hiking and climbing the peaks in the Bear River Range. But I never mountain biked there.

So this was my first attempt at a mountain bike loop ride, that includes Logan Peak. I missed the peak by several miles, though I got fairly close in elevation, but not in the views.


1.(00.0m,4720ft)START-END NORTH: low point on US89 before entering Logan Canyon
2.(09.0m,5240ft)profile turns up Right Hand Fork of Logan Canyon
3.(10.4m,5440ft)profile turns right onto FR52
4.(21.9m,8850ft)TOP
5.(25.4m,6960ft)jct with road to Temple Baldy
6.(29.0m,5180ft)Providence Canyon Rd exits into Providence
7.(31.4m,4410ft)START-END SOUTH:jct Main St - 300 south, Providence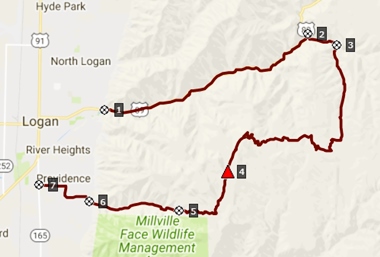 Approaches

From West. This route to the Logan Peak area approaches the peak from the east. The profile includes the ride up Logan Canyon and then the right turn on a short idyllic stretch of pavement through the wood: Left Hand Fork. This turns to a good dirt road, that seems to be closed to motorized vehicles much of the time. At the top of this forest road through the woods, a sign advertises FR52 as going to Mount Logan. It starts out steep and rocky. But actually this road was the most bikable, unpaved road on the whole loop. It appears to crest a ridge quickly, but false alarm, a long traverse and more climbing follows surrounded by aspen trees. The ranges to the east are waves of plateaus.

The road seems to crest at a pass where a limited view of Cache Valley opens up. Climbing the surrounding knolls improves the view a little.This summit has a few roads converging on it, and figuring out what goes where can be confusing, especially if most options are covered with snow. I decided to take FR168, which showed the most promise of making this into a loop. Even though the road climbed less than 100ft to its highest point near Mill Hollow, it involved a lot of time carrying the bike over snow and trees across the road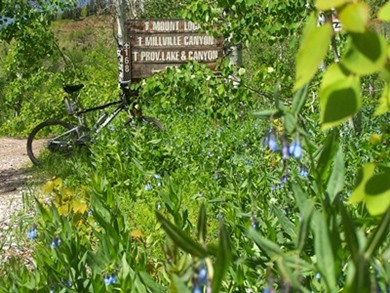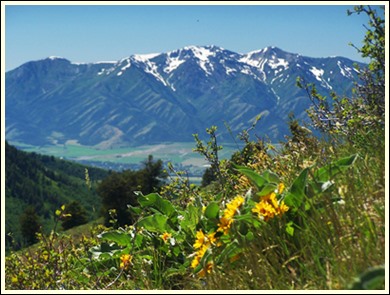 From East. (described downwards). .The descent starts out innocent enough - one more quick five minute hike to climb a ridge and take a picture of the Wellsville Range - but oh what torture followed. The nice dirt road turns into a path of snow bridges over Providence Creek, and that was the good part. The bad part follows as what can only be described as an inclined raingutter full of rocks. Biking totally impossible - walking only with great difficulty - your average destroyed atv trail. There must be a better way down. Gun shots from below tell me that that some form of motorized vehicles are near. So far I haven't seen any since Logan Canyon.
The gun range is at an old quarry, and from here a fast dirt road descend leads into Cache Valley: one of several roads named "Canyon Road" this one in Providence. These descends into Cache Valley are some of the fastest transitions between wild mountainscape and civilized suburbia that I know. And the roads are so wide, you can't help but ride somewhere far away from the right edge. All the way over there on the right noone will ever see you.

A Dayride with this point as highest summit:

PARTIALLY PAVED / UNPAVED

( < FR007 Temple Fork s(u) | Galena Summit > )

FR168 Mill Hollow : short distance up Left Hand Fork Rd > up Left Hand Fork Rd > up FR52 > up FR160 > up FR168 > FR168 Mill Hollow s(u) > down Providence Canyon > various residential streets north > USU campus with detours > up Logan Canyon Rd > back to starting point on Left Hand Fork Rd: 38.6miles with 5180ft of climbing in 6:16hrs (garmin etrex30 m5:17.6.19)
Notes: Much time spent negotiating snow and rocks over the top and down Providence Canyon. A ranger where I got water at the mouth of Logan Canyon observed that I look like had just run 50 miles. I felt like it, even though I had only biked and walked about 20 up to this point.

cLiCk on image , arrows , or thumbnails to advance slideshow