FR007 Temple Fork(sh)

This summit parallels US89 over Bear Lake Summit. Both of them together make a great loop, if you like to mix paved and unpaved roads, and are willing to put up with some washboard surface. Here there are better views of the Bear River Range than from the paved road summit any day. This area has many well signed intersections, so that getting lost takes extra effort.


1.(00.0m,4720ft)START-END WEST: low point on US89, at entrance to Logan Canyon
2.(14.6m,5810ft)profile turns up Temple Fork Rd to right
3.(24.0m,7970ft)TOP
4.(26.5m,7370ft)jct with heavily gravled Birks rd
5.(26.6m,7350ft)profile leaves heavily graveled road again, stays left
6.(31.8m,6070ft)Meadowville
7.(34.8m,5980ft)START-END EAST: jct Ut30 - Meadowville Dr, shore of Bear Lake


Approaches

From West. The road up Mount Logan Canyon to Bear Lake Summit does not only go through the Bear River Range. At this point the Wasatch Range becomes almost indistinguishable from the adjacent Bear River Range. But past the spot where Logan Canyon US89 reaches a small dip, it crosses into the Wasatch Range. The junction with Temple Fork of the Logan River comes a little later. A narrow finely graveled road follows the road up into a green valley. Temple Peak is on the left, looking more like a table, with a table cloth forming a few limestone cliffs.


During weekend rushhour in the summer, this road is as dusty as they come and a definite motor reservation. I never saw another bicycle during my weekend there in June. That's a shame. If this road were paved it would be a perfect ride. There are so many turns, so many new viewing angles on valleys, rocks and river. But then, if this road were paved then the local custom would be to remove all the turns and make it into a big old boring highway. So I guess I will take preference to the dust and the stink from noisy 2 cycle engines.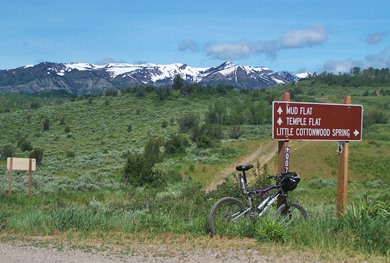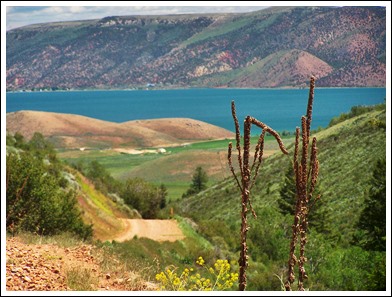 After a small high point in the aspen the road crosses another small drainage, and climbs one more sage knoll. Here is the first of many smaller loop possibilities, a left connects with Left Hand Fork Canyon. FR007 switches back and now climbs steeply with a smoother but more rutted surface, across from the highest peaks of the Bear River Range. A wild yellow color orgy comes over the meadows with the wild flowers, that survived into the June heat. Now the double track trail enters deep forest and there are no more views.

The road reaches a high point at the turnoff to FR117. The latter goes only about 40ft higher, and is one of several possibilities to loop back to Cache Valley.

From East. (described downwards) A gentle descent goes down an inclined forest plane. At the next junction again represents multiple alternatives for shorter or longer loops, left for US89, right for Hardware Ranch and Cache Valley. This profile goes right on this wide heavily graveled dirt road. But this surface does not last long.

A fast descend leads to a first glimpse of Bear Lake in the distance. The road finally emerges onto rolling sage hills before Meadowville, which consists of a few horses in meadows, surrounded by unidentifiable structures. Taking the northerly option for the last part to the dessert shores of Bear Lake, the road reaches Ut30 around the lake at a rest area with several comfortable picnic possibilities.

Dayride with this point as highest summit:

PARTIALLY PAVED / UNPAVED :

( < South Eden Canyon - North Eden Canyon(sh) | FR168 Mill Hollow s(u) > )

FR007 Temple Fork(sh) , Bear Lake Summit : some distance up FR007 Temple Fork Rd > up FR007 > FR007 Temple Fork(sh) > Hardware > FR55 Hardware Ranch Rd south > down Temple Canyon Rd > Ut30 along Bear Lake north > Garden City > US89 west > Bear Lake Summit > down US89 > up FR007 Temple Fork Rd back to starting point: 50.1miles with 4880ft of climbing in 5:17hrs (garmin etrex30 m5:17.6.17)
Notes: A short distance up Bear Lake Summit I met the kind of unusual (or maybe cracy) bicyclist you can only meet in the US. He was walking a Walmart type bike, hitched to a rickshaw type trailer with a fully packed backpack in it. I assumed he was camping. But the anwer was: No this is everything I own. He was on his way from a small town in Wyoming to Boise Idaho for employment reasons. His field of specialty was Butler (!!??!?.*)

cLiCk on image , arrows , or thumbnails to advance slideshow