FR113 Winkler Point s(u)

I really hadn't planned on riding this summit, at least not at the time I did. My aim was to get over the more interesting appearing FR123 summit in the Tushar Mountains. But there are two things, that limit a bike ride in Utah in June. Either it's too hot at low elevations, or there is still too much snow at the really high elevations. In this case the latter was the case. FR123 was still snow covered over the top - not a flake of snow on FR113, but it was still very hot. Nice ride - but I think FR123 would be much more scenic.



click on profile for more detail

01.(5880ft,mile00) START-END SOUTH: Marysvale
02.(6010ft,mile01) jct with several other forest access roads, west of Marysvale
03.(8820ft,mile10) FR123 over a higher summit in the Tushar Mtns leaves on left
04.(9000ft,mile10) intermediate summit point
05.(8750ft,mile11) intermediate low point, just after jct with Deer Creek Trail on right
06.(9900ft,mile14) TOP: just before jct with FR1047 on left
07.(9840ft,mile15) Winkler Point
08.(6470ft,mile22) Mill Creek Road passes under I70
09.(5830ft,mile24) profile joins I70 at Fremont Indian Park
10.(5620ft,mile29) START-END NORTH: low point on I70, just before US89 exit for Marysvale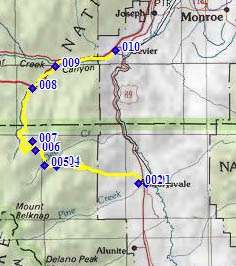 Approaches
From South. The profile starts on US89 in Marysvale and turns up Center Street. Center Street really looks no different than any of the parallel streets, except that maybe it has an old building along the way that used to be some sort of business in a past era. On the west end of town three forest access routes meet. This one is labeled as going to upper Kimberly, the name of an old mine.

A good dirt road climbs a hill outside of town and then dips down to meet Deer Creek. The road ahead, seen in form of a road cut far above, soon becomes visible. In order to gain all that altitude the road uses several long ramps and is intermittently very steep. The most amazing sight along the way, in my opinion, is the road cut for FR123, still much further up, on the treeless colorful rock slopes, around the Mount Belknap area.

Soon after the jct with FR123 the road reaches an intermediate summit in the forest and descends towards a low point at the jct with Deer Creek Trail, an ATV option that comes up from north of Marysvale. The remaining climb to the summit is steeper and rougher than before, and passes a few old mining remnants. There are only very limited views from the top. One picture was taken a few hundred yards up FR1047 to get a better view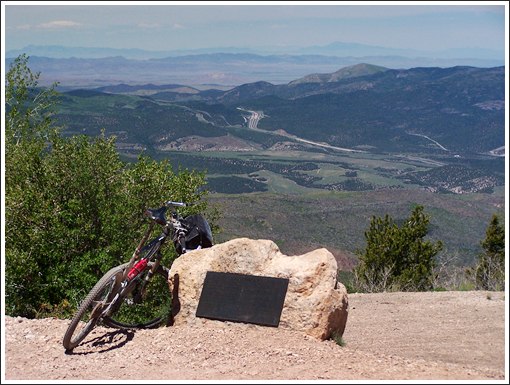 Winkler Point
From North. (described downwards). The road curves around to the west, and a far view into the lower Pavant Range, separated from the mountains we are on, by I70 cutting through the landscape like some sort of unnatural cosmic boundary. A simple stone plack mentions Mr Winkler and his forest service career.

A wide road with farily deep gravel leads down to follow Mill Creek. Turning around, none of the higher peaks are visible from the road. The dirt road passes under I70 and the follows Clear Creek north of the interstate to the first on ramp. This is also the exit for the Fremont Indian State Park. The profile continues on I70 to a low point, where the road crosses Clear Creek just before the US89 Marysvale exit.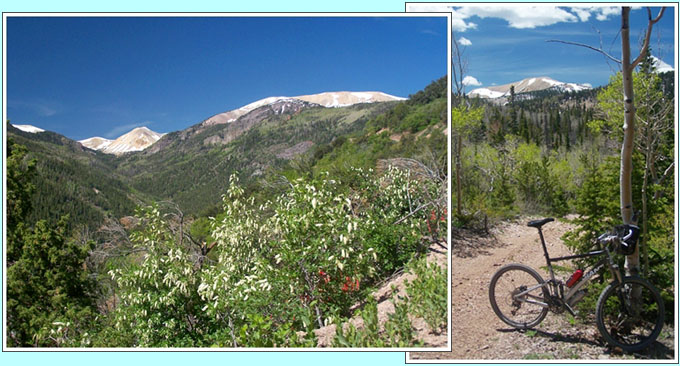 left: above Deer Creek, heading for Winkler Point or the summit on FR123 in the Tushar Mountains
left: the same range from a few hundred yards up FR1047


To complete the loop back to Marysvale, an wonderful bike path follows an old railbed through Marysvale Canyon, but only as far as the Big Rock Candy Mountain RV resort. From there it's just a few more miles on the road, supplied with fresh water from the resort.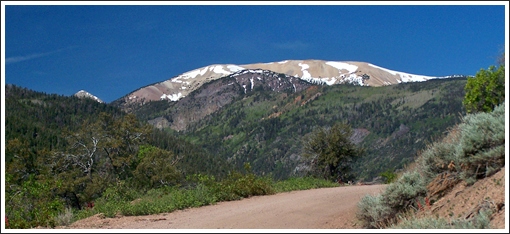 Dayride

PARTIALLY PAVED / UNPAVED

( < FR111 Joseph Peak s(u) | FR106 Devil's Dance Floor > )
FR113 Winkler Point s(u) : short distance west of Marysvale on FR113 > up FR113 <> short out and back on FR123 to second closed gate >> FR113 s(u) Winkler Point > down Mill Creek Rd > down Clear Creek Rd north of I70 > I70 east > Marysvale Canyon bike path south > US89 south > FR113 back to starting point: 46.6miles with 4900ft of climbing in 5:12hrs (VDO MC1.0 m5:13.6.7)
Notes: very hot day in the beginning of June. Still, upper FR123 was impassable due to snow.

FR113 Winkler Point s(u)

Highest Point: 9900ft

Southern Approach:





drop

from Marysvale (5880ft)
4020ft
13+1/2miles
~200ft

Northern Approach:






from low point on I70, near US89 exit for Marysvale (5620ft)
4280ft
16miles


from Fremont Indian Park (5830ft)
4070ft
11miles