South Eden Canyon - North Eden Canyon(sh)

On some maps it looks like it would be pretty easy to ride a loop through these two canyons on the west shore of Bear Lake. South Eden is definitely Eden compared to North Eden. This route crosses all kinds of ranch gates, and on the north side follows abandoned ranch roads and walking tracks.


1.(00.0m,5930ft)START-END SOUTH: low point on Cisco Rd on shore of Bear Lake
2.(02.2m,5970ft)profile turns up South Eden Canyon
3,(09.0m,6960ft)TOP; also jct with more heavily used route on left going up Black Mountain
4.(13.4m,6420ft)route turns down North Eden Canyon on indistinct track
5.(17.8m,5990ft)profile rejoins Cisco Rd
6.(18.6m,5950ft)START-ENDN NORTH: low point on Cisco Rd, just inside Idaho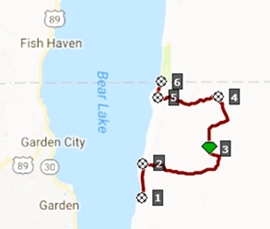 Approaches

From North. North Eden Canyon is the best signed road on the west side of Bear Lake. Actually it might be the only one that is labeled with a sign. The canyon is nothing special, except that on one descent I encountered two rattle snakes in the middle of the road. Near the top of this sagebrush gutter the profile takes an unsigned left turn and follows a straight track across the wavy plateau. After crossing a gate it crests in a group of abandoned buildings and antique ranch equipment. This is the most inspiring spot along this journey. Distant snowcapped mountains are like distant islands in this high sea of sagebrush. The road plows through it like a boat leaving a wake.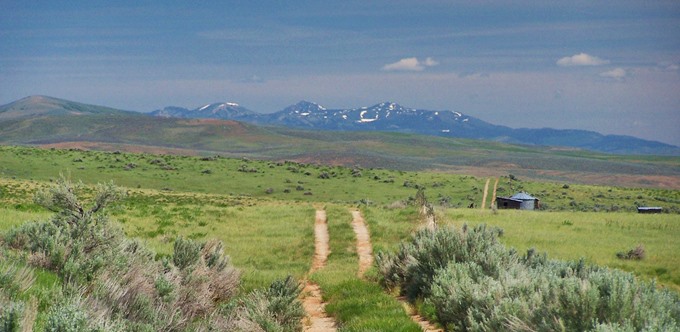 From South. (described downwards). But you have to pay for the beauty of North Eden with the hellishness of South Eden. It starts out pleasant enough. Following the main track the road descends to some befuddled cows (I foreget how many locked gates there are in between). Soon the road starts to climb steeply up Black Mountain, a landmark peak that is easily spotted while on a ride around Bear Lake. This may be an interesting excursion in its own right, but it is not the way down. Retracing ones way back, with the help of the gps I find an abandoned road that leads into another sagebrush drainage with sandy rock outcrops on the opposite side.

Yet another gate, and the route continues in land classified as "walk-in". It is my understanding that bicycles are okay here, since the signs only mention motors as prohibited. Following this track on the gps it becomes a single track, verging on a 0 track.

At the junction with South Eden Canyon I decide on a down valley route even though continuing up the valley may be a better trail. Following the canyon down, this is first a meadow, then a walk through very large sage brush, so big they top out above my head and riding is impossible. Black Fly hell ensues; then a short section of easily rideable single track -good enough for a bicycling magazine - finally a section through a muddy stream covered with spongy green algae. Befuddled cows are the only witnesses to the curious journey. In the end a good dirt road leads the final mile down to the end of South Eden Canyon. There must be a better way.

A Dayride with this point as highest summit:

PARTIALLY PAVED / UNPAVED / WALKING TRAILS / NO TRAILS

( < Bear River Plateau -1(sh) | FR007 Temple Fork s(u) > )

South Eden Canyon - North Eden Canyon(sh): a short distance up South Eden Canyon > unsigned left turn on route as shown in profile <> out and back a short distance up towards Black Mtn >> down abandoned ranch trail south towards South Eden Canyon > down South Eden Canyon on a variety of trails and surfaces > Cisco Rd north along shore of Bear Lake > North Shore Road west across Bear Lake >. US89 north > St Charles > Fishhaven > Garden City > Cisco Rd north > back to starting point in South Eden Canyon : 62.5miles with 2230ft of climbing in 6:10hrs (garmin etrex30:17.6.15)
Notes: This is a ride around Bear Lake with this little summit thrown in for diversion. ... with a little help against the wind from Scott, environmental science student from Logan on ride around Bear Lake and looking for a raspberry milkshake.